Two stories dominated the entire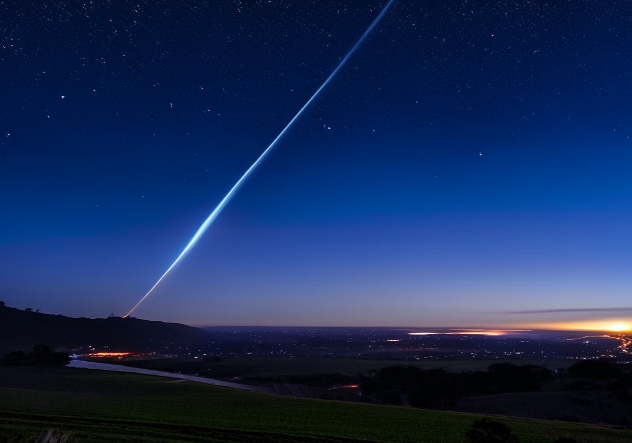 cycle of Space Force–centric news this week, one in the mainstream, the other in military quarters. The former was all about the impressive completion of Victus Nox, which made for not only quite a successful showing for the Tactically Responsive Space program, but also gave quite a show to literally millions in California as the Atlas V rocket lit up skies just past sunset.
In non–civilian areas of the media, the Air, Space, and Cyber Conference featured a virtual "Who's Who" of USAF and USSF leaders to give new insight into the services' workings currently and in the future.
It's a couple of seriously deep dives in this week's Space Force news…
Victus Nox: Mission accomplished
A critically important forward–looking Space Force mission has been completed, and the two subcontractors tasked with the test — Firefly Aerospace and Millennium Space Systems (a Boeing subsidiary) — passed with flying colors.
The evening of Thursday, September 14, saw the launch of a Firefly Alpha V rocket from Space Launch Complex 2; this was the culmination of the Victus Nox mission, part of the Tactically Responsive Space (TacRS) program, in which launches of satellites and other craft may be accomplished within 48– 72 hours. On August 30, the two companies were put on hot–standby notice and thus expected to ready the rocket and payload for liftoff at a moment's notice.
Per Space Systems Command (SSC), liftoff ultimately occurred just under 27 hours after the launch orders were received; Millennium representatives put the total figure for their company's duties at 58 hours, including transport of the rocket and satellite to Vandenberg Space Force Base, fueling and testing. Either mark would utterly shatter the record for a responsive launch of 21 days set in June 2021 by a Northrop Grumman Pegasus XL rocket as part of the Tactically Responsive Launch–2 (TacRL–2) mission.
The launch caused a stir not only among SSC and USSF officials, but also among the citizenry of much of California and even parts of western Arizona as the rocket flamed across the sky just after sunset.
SSC commander Lt. Gen. Michael Guetlein said on the occasion that "The success of Victus Nox marks a culture shift in our nation's ability to deter adversary aggression and, when required, respond with the operational speed necessary to deliver decisive capabilities to our warfighters." "This exercise is part of an end–to–end Tactically Responsive Space demonstration which proves the United States Space Force can rapidly integrate capabilities and will respond to aggression when called to do so on tactically relevant timelines."
SSC Space Safari material leader Lt. Col. MacKenzie Birchenough added, "We are thrilled with tonight's successful launch. This mission highlights significant progress towards meeting emerging challenges in space. While space has been viewed as a strategic theater for a long time, the advancement of TacRS capabilities represents a paradigm shift for the National Security Space enterprise. We are incredibly proud of the entire Victus Nox team for this huge accomplishment."
In its first rocket launch since September 20022, the mission marked quite a success for Firefly Aerospace as well. Said Firefly's Adam Oakes, VP of the launch vehicles division, "As our third flight, this mission further validates Firefly's technology rigor, passion, and dedication that's required to prevail as the leading responsive launch provider for both government and commercial customers."
Firefly CEO Bill Weber commented that "Today was an incredible success for the Space Force, the Firefly team, and our nation after nailing this complex responsive space mission. Our combined commercial and government team executed the mission with record speed, agility, and flexibility, adding a critical capability to address national security needs."
Next up for the TacRS program is the mission Victus Haze, a similar mission in which "mission personnel (contractor and government) will have limited to no knowledge of the orbit parameters prior to executing the 24–hour launch directive. The vendor should be able to sustain the ability to maintain an alert status for up to 30 days," per the Defense Innovation Unit (DIU). As in Victus Nox, the on–orbit ops phase "will begin immediately after satellite separation, with the space vehicle intended to be mission–capable in under 48 hours and end with the safe disposal of the space vehicle." In similar fashion to Victus Nox, for Victus Haze "mission personnel (contractor and government) will have limited to no knowledge of the orbit parameters prior to executing the 24–hour launch directive. The vendor should be able to sustain the ability to maintain an alert status for up to 30 days," per the DIU.
Further, the on–orbit ops phase "will begin immediately after satellite separation, with the space vehicle intended to be mission–capable in under 48 hours and end with the safe disposal of the space vehicle." Sources: Noozhawk, YouTube, Air & Space Forces, Vandenberg SFB official website, Austin Business Journal.
USSF past, present, future discussed at Air, Space, and Cyber Conference
As usual, the annual Air, Space, and Cyber Conference in National Harbor, Maryland, hosted by the Air & Space Forces Association brought in the top brass from the Air Force and Space Force to speak at the event. For exhaustive coverage of the particulars, consult the official Air & Space Forces Association magazine website; in this space, we'll naturally be rounding up the USSF–centric news.
Kicking off the event was an address given by Secretary of the Air Force Frank Kendall, who reiterated and expounded upon his view of China as the primary security threat to US interests and allies. Indeed, Kendall called for a wholesale shift away from the prevailing counterterrorism–based activity of the Pentagon to one focusing on the "great powers": "While the threat of attack from violent extremist organizations still exists, China is by far our pacing challenge," he said.
Further, Kendall touched upon his "Seven Operational Imperatives" for the USAF and USSF which he originally released to servicemembers earlier this month:
Defining Resilient and Effective Space Order of Battle and Architectures;
Achieving Operationally Optimized Advanced Battle Management Systems (ABMS) / Air Force Joint All–Domain Command & Control (AF JADC2);
Defining the Next Generation Air Dominance (NGAD) System–of– Systems;
Achieving Moving Target Engagement at Scale in a Challenging Operational Environment;
Defining optimized, resilient basing, sustainment, and communications in a contested environment;
Defining the B–21 Long Range Strike Family–of–Systems; and
Readiness of the Department of the Air Force to transition to a wartime posture against a peer competitor.
Emphasizing the urgency of the state security roadmap, Kendall stated that "if we don't get them right, we will have unacceptable operational risk." Once again, Kendall reminded the assembled of recent moves made by the Chinese government, namely establishment of its Rocket Force and Strategic Support Forces, to disrupt the current balance of power in space.
USSF Chief of Space Operations (CSO) Gen. B. Chance Saltzman was on hand on day two of the conference, Tuesday, September 12, to deliver his own address. While giving a sort of "State of the Service" talk, Saltzman also gave some details on the Space Force's new "integrated mission deltas" to be stood up in October. These units are planned to combine operations, maintenance and tech acquisition in an effort to increasing efficiency.
Specifically, said Saltzman, the units will "provide world–class effects in the face of a determined adversary," later explaining to media on–hand that "As we've evolved from our historical origins in Air Force Space Command to the U.S. Space Force, it was an opportunity to relook at the kinds of organizational structures that we thought would be most effective for the new challenges associated with a contested space domain."
The idea behind the new deltas whether such units "can have their own acquisition cell without disrupting larger, longer–term programs underway at Space Systems Command."
In the keynote address, Saltzman also broke the news that the Space Force will be rapidly expanding internationally. The Air National Guard is set to establish two new units in Hawaii for the defense of US interests in space, while a USSF subordinate HQ will be opened in Europe in December of this year.
Saltzman compared the planned European unit to the recently–established US Indo–Pacific Command, US Central Command and US Forces Korea: These command centers, he said, "are talking with the same vocabulary, the same understanding of the missions, the same understanding of the people and the capabilities — and it's a much tighter integration": One that is hoped will be reproduced in Europe.
U.S. Space Forces Europe–Africa is promised to "help integrate, collaborate, and cooperate with our joint teammates, partners, and allies in the region." As Saltzman told media: "In the case of Europe, we're just taking advantage of the fact that [US Air Forces Europe] is also the Africa Command support. So because it's all done from the same location, it's easy for us to leverage that same construct and really get a two–for–one, to some degree. We will have some people assigned as well to Stuttgart [Germany], where the AFRICOM headquarters is, because proximity matters. And so the service component will have some people spread around to make sure we give all of the attention that both European Command and Africa Command need."
Commenting on the Pentagon's 2023 Cyber Strategy released on Tuesday, September 12, the following day was USAF Lt. Gen. Kevin B. Kennedy, head of Air Forces Cyber. The goal of his forces, he told attendees, is to "think about the effects that we can create in the cyber domain and [align] those into crisis– and conflict–planning in the normal processes that exist within the combatant commands for aligning those capabilities."
As Kennedy sees it, the major challenge facing those serving in the cybersecurity domain are questions of chain of command. "when you start any kind of military capability and you think across domains, you generally start with some level of just deconfliction," he said. "Then you move into some level of coordination, synchronization, and then you want full–on synergy of the forces to get some effects upscaling. [Right now I'd say that] we're definitely in the coordination and synchronization line."
Kennedy continued with, "But the question of timing and tempo goes to who has the mission. And then who is the person that has to execute that mission and align it with the effects in the other domains? So I'd say we're moving along. We're not at full synergy yet."
Similar issues — which have dogged the Space Force to smaller or greater extents since its foundation — were also taken on by a panel of international guests on Wednesday, September 13. "I think what's unique here is, because it's relatively new, at least as a domain, we have an opportunity to take those decades of experience and try to build something completely different," Royal Canadian Air Force commander Lt. Gen. Eric Kenny said. "In other words, something that's allied by design, right from the get–go that is integrated, at least amongst the key partners."
Space Systems Command (SSC) chief Lt. Gen. Michael Guetlein, said that previously "Everything was too highly classified to have a conversation about. We knew about the threat and we couldn't talk about the threat because it was too highly classified and we kept all that information to ourselves. As a result, we never really built the partnerships that we should have been building from day one to get after this. We weren't exercising together. We weren't doing war games together. We didn't have common [tactics, techniques, and procedures]."
Guetlein claims that the Space Force — as well as organizations like the RCAF Space Division and the Australian Defence Space Command — has changed the face of international communications particularly in the realm of cybersecurity, though issues of classification remain. "When we start talking about allied by design, that's really where we're making the most traction, because even if I can't talk to them about a system that I have in development, we're getting at it behind the scenes through allies by design."
Guetlein, for one, touted the value of international collaboration in space: "We all need to know what's going on in up in space, what we call space domain awareness or battlespace awareness, and there's just not enough data to go around out there. So we've got to share that data back and forth to get a common operating picture with our allies. And we can't buy enough data just as the U.S. alone. We're going to have to go into it with our partners."
USSF Chief Master Sgt. Roger A. Towberman was on held to give his final keynote address before retiring his position later this year. His talk was a reflective one, looking back on the rapid development of the Space Force in its heretofore brief existence.
"Every day we come to work in my office, we've come to work to change the game, to change the world." As a high–ranking officer in the Space Force from the beginning, Towberman was tasked with shaping the service's guiding principles: "We knew we needed values. It seemed like a good place to start."
Between the advice of experts and Guardians, Towberman founded the basis of the Guardian Ideal, beginning with "the 4 C's": Character, Connection, Commitment, and Courage.
"Our 4 Cs matter to me. I know they matter to all our Guardians," said Towberman. "What makes them unique is not what they are — a lot of organizations have values; all the services have values. What makes them unique is that we have an opportunity to weave those values into everything that we do."
Towberman sees the 4 Cs as instrumental to Guardian training from basic on up: "If you visit Space Force basic training, it's the most beautiful, undiluted Guardian experience that you could possibly have. They've just created an experience that feels different. And to those new Guardians, that's what matters."
In closing, Towberman introduced incoming USSF CMS John F. Bentivegna, who assumed his position on Friday, September 15.
"If I am to be remembered at all," said Towberman, "I hope it is through 1,000 different stories of 1,000 real relationships that I had with 1,000 different people. So God bless the Air Force and God bless the Space Force. Semper Supra." Sources: Air & Space Forces magazine, Sofrep, Air Force Times , Vimeo, Space Force official website.