If you thought last week's Space Force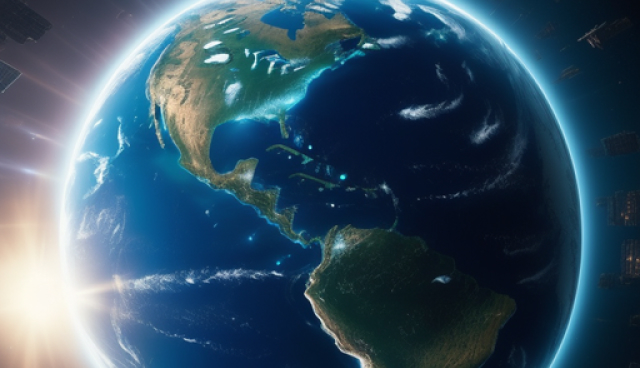 news was full of business– centric items, check out this edition of the column for seven days' worth of contract awards which literally dominated USSF–centered news. The headliner among headliners was of course dispensation to subcontractors under the $900 million proliferated Low Earth Orbit satellite initiative headed up by the Space System Command (SSC), giving contractors a chance to show off their companies' wares.
Meanwhile, the USSF alongside the Defense Innovation Unit issued a solicitation calling for contractors to participate in the newly announced Victus Haze mission, a second initiative calling for a plan to go from zero–to–launch for emergency response actions.
It's all about the money in this week's Space Force news; read on for all the latest.
Sixteen contractors awarded in USSF's $900 million p–LEO program
Space Force officials began the week with some big news for 16 contractors, namely the awarding of contracts as part of the service's $900 million initiative dedicated to proliferated Low Earth Orbit (p–LEO) satellite–based services. The program is headed up by Space Systems Command (SSC) and involves the participation of the Commercial Space Office (CSO) and the Commercial Satellite Communications Offices (CSCO) as well. Among the companies awarded five–year Indefinite Delivery Indefinite Quantity (IDIQ) contracts were:
Hughes Network Systems LLC

, an EchoStar subsidiary which recently announced a distribution agreement with OneWeb Technologies Inc. for provision of wideband LEO services to the Department of Defense (DoD). "These important LEO capabilities [of the OneWeb and EchoStar Lyra constellations] will give the DoD cost–effective solutions and added reliability and resiliency in satellite communications across all domains," stated Hughes VP/GM Rick Lober. "We look forward to upcoming requirements for procurement of these services."

OneWeb Technologies

, sometime partner of Hughes Network Systems, which bills itself as "one of only two Very Small Aperture Terminal (VSAT) data LEO satellite service providers currently offering live services." Former US Deputy Director of National Intelligence/current OneWeb Technologies Proxy Board chair Sue Gordon said that "This p–LEO opportunity underscores OneWeb Technologies' COMSATCOM capabilities and recognizes the company's exceptional technology offering for the U.S. government. Accurate, expeditious information is fundamental for U.S. government decision making, as well as for our friends and allies. OneWeb's constellation helps get the right information to the right people, at the right time."

PAR Technology Corporation

 along with partners ICEYE US and PAR Government subsidiary Rome Research Corporation (RRC). ICEYE specializes in Synthetic Aperture Radar (SAR) constellation capabilities, while RRC is a longtime DoD contractor in satellite communications and space–related operations/maintenance services. ICEYE CEO Eric Jensen said that "We are grateful for the opportunity to deliver near–real time persistent monitoring services to decision makers across the DOD under the guidance of Space Systems Command."

UltiSat

, a provider of advanced communications solutions which already boasts two p–LEO services on orbit and another two ongoing contracts for services to be launched in 2024 and '25. UltiSat president/CEO David Myers stated that "Rapidly emerging LEO–based satellite solutions show great promise. But separating marketing aspirations from mission readiness can be daunting. UltiSat prides itself on being a vendor–neutral trusted partner with the expertise to evaluate, implement and manage the right satellite solution for our customers' operating environments."
Sources: Market Screener , Military Embedded , Space Ref , Business Wire , Global News Wire .
Space Force, DIU issue solicitation for TacRS mission Victus Haze
Since the Space Force was founded, leadership has sought ways to create quick–response and launch teams capable of getting operations into orbit within a 24– to 48–hour window. The latest mission on these lines is the mission Victus Haze, a teaming of the USSF and the Defense Innovation Unit (DIU) under auspices of the Tactically Responsive Space (TacRS) program.
On Thursday, August 24, Maj. Jason Altenhofen of Space Systems Command (SSC) announced Victus Haze, as well as a concomitant Commercial Solutions Opening solicitation to private contractors. The mission was described by DIU officials as designed to "harness commercial capabilities for end–to–end execution to address on–orbit threats to space systems."
Said Altenhofen: "It is critical that we tap into and leverage commercially developed capabilities — ones that we can rapidly field to execute the VICTUS HAZE mission and then be able to count on for future TacRS operational needs."
"Our partnership with DIU provides the right ecosystem, expertise, and mission focus to execute the VICTUS HAZE mission and establish a robust partnership with commercial providers." The solicitation reads as follows.
"In today's space environment, rapidly responding to and assessing potential threats while providing additional on–orbit capability is necessary to ensure the operational safety of ongoing space operations. This prototype will further advance the risk reduction for dynamic space systems to conduct their missions while demonstrating a contingency response capable of inspecting and characterizing a threat on urgent operational timelines. Responsive and scalable space systems are key to preserving U.S. leadership and extending our sphere of influence in space."
Victus Haze builds upon the Victus Nox program, with contracts for that mission awarded to Millennium Space Systems and Firefly Aerospace for construction of a satellite and rocket, respectively. In April 2023, these contractors were put on an informal standby and informed that the DIU would call on them for a 48– hour turnaround per mission specs, but a launch has yet to happen. In similar fashion to Victus Nox, for Victus Haze "mission personnel (contractor and government) will have limited to no knowledge of the orbit parameters prior to executing the 24–hour launch directive. The vendor should be able to sustain the ability to maintain an alert status for up to 30 days," per the DIU. Further, the on–orbit ops phase "will begin immediately after satellite separation, with the space vehicle intended to be mission–capable in under 48 hours and end with the safe disposal of the space vehicle."
Proposals are due by September 7. Sources: Executive Gov, DIU official website (2x) , Air & Space Forces magazine, Defense Co–op.
U. Colorado, Virginia Tech win $6.4 million UCRO contract
Officials from the University of Colorado and Virginia Polytechnic Institute and State University (a.k.a. Virginia Tech) announced on Tuesday, August 22, their institutions' winning of a combined $6.4 million in funding via the USSF's University Consortium Research Opportunity (UCRO) 2.0 R&D program.
Along with the USSF, backing the UCRO program are the Air Force Research Laboratory (AFRL) and the Universities Space Research Association (USRA). According to the USRA, the just–launched UCRO 2.0 program is "focused on technologies needed to ensure continued and enhanced capability across all space areas for the U.S. military and civil operations through a network of partners."
On announcing the awards, Dr. Amanda Smith–Hackler, USRA Director of Education and Principal Investigator (PI) for UCRO, explained that this second phase of the program "will leverage the expertise of each awarded institution to spearhead AFRL and USSF research. Beneficially, UCRO 2.0 will also provide experiential research opportunities for students and postdoctoral fellows to increase exposure to workforce development opportunities of the future." Sources: Biz West, USRA PR.
Sedaro wins $1.5 million AFWERX SBIR contract
The digital engineering software–focused startup Sedaro is the latest SME to land an AFWERX Small Business Innovation Research (SBIR) Phase 2 contract with the USSF, officials announced on Tuesday, August 22. The $1.5 million award is part of the ongoing USSF/AFRL program Orbital Prime.
Sedaro will team with Space Dynamics Laboratory and Draper Labs on development and integration of In–space Servicing, Assembly & Manufacturing (ISAM) functionality into Sedaro software. Charles Stark Draper Labs (Draper Labs) of Cambridge, MA to develop, test, and integrate ISAM capabilities in the Sedaro digital twin platform.
In announcing the contract award, Sedaro co–founder/CEO Robbie Robertson stated that his company will "use its cloud–based digital engineering software to design prototype spacecraft" for ISAM missions, specifically "add[ing] capabilities such as relative motion and attitude sensors & estimators, docking, refueling, and multi–segment manipulators to spacecraft agents in the software. SDL and Draper Labs will assist Sedaro with technical design and implementation and [will] utilize the Sedaro platform to model representative ISAM scenarios the research institutions are working on." Sources: Sedaro PR, Space News.