The Space Force news runs from the proverbial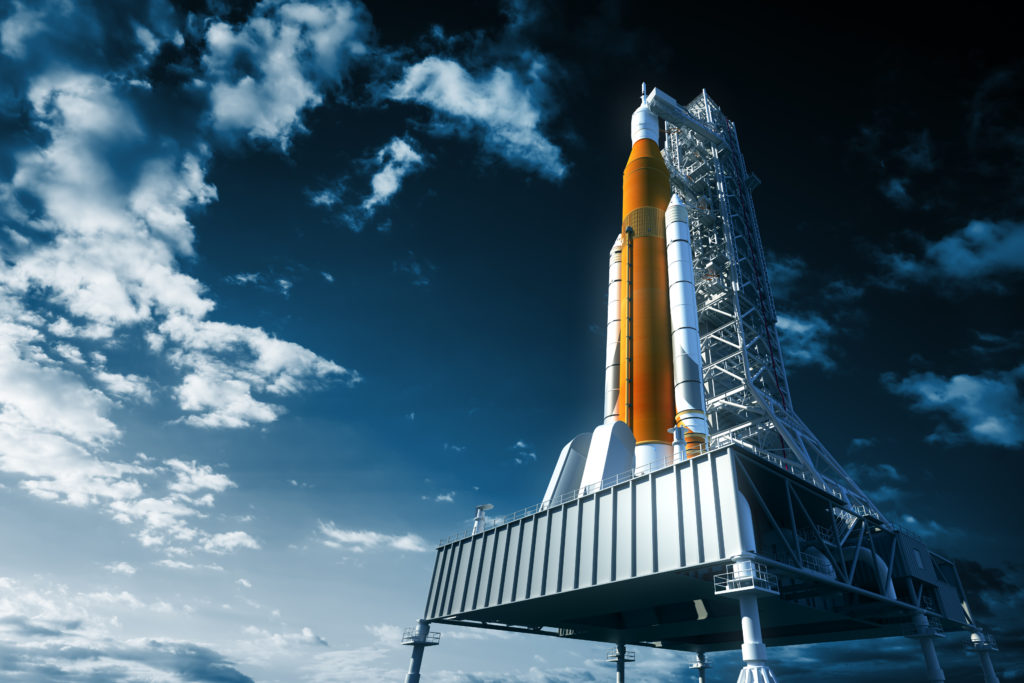 sea to shining sea this week, with items from all areas. On the "Space Coast" of Florida, ULA Vulcan booster rockets successfully passed a key test for the future of commercial space travel. In D.C., the GAO released its annual weaponry assessment report which included takes on two major USSF undertakings. And as the tug–of–war between Colorado and Alabama lawmakers over the SPACECOM headquarters relocation, Ohio politicos interestingly jump into the fray. All this and more in this week's red, white and blue Space Force news!
Colorado GOP: Maybe we don't want SPACECOM HQ after all…
Now here's a surprising twist in the Space Command (SPACECOM) hedaquarters relocation saga: the Colorado Republican Party has officially suggested that perhaps Huntsville, Alabama, would make a better permanent base for SPACECOM than their own Colorado Springs in correspondence to the White House.
Virtually since Joe Biden was sworn in as President, high–ranking Democrat politicians have sought to overturn an eleventh–hour Trump Administration decision to base SPACEOM in Alabama. Since the Supreme Court's decision in Dobbs v. Jackson Women's Health Organization in June 2022, Democrats have argued that military servicemembers should not have to live in areas with restrictive anti–reproductive rights laws; this tack has proven successful enough to stall the relocation which no indication as to when any such decision will be made.
On Tuesday, June 6, Colorado GOP chairman Dave Williams weighed on behalf of his state's party, writing to the Biden Administration that "if the main driving force to keep [SPACECOM HQ] in Colorado Springs is Colorado's unfettered abortion laws that provide no restrictions whatsoever," than the party would rather put the headquarters in Alabama.
Wrote Williams in part: "As a political organization that is unwavering in its support for the pro–life movement, the Colorado Republican Party, and its leaders, implore you to ensure that the decision to keep Space Command in Colorado Springs be made solely on merit, rather than being entangled with the issue of abortion access."
"National news publications are reporting that the White House would support a reversal of the initial decision to have Space Command headquartered in Alabama because Colorado allows for unborn children to lose their lives to abortion, which is abhorrent and morally unacceptable."
"Furthermore, President Donald J. Trump was falsely accused of making an unfair 'political' decision that jeopardized national security with the determination that Space Command be headquartered in Alabama."
"Despite this dishonest attack against the 45th President's motives, it would be very hypocritical for your administration to turn around and make an unfair political decision for the sake of advancing the radical abortion agenda."
No public comment appears to have been made by Rep. Doug Lamborn, a Republican who has been among the more vociferous of legislators against moving SPACECOM to Alabama… Source: MSN.com .
Alabama Senator: Dickinson said SPACECOM should be in Huntsville
Sen. Britt (R.–Ala.) jumped into the SPACECOM HQ fray on Wednesday, June 7, asserting that none other than SPACECOM Commander Gen. James Dickinson had affirmed to her that the new HQ should be relocated to Huntsville, Alabama, as planned by the Trump Administration.
Britt, along with Sen. Tommy Tuberville (R.–Ala.) and the state's seven House Representatives, met with Dickenson and other unnamed SPACECOM officials to discuss the relocation on Wednesday.
In a statement following the meetup, Britt announced that "General Dickinson just confirmed to us that the headquarters of U.S. Space Command belongs on Redstone Arsenal in Huntsville, Alabama. This is no surprise because it's what the facts clearly support. The White House must keep politics out of this. It's past time for them to do what's best for our national security." Source: Alabama Political Reporter, WAFF (Huntsville).
Colorado or Alabama for SPACECOM HQ? How about Ohio?
On the same day Tuberville, Birtt and Alabama's congressional delegation was meeting over the SPACECOM relocation. Sen. Sherrod Brown (D.–Ohio) rallied his one state's Washingtonians top put forth Wright–Patterson Air Force Base in Dayton as a compromise choice for the HQ.
In a letter to the Biden Administration, USAF secretary Frank Kendall and USSF Chief of Space Operations (CSO) Gen. B. Chance Saltzman, Brown together with Ohio Reps. Joyce Beatty (D.), Shontel Brown (D.), David Joyce (R.), Marcy Kaptur (D.), Greg Landsman (D.), Max Miller (R.) and Emilia Sykes (D.), leaned heavily on history to make their case:
"Should the Administration reconsider the next location for U.S. Space Command, and as the Department of the Air Force identifies the best locations for U.S. Space Force units, we believe it makes sense for the Command to be located within proximity of both U.S. Air Force and National Aeronautics and Space Administration (NASA), in addition to leading international, research institutions."
"The state of Ohio is ideally suited to host U.S. Space Command and Space Force Units. It meets these criteria, and for these reasons, we urge you to locate the U.S. Space Command permanent headquarters at Wright–Patterson Air Force Base (WPAFB) in Dayton and to partner Space Force with NASA's John H. Glenn Research Center (GRC) including Lewis Field in Cleveland and the Armstrong Test Facility (ATF) in Sandusky."
"From the Wright brothers to American heroes like John Glenn and Neil Armstrong, the story of modern aviation is rooted in Ohio — and Ohio is ready to meet the challenges of the future. Ohio's numerous industry and university partners in the state create a synergy around national security and space that is unmatched around the country."
"Ohio's federal resources are uniquely situated to assist U.S. Space Command, including: the National Air and Space Intelligence Center (NASIC); the National Space Intelligence Center (NSIC); the Air Force Research Laboratory (AFRL); and other organizations at WPAFB; the 178th Intelligence, Surveillance, and Reconnaissance (ISR) Group at the Springfield Air National Guard Base; and NASA GRC…"
Unsurprisingly, Brown's idea is garnering lots of local support. The Ohio Mayors Alliance and some 11 economic development organizations have signed off on lobbying efforts. In its own correspondence with the White House, the Alliance board of directors informed the Biden Administration that Wright–Patterson AFB "is already functioning as a point of contact for the U.S. Space Force through Space Delta 18 (NSIC)."
Further, "With the continuation of this development in the form of a host space for new Space Force missions or a permanent headquarters of the U.S. Space Command, Wright–Patterson Air Force Base and the surrounding region can continue to foster collaboration and innovation in the defense sector. Ohio's cities both in the Dayton and southwest Ohio area as well as the rest of the state are ready, willing, and able to invest in educating, housing, and employing Space Force families and all of its related suppliers and services."
Brown spoke on the issue in the Senate on Thursday, June 8, and told local media that evening that "Ohio does deserve" consideration and that "We're going to fight for it. The administration understands that the process was rigged three or four or five years ago. Two independent studies said it was not a fair competition."
"Ohio didn't compete much then. This time we are." Sources: Yahoo News, Sen. Brown official, Ironton Tribune, the (Findlay) Courier .
GAO in weapons system assessment: Expect delays to USSF programs
The Government Accountability Office (GAO) released its Weapons Systems Annual Assessment this past week, thoroughly reviewing a pair of crucial Space Force programs: the Proliferated Warfighter Space Architecture (PWSA) and the Next Generation Overhead Persistent InfraRed (Next–Gen OPIR) satellites.
The GAO found both programs to be behind schedule and experiencing issues. In development of the PWSA, the GAO stated that the years 2020–2022 caused critical delays in development of linearized traveling wave tube amplifier (LTWTA) technology. "The program selected the LTWTA due to the power requirements of the satellite's Regional Military Protection capability. The program also plans for these amplifiers to power other GPS signals."
"A significant amount of software development remains for the GPS IIIF program. The program estimated that, as of August 2022, it completed less than 25 percent of the software necessary to meet system requirements. The program plans to conduct qualification testing of the satellite software on a satellite simulator in mid–2023 to permit the software's integration and testing on flight hardware for the first GPS IIIF satellite in summer 2023."
On the Next–Gen OPIR satellites, the GAO noted in part that the "Next Gen OPIR Block 0–GEO program must overcome numerous challenges before its first planned launch in 2025," though also praised a couple of contractors with "the GEO satellite's competing payload developers–Raytheon Technologies and a team of Northrop Grumman and Ball Aerospace–achieved a major milestone when they completed critical design reviews of their respective infrared payloads. Program officials announced that Raytheon would provide the main mission payload for two of the three Next Gen GEO satellites and Northrop Grumman/Ball Aerospace would provide the payload for one…."
GAO estimates put the total cost of the Next Gen OPIR program at $5.6 billion, a 9% increase over the figure given in 2022 and asserted that "Our review of this program indicates that delivery of both payloads and the first launch are likely to be delayed." The entire report may be read here. Sources: Air and Space Forces magazine , GAO official website.
Raytheon deliverables to be delayed
In light of the GAO report, a Space Systems Command (SSC) spokesperson informed satellite tech news outlet C4ISRnet that Raytheon's delivery of the Next–Generation Operational Control System (a.k.a. OCX) increments 2 and 3 will be delayed to the end of 2023.
Raytheon had originally been contracted to deliver the OCX in January.
This delay will in turn set back the capability of OCX until Q2 2024 and according to SSC estimates given to C4ISRnet, some $123 million in additional costs have been run up by Raytheon due to the delays. Source: C4ISRnet.
ULA, SpaceX win six Space Force launch missions each
Space Systems Command officials announced on Thursday, June 8, the awarding of 12 total Space Force launches to United Launch Alliance (ULA) and SpaceX as part of the National Security Space Launch (NSSL) Phase 2 procurement program.
Col. Chad Melone, SSC Launch Procurement and Integration Division chief, stated in announcing the contracts, "We partner closely with our launch service providers and mission customers to deliver critical payloads to orbit precisely, on time and without failure. ULA and SpaceX continue to provide outstanding launch services with their reliable and innovative launch systems, and we are confident in their ability to maintain the unprecedented 100% program success for the NSSL missions assigned for launch in [FY 2025]."
The previous day, ULA representatives were pleased to announce completion of the flight readiness firing (FRF) test by the ULA Vulcan Centaur booster rockets. All that remains of the test regimen before its NSSL launches begin are the two certification test flights.
"We are more than 98% complete with the Vulcan qualification program. The remaining items are associated with the final Centaur V testing," ran the official statement from ULA. "The team is reviewing the data from the systems involved in today's test and, in parallel, continue with the Centaur V test stand anomaly investigation. Pending the data review and the investigation results, we will develop a plan for launch."
"During the countdown, the team observed a delayed response from the booster engine ignition system that needs further review prior to proceeding with the flight readiness firing." The Vulcan booster is powered by Blue Origin BE–4 engines and is ultimately planned to be employed in the maiden launch of the new Dream Chaser cargo spaceplan. Said launch would be a flight to the International Space Station tentatively scheduled for December 15.
That mission, dubbed Demo–1 by Sierra Space and Cert–2 by ULA, would be the first flight of the Sierra Space–built Dream Chaser spaceplane and mark the third vehicle available to NASA to use as part of the Commercial Resupply Services program.
"This is a milestone that points to the future and is a key moment in a long journey for Dream Chaser," said Sierra Space CEO Tom Vice after the successful FRF test. "With this significant achievement, our Dream Chaser spaceplane is poised to redefine commercial space travel, opening up new possibilities for scientific research, technological advancements and economic opportunities in space." Sources: Denver Business Journal, Spectrum News (Central Florida), YouTube.
USSF COO: Anti–LGBTQ+ prejudice dangerous to military readiness
The offices of the Pentagon observed Pride Month on Wednesday, June 7, at a event in Washington. Among the speakers was USSF Chief Operating Officer (COO) Lt. Gen. DeAnna Burt, who emphasized the importance of inclusivity.
According to Burt, "More than 400 anti–LGBTQ+ laws have been passed" in year 2023 and these could be "dangerous to servicemembers, their families and our readiness as a whole." She went on to reiterate longstanding Space Force policy that "The diverse and inclusive tapestry of the Department of Defense must continue to embrace the LGBTQ+ community."
For Burt and the Space Force, battling against LGBTQ+ prejudice is a matter of pragmatism. In her talk, she cited statistics showing that some 20% of Americans born between 1997 and 2004, i.e. those currently 18 to 26 years old and thus within the key demographic for recruitment, identify as LGBTQ+. Source: YouTube.