In this week Space Force–centric news, it's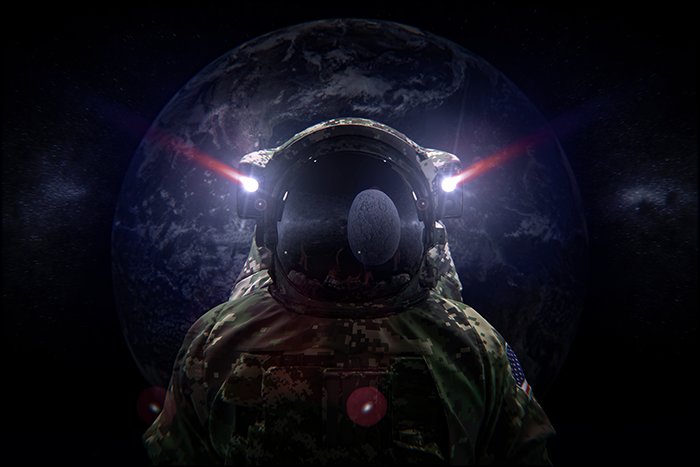 all about addressing the issues. USSF CSO Gen. Saltzman wants the service's mission statement rethought and reworked; Space Systems Command has a suggestion of two for solving the overdemand for launches from Florida; to address decreasing recruitment numbers, the Department of the Air Force has instituted a couple of referral programs; and POTUS himself may be weighing in on the Space Command HQ controversy. We're solving all the problems in this week Space Force news!
Saltzman: Space Force mission must be properly defined
Space Force Commander of Space Operations (CSO) Gen. Chance Saltzman got some serious mainstream coverage this week for an inter–service memo sent out on Monday, May 15.
In a story broken by Politico, Saltzman's memo decried the vaguery of the USSF mission statement and ultimately called for suggestions to clear the service's vision going forward.
Wrote Saltzman in part: "I have some concerns with our current mission statement. My biggest concern is that the mission statement does not reflect why the Nation has a Space Force and the vital functions Guardians perform."
Said mission statement, drafted in December 2019, reads as follows: "The USSF is responsible for organizing, training, and equipping Guardians to conduct global space operations that enhance the way our joint and coalition forces fight, while also offering decision makers military options to achieve national objectives."
Wrote Saltzman: "our current mission statement is long and cumbersome. We can do better."
So the General is requesting a rewrite, crowdsourcing–style. The memo concludes by asking for suggestions, with the primary requirements that the statement "be informative, memorable, inclusive and receive buy–in." Sources: Politico, Task and Purpose, Gizmodo.
Purdy: California may have to cover Florida's excess of launches
On Monday, May 15, Maj. Gen. Stephen Purdy of Space Systems Command (SSC) spoke to the Federal Aviation Administration (FAA) Commercial Space Transportation Advisory Committee (COMSTAC), giving a presentation on the overwhelming demand for launches from Florida.
According to Purdy, launchpads at Cape Canaveral have just about reached full capacity, despite the move in March to lease three launch complexes to private companies. "The Eastern Range is almost done doing everything it can," said Purdy, with the final step to maxing out will be another round of bidding on more unused launchpads. "When that's done, we're going to be very, very close to out of pads on the Eastern Range."
Purdy is currently working with the Mid–Atlantic Regional Spaceport to handle some overflow, but speculated that ultimately the move might be to simply launch from Vandenburg Space Force Base in California. His demonstration also touched upon the logistics of launching East Coast missions from Vandenberg.
"With a couple boats in the water and perhaps an aircraft or two in the broad area [rockets could be launched eastward from Vandenberg]. That possibility starts to be intriguing, so I would encourage a national–level conversation to start the groundwork of what that would look like." Source: Space News.
Medals, promotions offered for USSF recruitment
Recruitment numbers are down in all military branches, so this week the Department of the Air Force (DAF) introduced new referral programs — along with quite the interesting perks — to incentivize recruiting.
Two programs, the Stellar Talent Acquisition Recruiting Referral (STARR) and Stripes for Referrals are designed for "all Airmen and Guardians to inspire the next generation to serve in the Air Force and Space Force."
Officers ranking up to lieutenant colonel and enlisted service members of up senior master sergeant can receive the Air and Space Achievement Medal for referring three enlistees who attend basic training. All enlisted service members and officers up to colonel may receive the Air and Space Commendation Medal for referring five enlistees.
Stripes for Referrals gives USAF and USSF recruits a chance at promotion up to E–2 by referring two enlisted accessions candidates, or to E–3 by referring four enlistees who join the Delayed Entry Program or Delayed Entry Training. DAF recruiting also introduced the We Are All Recruiters (WEAR) program. Not so much a program for direct recruitment by servicepeople, WEAR is a drive to find personnel who can "educate and increase public awareness of the Air Force and Space Force and could potentially provide numerous leads for recruiters, aiding the recruiting mission."
Brig. Gen. Lisa Craig, Air Force Recruiting Service deputy commander described the program thusly: "As part of our whole of service approach to recruiting and the 'Go Blue–Stay Blue' campaign, we need Airmen and Guardians to connect with their local communities through visible participation in community activities, volunteer work and speaking opportunities that allow them to tell their Air Force story."
"All Airmen and Guardians, regardless of their specialty, should think of themselves as recruiters, and the WEAR program is a great way for them to help find and attract the best of America's talent to serve."
Members may receive up to 14 total days permissive TDY to attend WEAR events each year. Sources: Air Force official website, SpOC official website.
Parsons wins $55 million contract for MEO constellation work
Representatives of Parsons Corporation announced this week that their company had won a $55 million contract from Space Systems Command (SSC) for operation and integration of missile–tracking satellites in the planned Resilient Missile Warning/Missile Tracking medium Earth orbit (MEO) constellation.
Under terms of the agreement, Parsons "will perform integrated ground and operations services in support of the first increment of SSC's medium Earth orbit satellite constellation for tracking missile threats." The MEO constellation is planned to provide high–fidelity overhead persistent infrared sensing tools to defend against traditional and hypersonic ballistic missiles.
"SSC is planning to put at least six MTC Epoch 1 missile–warning satellites into MEO by late 2026," said Lt. Col. Raydon Imbo of the SSC in the announcement. Source: Gov Con Wire.
Sources tell NBC News that POTUS will block SPACECOM move
The bipartisan battle amongst Congresspeople over the still–unimplemented Trump Administration decision to move US Space Command (SPACECOM) headquarters from its interim location in Colorado Springs to Huntsville, Alabama, has been raging since President Biden took office in January 2021. And now finally the POTUS himself is reportedly getting involved in the kerfuffle.
NBC News put out a story on Monday, May 15, which indicates that the Biden Administration is in fact quietly working on plans to halt the SPACECOM relocation. According to the network's anonymous source from within US officialdom, "The belief is they are delaying any move because of the abortion issue." This contention was backed by a second US official.
In the aftermath of the Supreme Court ruling on Dobbs v Jackson, Colorado senators and its US representatives have argued that basing military servicepeople in a state which denies reproductive freedom in unethical. The tactic became the public go–to move for Sen. Michael Bennet, Sen. John Hickenlooper, Rep. Doug Lanborn and Rep. Jason Crow after a Government Accountability Office (GAO) report showed insufficient misconduct to overturn the Trump Administration relocation decision.
The next day, perhaps buoyed by the NBC News report, Hickenlooper had some words on the matter for the Senate floor, including the apparently unironically made claim that "Our military should never be politicized…" Sources: NBC News, YouTube.