We're practicing the three S's in Space Force news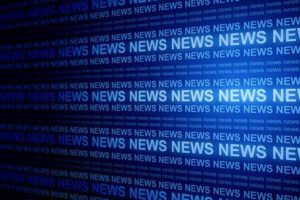 this week: Satellites, SPACECOM and science–fiction. Kudos first to the Space Development Agency (SDA), who after several delays, got the first 10 of their Tranche 0 satellites into orbit. We've also got news — or rather, opinion and rumors — on the increasingly protracted battle over the US Space Command headquarters relocation. And finally, a USSF major's wild idea about fighting wars in cyberspace with Bitcoin goes viral. All the Space Force news for the week follows.
SDA (finally) achieves first–ever satellite launch
Rainy weather in California delayed a much–anticipated launch several times until ultimately going off on Sunday, April 2.
The Space Development Agency (SDA) successfully conducted its first–ever launch from Vandenberg Space Force Base; 10 missile–tracking and communications satellites were sent into low Earth orbit (LEO) aboard a SpaceX Falcon 9 rocket. This after the planned launch was delayed with seconds in the countdown remaining on Thursday, followed by further postponements on Friday and Saturday.
These satellites represent the first of 28 in the SDA's planned Proliferated Warfighter Space Architecture (PWSA) constellation, contracted to the SDA for $150 million as part of Tranche 0 in late 2020. According to the SDA, the satellites will track missile tests and will be employed in military exercises set later this year. Completion of Tranche 0 with the launch of the remaining 18 satellite is slated for June.
SDA director Derek Tournear stated after the launch that "Through this launch, we've demonstrated that SDA can keep a schedule to deliver enhanced capabilities every two years. This revolutionary approach is enabled by growth in the commercial marketplace, allowing the PWSA to move forward to deliver warfighting capabilities in each future tranche."
Sources: Breaking Defense, Task & Purpose, YouTube.
SSC officially transfers SBRIS GEO satellites to SpOC
Representatives of Space Systems Command (SSC) announced this week the official transfer of control authority of the Space–Based InfraRed System Geosynchronous Earth Orbit (SBRIS GEO) satellite to Space Operations Command (SpOC). The SBRIS GEO is now under command of the 2nd Space Warning Squadron based at Space Delta 4, Buckley Space Force Base.
Col. Daniel Walter, commander of Space Sensing Directorate's Strategic Missile Warning Acquisition Delta, stated per the announcement that the satellite had "exceeded performance expectations during on–orbit testing" and "It was a very clean calibration campaign, allowing us to declare operational acceptance about 40% faster than our historic average testing times."
SSC Space Sensing program executive officer Col. Brian Denaro said that "The operational acceptance of SBIRS GEO–6 marks the completion of the SBIRS GEO system, representing a pivotal moment in SSC's history. SBIRS is the result of many years of hard work and collaboration with industry partners to leverage their knowledge and resources to deliver critical capabilities to the warfighter and our allies." Sources: Executive Gov, SpOC PR .
Alabama–Colorado war of words over SPACECOM HQ continues
Another week, another round of congresspeople representing the states of Alabama and Colorado accusing the opposition of playing politics at the expense of national security — Come to think of it, the struggle over the question of relocation for US Space Command (SPACECOM) headquarters is quite the analogue of American politics today…
The week began with Alabama Sen. Tommy Tuberville again teeing off on the question of whether the Trump Administration decision to base SPACECOM HQ in his home state should be reconsidered, claiming that President Joe Biden would be showing the "worst of Washington" should ha overturn the proposed move.
"The military's decision to place the Space Command at Redstone Arsenal is what is best for national security and for taxpayers," wrote Tuberville in an opinion column in the Washington Post of Monday, March 27. "If Mr. Biden overrules the Air Force, it will be Washington at its worst: a president putting politics above plain facts. The Space Command belongs in [Huntsville]."
Tuberville's piece came in specific response to a column published in the Washington Post of Sunday, March 26, in which writer David Ignatius asserted that "he Biden administration is quietly moving to repair one piece of the damage that could affect national security" because the administration "fears the transfer would disrupt operations at a time when space is increasingly important to the military." Those who have been following the machinations of this issue will recognize the party line the Colorado congressional delegation has been pushing throughout.
Ignatius's piece was something of a follow–up to former Colorado Springs mayor John W. Suthers's own recent article stating that then–President Donald Trump's decision to move SPACECOM HQ was politically motivated.
The Coloradans were apparently not swayed by Tuberville's bluster, however. A piece entitled "Colorado officials hopeful about Space Command as new evidence of Trump's meddling emerges" this week running on Colorado Newsline quoted Sen. John Hickenlooper as saying, "We're helping Ukraine deal with Russia, but Russia has already shot down one of their own satellites to show that they could do it. With a rivalry with China and the aggression of Russia, we can't afford to weaken by one iota our full operating capability of Space Command. Space Command is more important than it ever has been before."
And Doug Lanborn, the Republican US representative representing Colorado Springs, further commented to the news outlet that "I am encouraged by reporting from the Washington Post indicating that the White House and Pentagon share my concerns that relocating U.S. Space Command headquarters would create an unnecessary delay in the command reaching full operational capability."
"Our adversaries are racing to gain an advantage in space, and it is fundamental that we urgently organize to meet that threat. I will continue to engage with military leadership on this issue and advocate for Peterson Space Force Base in Colorado Springs as the permanent home of U.S. Space Command until a final decision is made."
As for the man self–described as he with whom the responsibility of the final decision sits, Department of the Air Force Secretary Frank Kendall, well … still no word.
In sitting for a hearing of the House Appropriations Committee defense subcommittee, Kendall was asked as to whether the contentions put forth by Ignatius were true; he said he had "no indication that the president is going to do anything with regard to that decision" and that Secretary of Defense Lloyd Austin had "delegated it to me and that's where it stays."
For now, politically speaking, it appears the momentum is all Colorado's… Sources: AL.com, Colorado Newsline, Space News.
Bitcoin: Warfighting domain of the future?
In its brief existence, the Space Force has already gained a reputation for forward thinking, but USSF Maj. Jason Lowery has gone next level on the idea. Lowery, a US National Defense Fellow at MIT, recently submitted as his thesis work a 400–page tome entitled "Softwar: A Novel Theory on Power Projection and the National Strategic Significance of Bitcoin."
Though the thesis was released in traditional print formats in mid–February, Softwar only truly went viral last week, with outlets in the mainstream such as Politico and virtually every cryptocurrency–centric site online alike reporting on the book.
As the print edition explains the premise, "Bitcoin doesn't just represent a peer–to–peer cash system, it also represents a new form of digital–age warfare that will transform national security, cybersecurity, and possibly even the base–layer architecture of the internet."
"Using scientific concepts from biology, evolution, anthropology, political science, and computer theory, Lowery summarizes the dynamics of power projection in human society and provides an argument for why emerging proof–of–work technologies (namely Bitcoin) will have a dramatic impact on how humans organize, cooperate, and compete on a global scale by empowering populations to project physical power in, from, and through cyberspace."
"Major Lowery concludes that Bitcoin represents a national strategic imperative that the US should support and adopt as quickly as possible, else it risks losing its lead as a global superpower in the 21st century."
Put more plainly in terms of implications for the military, Lowery imagines cyberspace a theater of war which more resembles competition for resources, i.e. an agreed–upon number of tokens, than the bloody battles littering history. Politico reviewer Ben Schreckinger — whose reviewer in Politico may have triggered the rush of coverage won by Softwar — put it thusly: "In some ways, the role Lowery envisions for proof–of–work contests is similar to the one played by chess matches and the Olympics during the Cold War: a form of competition that falls short of a shooting war. Instead of gaining national prestige, the winner of proof–of–work competitions gains power within a distributed computer network that is being used to assign abstract property rights."
Science–fiction or near–future: Who knows…? Sources: Politico, Futurism.com, Coin Telegraph, Amazon.