After several weeks without headlining launches,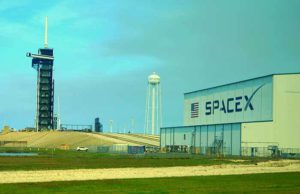 this edition of the Space Force news is mostly all about 'em: SpaceX CEO Elon Musk was forced to admit his new Starlink V2 Mini satellites are having issues; 18 companies were named as competitors for $900 million in SCC BMC3 task orders; ABL Space Systems won another big contract; and Relativity Space finally launched its 3D–printed rocket — with, let's say, mixed results. All this and more in this week's Space Force news.
Unknown problems with Starlink's new V2 Mini satellites
Since before the Space Force was formed, SpaceX has been a darling among private enterprise satellite launch subcontractors: Hundreds unto thousands of Starlink satellites now comprise dozens of USSF constellations in orbit at a near 100% success rate with unsuccessful launches and communications failures nearly non–existent — until this week.
On Wednesday, March 22, a self–described "Starlink customer" named Nathan Owens tweeted regarding the apparently failing orbits of some Starlink V2 Minisats:
To which the Starlink CEO was forced to admit that
The Starlink V2 Mini satellites were launched on February 27 in a group of 21 satellites foundational to the formation of the USSF's planned satellite–to–mobile phone service to Guardians. These were touted as allowing Starlink to "provide more bandwidth with increased reliability and connect millions of more people around the world with high–speed internet."
The satellite were deployed at an altitude of 230 miles/370 kilometers and were expected to attain orbit at over 260 miles/420 km, but never reached greater heights and begin to lose altitude on March 15.
As of this writing, no solution has been found. By FCC authorization, Starlink may deploy 7,500 of its "Group 5" second–generation satellites at the 325–332 mile/525–535 km altitude. A launch of 52 Group–5 satellites — essentially, older versions of the V2 — went off without a hitch from Cape Canaveral on Friday, March 24. A second set of Starlink V2 Minis is scheduled for Thursday, March 30. Sources: Twitter, Space News, Gizmodo, Space Flight Now.
18 companies named to compete for $900 mil in SCC task orders
Good news was celebrated at some 18 private enterprises this week, as Space Systems Command (SSC) officials revealed their list of 18 vendors chosen to bid on a combined $900 million in SSC Battle Management Command, Control & Communications (BMC3) Program task orders for data analytics and software services.
According to the official statement from the SCC Office of Public Affairs, "All contractors were chosen on a best–value basis, with a heavy emphasis on their commercial software solution and current accreditation or plan/ability to obtain accreditation." The resultant list includes SMEs alongside larger corporations; the winning 18 include:
Agility Consulting
August Schell Enterprises
Avantus Federal
BAE Systems
Bluestaq
C3 AI
Enlighten IT Consulting
Ernst & Young
Kinecta DB
MAGS DS Corp.
Map Large
Meroxa.io
NT Concepts
Oracle America
Palantir USG
Raft digital consultants
Royce Geospatial Consultants
World Wide Technology
"Contractors that win subsequent delivery orders will provide critical capability to support the Secretary of the Air Force's operational imperatives, with a focus on delivering resilient and effective apace order of battle and architectures," SSC Warp Core program manager Maj. Hayden Poe stated with the announcement. Sources: Space Force PR, Space News.
USSF, AFRL announce University Consortium Research Opportunity
Officials of the USSF and Air Force Research Laboratory (AFRL) on Wednesday, March 22, announced the University Consortium Research Opportunity, a fund to support science and technology projects focused on Beyond Geostationary Earth Orbit (xGEO) and/or Space Domain Awareness (SDA) operations.
A minimum of research institutions will be chosen by the Space Force to partner with the AFRL, the Defense Advanced Research Projects Agency and other industry partners in R&D. Sources: Executive Gov, Space Ref.
ABL Space Systems wins $60 million StratFI contract
As part of the effort to build its Tactically Responsive Space (TacRS) capabilities, the Space Force announced this week the winning of a $60 million contract by ABL Space Systems. The contract is part of the USSF/USAF Strategic Funding Increase (StratFI) program and represents a match of private investment.
"We believe that operational flexibility is key to meeting the rapidly changing needs of our customers," said ABL head of strategic development Eva Abramson with the announcement. "This award will help us in further developing on–call launch capabilities to meet mission–driven payload, launch site and target orbit needs."
ABL has been contracted by the USSF and USAF since 2021 and, though its first attempt to launch its RS1 rocket in January of this year was unsuccessful, the company won over DoD and USSF brass in April 2022 with two rounds of demonstrations which showed the "capability for the military to prepare and launch missions to space within a day."
And this month, ABL was named one of four companies to receive a dedicated launch site at Cape Canaveral Space Force Base's Launch Complex 15. Source: Tech Crunch.
3D–printed rocket launch fails on upper stage malfunction
Relativity Space made history on Wednesday, March 22, with the launch of its rocket constructed nearly completely of 3D–printed components and parts — though not nearly as successfully as the company'd like.
The Relativity plan called for the rocket to reach an altitude of 125 miles/200 kilometers and there orbit Earth for about a week but whereas liftoff and first–stage separation went smoothly enough, the upper stage failed after initial ignition. This attempt marked Relativity's third with the 3D rocket from Cape Canaveral Space Force Base.
So the Relativity launch may not have been another proverbial "giant leap for mankind," but most experts and observers looked on the bright side of the effort.
Ars Technica senior space editor Eric Berger commented that "The first stage really was the big question. That's where all of your structural issues come up. […] So that's where you are going to really stress the structural integrity of the 3D–printed materials" — a stress test the Relativity rocket passed reasonably well.
Anna Farrar of aerospace industry group Space Florida told Orlando NBC station WESH that the launch was "an incredibly important milestone, not that we just had a 3D–printed rocket make it as far as it did, but also from the technology perspective. What that means for the broader industry and how close we are to really adapting and creating a lunar economy."
And just have a look at this image… Sources: Voice of America, WESH TV, YouTube.