Just three stories make up the Space Force news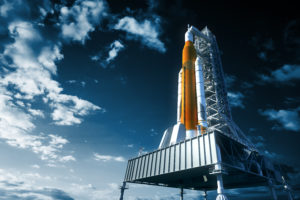 this week, but we take a deep dive into three big deals: an ASFA symposium brought out lots of well–quotable top brass; the dispute over the Trump Administration– approved relocation of SPACECOM HQ to Huntsville, Alabama, took another turn; and Cape Canaveral allocates launchpads to private companies. Read on for the details in this week's Space Force news!
ASFA Air Warfare Symposium brings big names
In terms of Space Force leadership, the biggest event this week was the Air & Space Forces Association (ASFA) Air Warfare Symposium. Among those speaking at the event were USSF Chief of Space Operations Gen. Chance Saltzman, US Space Command (SPACECOM) deputy commander Lt. Gen. John Shaw, US Space Forces Indo–Pacific Command commander Brig. Gen. Anthony Mastalir, U.S. Space Forces Indo–Pacific Command commander, Space Operations Command (SpOC) commander Lt. Gen. Stephen Whiting and Air Force Secretary Frank Kendall.
In his opening address, Gen. Saltzman said in part that "The United States established the Space Force to protect our nation's interests in space," he said. "Our formative purpose as Guardians is to contest and control the space domain. That is why we are a military service. Military service gives you the tools, the depth, and institutional experience necessary to specialize in domain control so that you may then exploit it."
Saltzman later landed the soundbite of the week, getting quoted in multiple media sources for his snappy explanation of the difference in warfighting in the space domain: "If you do this right, you never fight." More lengthily, "Unlike in other domains, our concept for domain control in space cannot rely on overwhelming destructive force."
The general went on to reiterate the DoD's emphasis on modernizing forces in space primarily as a deterrent to China, which is "developing remarkable capabilities on orbit." According to Saltzman, the goal is "space superiority when necessary while also maintaining the safety, stability and long–term sustainability of the space domain."
Lt. Gen. Shaw was even blunter in his assessment of threats: "We're under threat in the space domain," said Shaw. "If I were on the General Staff of Russia, or if I was serving in the PLA [People's Liberation Army] I would be advising the leadership to go after the space capabilities of the United States."
Shaw further asserted that US military satellites are "not all that well defended. So we should not be surprised that we're under threat. We have to completely rethink […] our space architectures."
Brig. Gen. Mastalir touted his own forces, established in November, as an effective deterrent to China. "No one synchronizes across all domains better than the United States. We continue to demonstrate that every day in the Indo Pacific and the PRC sees this on a daily basis. That is an incredible deterrent."
According to Mastalir, "[China has] a lot of capability on orbit. Most of China's newer constellations are surveillance systems designed to find, track and target U.S. forces and allied forces. … Just having the assets isn't enough. You really have to string that all together in order to present a credible combat capability."
Lt. Gen. Whiting, speaking in a panel discussion, emphasized the importance of commercial partners in the space military domain. "Certainly, commercial space is helping to overcome some of those challenges. Commercial space in the west is so innovative right now. We're able to provide commercial capabilities in support of Ukraine that are fantastic. They get around all those security challenges, and we're seeing the power of high–quality ISR." Sources: Space.com, Aerotech News, Futurism, USSF official site.
Dispute over SPACECOM HQ relocation spills onto Senate floor
Now into its third year, the tug–of–war continues between the congresspeople of Colorado and Alabama over the Trump Administration's decision to relocate US Space Command (SPACECOM) headquarters. This week, yet another twist or two brought whole new meaning to the expression "playing politics" — and reheated the bipartisan intrastate battle.
The story, kept as briefly as possible. In January 2021, the Trump Administration made the last–days decision to move SPACECOM to Huntsville, Alabama, from its current temporary base in Colorado Springs.
Through 2021, various government bodies and assessors investigated the decision–making process involved. Most reports, including that undertaken by the Government Accountability Office (GAO), alleged no legal wrongdoing. However, the Colorado congressional delegation kept up their efforts to block the SPACECOM move out of their state.
By June 2022, the GAO had completed and publicly released a second report on the selection procedure; this report concluded that despite "significant shortfalls," "overall, the basing action process directed by the Secretary of Defense complied with federal law and DoD policy, and the Air Force complied with the [requirements of the Secretary of Defense] for the basing action."
Three months later, Colorado's public servants in D.C. took a different tack. Arguing that the Supreme Court's decision in Dobbs v. Jackson, which allows state governments the authority to set abortion laws. Sen. Michael Bennett (D.–Colo.) at that time told media that he was "deeply concerned about how the Dobbs decision and state abortion bans will affect Space Command's workforce and readiness if the command leaves Colorado."
Defense Secretary Lloyd Austin then signed a memo "designed to ensure that service members and their families can access reproductive healthcare and to support Department of Defense healthcare providers concerned about potential risks while providing federally authorized care." In late November, Gen. James Dickinson told media in an oft–rerun quote that "I think the decision [on SPACECOM HQ relocation] is going to come out shortly."
In January 2023, Bennett threatened to hold up nominees for the Pentagon's top positions because Austin had declined to meet and discuss the Space Command decision.
Shortly thereafter, Bennett, along with Sen. John Hickenlooper (D.–Colo.), got his private meeting with Secretary of Defense Lloyd Austin on the matter and no Senate confirmations were delayed.
Several of these subplots peaked this week, beginning with the announcement by none other than Air Force Secretary Frank Kendall at the ASFA Air Warfare Symposium (see above item). "I hoped to make a decision and make an announcement earlier," said Kendall. "We're doing some additional analysis; we want to make very sure we got this right and have a well–defended decision."
Meanwhile, Bennett complained to the Senate about Sen. Tommy Tuberville (R.–Ala.) employing similar tactics to those threatened by Bennett earlier this year. In the Senate, Bennett attempted to have all DoD nominees for promotion, from those in civilian posts to generals and admirals in a single vote, a practice usually employed and taken for granted.
Instead, Tuberville blocked Bennett's motion to do so, thereby delaying the promotion process by untold months. Bennett took to the Senate floor on Tuesday to state "There is no precedent for what the senator from Alabama is doing."
Perhaps not, but Tuberville does have his reasons or rather, reason for the maneuver: "because the secretary of defense is trying to push through a massive expansion of taxpayer–subsidized abortions without going through this body," he explained to media. He went on to claim that he'd told Austin months ago that "if he tried to turn the DoD into an abortion travel agency, I would place a hold on all civilian, flag and general staff nominees."
Tuberville responded to Bennett on the floor along the same lines: "The DoD refused to answer questions or justify this policy [in the Austin memo] for months last year." He then claimed the memo "was exposed for what it really is, nothing but a political charade to please the left." The last word, for now, was Hickenlooper's: "Any objective analysis will show what we've argued the last two years: that senior military leaders identified Peterson Space Force Base as their top choice for Space Command headquarters."
"They did so because it will reach Full Operational Capability faster than any other location, cost less, and minimize attrition and disruption to the mission — all of which are critical to our national security." Instead of following that recommendation, President Trump put politics first and sent U.S. Space Command to Alabama.
"But Trump's decision isn't final. We strongly encourage the Air Force to take politics out of the process and ensure Space Command stays in Colorado Springs — the best choice for military readiness." Sources: AL.com, Military.com, Colorado Politics.
Three Cape Canaveral launch complexes allocated to four SMEs
In a show of just how demand for rocket launches currently are, USSF officials this week announced the allocation of three launch complexes at Cape Canaveral to a combined four private companies.
Use of Space Launch Complex (SLC) 15 was awarded to ABL Space Systems, which has subcontracted to the DoD before but has only achieved a single successful launch in January of this year.
SLC–14 was assigned to reusable rocket engine specialists Stoke Space Technologies. "We are over the moon excited by this opportunity," said Stoke Space director of range operations Julia Black, "To be trusted with the reactivation of the historic Launch Complex 14 is an honor, and we look forward to adding to its well–distinguished accomplishments for America's space program."
Upon news of the announcement, Stoke Space CEO Andy Lapsa stated that the goal for his company was to "create a 100% reusable rocket capable of boosting satellites and other payloads into orbit," enthusing that, "We're standing on the shoulders of giants. And we're beyond humbled by the historic significance of LC–14. The opportunity to reactivate this site is a profound responsibility that our entire team holds in the highest regard." Finally, SLC–13, which has been assigned to SpaceX launches, will be shared by small launch specialists Phantom Space and Vaya Space. Sources: Defense News, Space News, Stars & Stripes