This week in Space Force–centric news,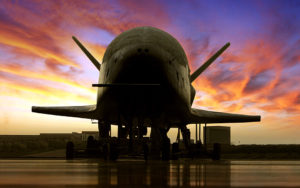 the USSF sees the future — and it is commercial. Space Systems Command's Space Mobility '23 conference started the week with some dazzling visions of commercial–military technology beginning with the AFRL Rocket Cargo program. Gen. Thompson spoke similarly of future tech at the first–ever meeting of the National Space Council Users' Advisory Group, and the USSF and USAF came together to announce a new training program for the next generation of Guardians. These stories and more in this week's Space Force news…
Space Mobility '23: AFRL Rocket Cargo, other futuristic visions touted
Space Systems Command (SSC) program executive officer Maj. Gen. Stephen Purdy spoke at the Space Mobility '23 conference on Tuesday, February 22, presenting quite the vision of the future, including on–orbit depts and Guardians deployed on space stations.
To the representatives of the DoD, industry, regulatory agencies and politics on hand, Purdy said, "We really want to get after that freight train to space. We really want to get to that point where we're constantly launching. We can't do that today, but we want to get to that point."
He went on to tell at least one media source — satellite technology news site C4ISRnet — that "We want to do on–orbit servicing and maneuver and refueling as a service. The urgency now is [to] figure out … what's going to be there, figure out how to take advantage of it and then build that complicated structure internally."
He said that internal structure includes acquisition and contracting strategies, physical space and manpower. The Space Mobility '23 conference centered on the possibilities of freight service, repair–and–refuel facilities and even manufacturing in space.
USSF Col. James Horne seconded Purdy's ideas, telling attendees that based on experimental work done and being undertaken by the Air Force Research Laboratory (AFRL) and US Transportation Command (USTC) could indicate that a cargo delivery program will start up sooner rather than later.
"The Space Force is the lead service for this program," said Horne. "If any of these different offerings, groups are successful … we're already starting to activate plans for program standup in the 2026 timeframe with [initial operational capability] moving to full operational capability as the use cases, technology and tools evolve."
Horne further stated that Indo–Pacific operations could benefit from a space–based delivery system today, to solved what he called the "tyranny of distance" problem: "That presents unique challenges from a mobility perspective. I think applications like Rocket Cargo will really help. So we are actively engaged with the Secretary of the Air Force on his operational imperatives, we're talking about some very specific–use cases […] that these types of capabilities will solve that cannot be solved by ships or airplanes today."
Even more bullish on the AFRL's Rocket Cargo plan was USSF Col Meredith Borg, who serves as SSC deputy director of Operations, Servicing & Maneuvers. "I see Walmarts on orbit," she enthused. "I see Triple–A on orbit, Ubers on orbit, service stations on orbit…" Also optimistic was us Space Command (SPACECOM) deputy commander Lt. Gen. John Shaw, though offering reporters a more — dare we say — down–to–earth version of the near–future. Shaw stated that while SPACECOM is "broadcasting a greater demand signal" to industry for on–orbit services, the main area of focus is on orbital refueling infrastructure.
SPACECOM seeks to build "dynamic space operations," according to Shaw, a series of "missions and platforms that are not Earth– facing and […] not necessarily staying static in their orbits. [The Geosynchronous Space Situational Awareness Program (GSSAP)] is the perfect example. We would be operating those much more freely, dynamically, if we could." Sources: Breaking Defense, C4ISRnet, Executive Biz, Interesting Engineering.
USSF, USAF sign agreement on new Space Test Course
On Thursday, February 23, the USSF and the US Air Force signed a Memorandum of Agreement (MoA) regarding creation of the Space Test Course. The Course will instruct Guardians on test and evaluation processes for space–flight equipment and would be based at the Edwards Air Force Base Test Pilot School.
USSF Vice Chief of Space Operations Gen. David Thompson and USAF Vice Chief of Staff Gen. David W. Allvin signed the MoA. "Ensuring our Guardians can effectively test and validate spaceflight equipment is crucial to mission success and protecting the space domain for the joint force," said Thompson. The 12–month Space Test Course will provide Guardians with "formal instruction and practical experience covering the full spectrum test and evaluation of mission systems and topics critical to the space domain, such as orbital mechanics, electromagnetic spectrum, sensor sciences and the space environment." Source: Space Force official.
SpOC Commander: "We live in a second Golden Age of space"
On Wednesday, February 22, Space Operations Command (SpOC) commander Lt. Gen. Stephen Whiting spoke at the National Defense University Foundation National Security Briefing. Speaking at the virtual event, Whiting told the assembled that "We are a society and a national defense enterprise that has become dependent on space. Space is now a location from which billions and billions of dollars of economic activity accrues every year. This is worth protecting in our economy. Our national defense is dependent on space as well […] our entire joint force is sized with the assumption that space will be available through all levels of conflict."
Whiting went on to state that the Space Force is "tracking about 4,800 pieces of trackable debris on orbit. That number has gone up 90% in the last three years and that's due to three reasons: launch of mega constellations, the Russian ASAT test, and [our] improved sensors now that can better track the objects that were already on orbit."
Whiting also spoke about the importance of partnership with commercial industry: "We are in the second golden age of space. The first was when Neil Armstrong walked on the moon when there was so much excitement around space," Whiting told audience members. "I think we see a similar level of excitement now […] being led by commercial industry. These partnerships expand our capabilities."
Among his concluding remarks, Whiting said, "General Schriever foresaw the importance of controlling the ultimate high ground of space and that it may become the most important battles going forward. We have seen the rise and importance of space for the entire joint force." Source: SpOC official website.
NSC Users' Advisory Group holds first meeting
The National Space Council Users' Advisory Group (UAG) held its first–ever meeting on Thursday, February 23, hearing from USSF Vice Chief of Space Operations Gen. David Thompson.
The UAG and its 30 members were announced in December by VP Kamala Harris. The group has a primary function "to ensure that the interests of industry and other non–Federal entities involved in space activities, including in particular commercial entities, are adequately represented in the National Space Council."
"The UAG shall provide advice and recommendations to the Council on matters related to space policy and strategy, including Government policies, laws, regulations, treaties, international instruments, programs, and practices across the civil, commercial, and national security space sectors."
To this end, Thompson spoke of the integration of commercial product into the USSF: "In the Space Force, we think about the use of the commercial sector in two ways. The first is the direct use of those commercial services to support our operations, our missions, and our activities, buying them as off–the–shelf services that we can use."
Further, Thompson said that "The commercial sector is now also serving as an engine of innovation, and the technologies that they're developing, the new and innovative operating concepts, the way they are thinking about space also spurs us on to think about [using] those technologies and operating concepts…"
USSF CSO Gen. Chance Saltzman and his staff have reportedly already agreed to meet with UAG members, but no formal arrangements have been made. Source: Breaking Defense.