Space Force–centric news this week was mostly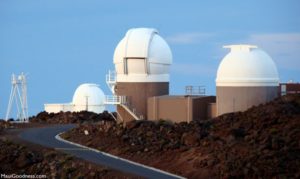 entirely swamped by a single story — and not quite the sort of story that makes for good publicity. The week began with a diesel fuel spillage at the Maui Space Surveillance Complex and days thereafter were spent on damage control and hurried official statements, while still–fresh memories of the Red Hill catastrophe were exhumed. In this edition of weekly Space Force News, then, a rundown of the Maui story and a couple of other items, including much quotage from USSF CSO Gen. Saltzman…
Space Force fuel spillage rocks Maui with fears of ecological disaster
The problem at the Maui Space Surveillance Complex began in the middle of the night on Sunday: Some 700 gallons of diesel fuel were spilled into the local environment due to a faulty fuel pump. The fuel pump reportedly failed its automatic shutdown and continued running only to be discovered by maintenance crew on Monday morning.
By Tuesday, the Environmental Protection Agency (EPA) and the Department of Health had been informed, and the general public was notified about the incident that evening.
On Wednesday, Pacific Air Forces officials stated that "There were no injuries, and the cause of the failure is under review." Along with the official announcement, US Space Forces Indo–Pacific commander Brig. Gen. Anthony Mastalier said that "We understand the importance of being good stewards of the environment and will work with necessary state and federal officials as we begin cleanup efforts."
Naturally, local politicians weighed in on the incident. State senator Lyn DeCoite, who represents the district in which the Maui complex is located, stated on social media that "This 700– gallon fuel spill atop Haleakalā is completely unacceptable. I will be working to ensure complete transparency by the involved agencies and will hold them accountable in keeping the community up to date on any major findings."
Similarly, DeCoite publicly said that "This 700–gallon fuel spill atop Haleakalā is completely unacceptable and very concerning for those who live and work near the summit. Haleakalā plays a crucial role in the ecosystem of Maui Island, and any contamination of our water sources and natural resources could have devastating effects."
On Thursday, Maui County Mayor Richard Bissen visited Haleakala and met with Space Force officials there; unfortunately, he couldn't relay much in the way of good news to his constituents. Speaking on the local program "Spotlight Hawaii", Bissen said that the military was still trying to formulate a plan for cleanup — a press conference is scheduled for Monday, February 6, when these details will be released.
Bissen also said he'd informed military officials that the "summit is sacred and they must engage with Native Hawaiian caretakers of that land." He further noted that "the military has a lot of work to do to restore trust with the public" and that cleanup efforts must include local community stewardship groups.
"I think we are in a post Red Hill climate and we understand everyone is on a more heightened alert," he said.
Indeed, the 2021 ecological disaster at Red Hill Bulk Fuel Facility in Honolulu is more than likely the reason for the extensive media coverage of the Maui Space Surveillance Complex spill. The Red Hill spill resulted in some 20,000 gallons of jet fuel leaking into the environs around Pearl Harbor and within 11 months at least 5,000 gallons were estimated to have contaminated groundwater. Some 93,000 living in military housing were affected, cleanup efforts are still ongoing and the DoD has stated that the fuel farm will be closed down.
In one of many statements on the matter released by various bodies, Space Force officials told local media program Hawaii News Now that the USSF is "committed to our responsibility to protect and preserve the environment and will continue to maintain an open dialogue with the local communities, regulators, and other stakeholders across Hawaii."
Such words were not enough to mollify everyone, however: On Sunday, a few dozen Native Hawaiian activists of the local group Kako'o Haleakala protested at the complex. Somewhat surprisingly, Brig. Gen. Anthony Mastalir met with the group, showed them the site of the accident and discussed local oversight of the cleanup process.
"We are very concerned at the inability of the military to mitigate effectively and timely this issue," Kahele Dukelow, a member of Kako'o Haleakala was quoted as saying afterward. "This recent spill of diesel fuel and we will continue to provide guidance, input and challenge the way that they are managing the mountain and challenge the existence of the industrial complex that exists there."
The group said that the meeting with Mastalir was a "good first step." Sources: Military.com, Fox News, Facebook, YouTube, Hawaii News Now.
Space Development Agency announces PWSA draft solicitation
On Tuesday, January 31, the Space Development Agency released a draft solicitation calling for 72 new satellites to expand a defense constellation in low Earth orbit. The solicitation reads as follows:
"The Space Development Agency (SDA) seeks input on its Draft Tranche 2 Transport Layer — Beta (T2TL–Beta) Program Solicitation. T2TL features multiple space vehicle (SV) and mission configuration variants procured through a multi–solicitation and multi–vendor acquisition approach."
"T2TL–Beta furthers the resilience and advances the capability of the Tranche 1 Proliferated Warfighter Space Architecture (PWSA) with an initial global proliferation of Integrated Broadcast Service — LEO (IBS–L) and TACSATCOM capabilities. This draft solicitation is for development, manufacture, test, launch integration, and deployment of the T2TL–Beta space vehicles, payloads, and mission–enabling ground systems."
"The Draft T2TL–Beta Program Solicitation is attached." Applications must be in by March 1. Sources: Space News, SAM.gov.
Gen. Saltzman on Ukraine, LEOs, Guardian training
USSF Chief of Space Operations (CSO) Gen. B. Chance Saltzman spoke with media at a Pentagon roundtable event on Tuesday, January 31, and addressed a wide range of issues.
Naturally, the Russo–Ukrainian War was high on the list of discussion topics. Saltzman has often touted Space Force and USSF–related efforts in Ukraine as vital and this week he reiterated the connection between ground forces and space/cyber warfare:
"Satellites in space are not useful if the linkages to them and the ground network that moves the information around and communicates with the satellites is not assured, is not capable, is not accessible.We've witnessed some cyber activity that has hurt satellite operations."
"When we think about satellite operations, if we're not thinking about cyber protection of our ground networks, then we may have a backdoor, if you will, to negate satellite operations without counter–satellite operations."
Some discussion of Saltzman's recently–released "Lines of Effort" that he prescribed to get the Space Force up to spec as a military branch took place at the roundtable as well. Saltzman stated that, with an overall focus on developing "combat–credible forces," he believes training of Guardians is key.
"High–quality equipment alone doesn't make you successful — [you need] the training, the logistics, sustainability, the operational concepts to operate multi–domain axes … I think the Russians on paper had very good equipment, but they didn't necessarily have the sustainment behind it; they certainly didn't have logistics. And so this is a comprehensive look at what it means to put [an effective] force on the field."
In short, "We have to be resilient, we have to be ready, and we have to be combat credible."
Saltzman touted the Space Force's current efforts to create digital/virtual training environments to help reach that readiness: "I can't give you the specific numbers yet, but we are investing in developing what I'm loosely calling an 'operational test and training infrastructure.' That's kind of an umbrella concept, and it includes simulators, it includes ranges, it includes the testing equipment, it includes the digital engineering efforts."
On implementing the LEOs themselves, Saltzman said, "We're trying to … strike a different tone with those Guardians that are out there, the commanders that are out there in the field, that have to actually execute the operations."
"I'm not going to be prescriptive. I'm saying this is generally what I think is important. You tell me what activities you're currently doing that supports these efforts, and let's make sure we're on the right track and they're properly resourced and your timelines are consistent with how fast we need them." Sources: Air & Space Forces Magazine, Space News, Breaking Defense.