Here's an early trend to follow in 2023: The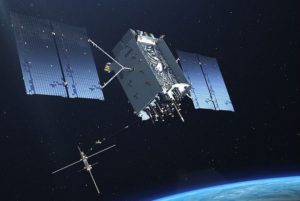 incredible number of launches from Cape Canaveral scheduled throughout the year. The week began with the imagination–capturing Falcon Heavy putting a couple payloads in orbit — including the first–ever Space RCO projects deployed. Two days later, the GPS 3 constellation was augmented by way of another big liftoff from Florida. And while the Space Launch Delta 45 commander took a victory lap, CSO Gen. Chance Saltzman made official his vision for the USSF. Heaviness abounds in this week's Space Force news…
Falcon Heavy launches with massive payloads, first–ever From Space RCO
In November, mass media gave the return to service of the SpaceX Falcon Heavy its fair share of coverage. This week saw another launch of the mammoth rocket, which again garnered some press attention.
Just after sunset on Monday, January 16, the Falcon Heavy set off from Kennedy Space Center on its fifth–ever launch and its first of five scheduled for '23. Two payloads were set into orbit, including the Continuous Broadcast Augmenting SATCOM (CBAS–2) communications relay satellite and the rideshare spacecraft Long Duration Propulsive ESPA–3A.
The ESPA LDPE–3A satellite itself is delivering five payloads, composed of two from Space Systems Command (SSC) and the first three ever from the Space Rapid Capabilities Office (Space RCO). Operational prototypes make up the Space RCO payloads, with two providing "enhanced situational awareness" and the third communications.
The three payloads are operational prototypes — two will provide "enhanced situational awareness," and the third will test a secure space–to–ground communications capability, according to press material.
The launch marked the third from Florida in January, and in conjunction, Space Launch Delta 45 commander Maj. Gen. Stephen Purdy informed media that up to 92 launches are scheduled for this calendar year.
"This is a complex mission and truly represents what Assured Access To Space [AATS] is about and is why we're so enthusiastic about this upcoming launch [of] our second Falcon Heavy in just months," Purdy said prior to the Falcon Heavy launch. "The teamwork I've seen preparing for this launch has just been exceptional. We've worked side–by–side with SpaceX to ensure all boxes are checked … that all systems are go."
Via statement after the launch, Purdy said that "We had another fantastic launch today on a Falcon Heavy, just two months after our first National Security Space Launch mission using this launch system, and while the launch itself was impressive, I am most proud of the fact that we placed important capabilities into space that help our nation stay ahead of very real and growing threats."
"We're certainly on a roll with 96 consecutive successful national security space launches, and the takeaway is that we've really got a spectacular team working together on our most challenging launch profiles to ensure our mission partners get on orbit with confidence," Purdy said.
Innovation and Prototyping Acquisition Delta director Col. Joseph Roth added that "This is a huge win for the entire space enterprise. Not only are we significantly increasing our launch and on–orbit mission capabilities, we are also demonstrating and strengthening our space operations footprint to ensure we can rapidly respond to any developing threats from our adversaries. My hats off to the entire total force team that made this launch a huge success." Sources: Republic World, YouTube, Science X, KFI AM Los Angeles, C4ISRnet.
Maj. Gen. Purdy: Canaveral launches to increase massively in '23 and beyond
Later in the week, Maj. Gen. Stephen Purdy spoke at the National Space Club Florida Committee luncheon, where he reiterated the plan to launch up to 92 rockets from the state this year; last year, the record–setting number was 57. "Two years ago, I started making the circuits saying we plan on 100, 200, 300 launches in several years. And I got lots and lots of eyebrows," Purdy told those in attendance. "We still plan on that multiple–hundred launches in a few years. So now we're trying to re–architect all our processes, our business processes, our technology processes, and all the data flows in order to support that."
Purdy puts his confidence in these once outrageous–seeming figures on the drive of certain private enterprises (Relativity Space, United Launch Alliance, Blue Origin, SpaceX) to supply hundreds of innovative rockets as well as improvement to approval processes: "In the past, it was [once in,] say 10 to 20 years, when we would introduce a new rocket to the range. Last year, we had a couple of them. This next year, we will have a few more. As part of that, we're developing faster onboarding processes."
According to Purdy, what once took two years in the process now requires about six months.
"There's a horde of satellites getting pushed through the system on the national security space side, especially as the architecture shifts," Purdy said. "It's shifting from one–off, multibillion–dollar satellites … to a distributed network like Starlink or Kuiper or OneWeb. The DoD is moving into that realm as well." Source: Florida Today.
Another Florida launch, this one for USSF GPS 3 constellation
Did we mention that Cape Canaveral is looking at a very busy 2023? On Wednesday, two days after the big Falcon Heavy liftoff, the sixth satellite in the USSF's GPS 3 constellation was launched aboard a SpaceX Falcon 9 rocket.
The satellite is the fifth Lockheed Martin Space Vehicle 6 in the mid-Earth orbit constellation and is touted by the company as providing "advanced technology to aid Space Force operators in their mission by providing positioning, navigation and timing (PNT) data to military and civil users worldwide."
This marks the 10th GPS 3 satellite built by the company for the Space Force and launched, with a current contract calling for 22 navigation beacons. What's more, "We currently have four more GPS satellites in our Colorado facility that are available for launch," according to Andre Trotter, Lockheed Martin vice president of navigation systems. Sources: UPI, CBS News, Military Embedded.
Gen. Saltzman outlines three "Lines of Effort" for Space Force
On Wednesday, January 18, Chief of Space Operations Gen. Chance Saltzman issued three "Lines of Effort" (LOEs) which he believes are the paths to success for the USSF. The LOEs are each published separately on the Space Force official website and include:
Fielding Combat–Ready Forces, namely that "Space forces must be resilient, ready, and combat–credible. … A resilient force can withstand, fight through, and recover from attacks. A ready force has the trained personnel, equipment, and sustainment capacity to accomplish missions and tasks in a high–intensity operational environment. A combat–credible force has demonstrated the ability to conduct offensive and defensive operations against an adversary."
Amplifying the Guardian Spirit, "a collective representation of what it means to be a member of the Space Force. It describes the most positive attributes of our workforce and distinguishes us as a separate service."
Partnering to Win, a commitment to "strengthening the partnerships we rely on to accomplish Space Force roles and missions. Even with superlative talent and exceptional capabilities, the Space Force will not succeed without robust joint, coalition, international, interagency, academic, and commercial partnerships…"
Issuance of the LOEs appears to be a bit of stock–taking by Saltzman as he gears up in his position as the Space Force's second–ever CSO. Much of the directives' text is devoted to reemphasizing core tenants of the service since its inception in 2019. Sources: Breaking Defense,Executive Gov, Space Force official website.