The US Space Force and its civilian partners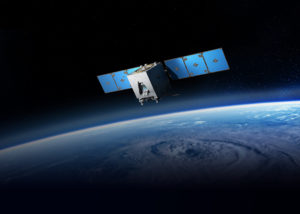 began year 2023 in business–as–usual fashion: An Orion Space Syatems cubesat — launched via SpaceX, naturally — marked an important milestone in the collection of meteorological data., while Raytheon is getting to work on a medium–Earth orbit for the USSF. Also of note was a launch of a different sort, namely the revamped recruitment website SpaceForce.com, now with lots of sharp visual effects. Read on for the first Space Force news of the year!
Private–sector WxDaaS "do not meet requirements"; Orion cubesat launch first step to EWS
Weather data–as–a–service (DaaS) represents quite a boon for private–sector enterprises — but at present, that boon lies in the future, according to at least one Space Systems Command (SSC) official.
Speaking with media outlet Breaking Defense on Thursday, Lt. Col. Joseph Maguadog, the SCC program manager for Electro–optic/infrared Weather Systems (EWS), stated that "SSC completed a Weather Data as a Service (WxDaaS) RFI in early 2022 and received several responses. Currently, those solutions do not meet EWS requirements in the near–term in a manner that is more advantageous to the government compared to existing efforts being pursued."
Maguadog went on to add that SSC believes, however, that such weather DaaS providers could be considered "as a longer–term option [fiscal 2030 and beyond], as available capabilities may change in the future."
Toward the ultimate goal of the USSF EWS system, an Orion Space Solutions prototype EWS cubsesat was launched on Tuesday, January 2, via SpaceX Transporter–6 rocket to begin a one–year demonstration mission. Maguadog described the Orion cubesat as a "higher–risk, on–orbit demonstration, attempting to meet all Electro–Optical/Infrared (EO/IR) Weather System (EWS) requirements, but with potential for significant cost savings, using commercial cameras and a new microbolometer technology."
"This prototype will serve as a proof–of–concept to see if this technology will be a viable longer–term option," he said. "If successful, this will provide an innovative option to deliver space–based environmental monitoring data to the warfighter at an operationally relevant speed."
Further, General Atomics Electromagnetic Systems Group (GA–EMS) has been awarded a contract to provide another prototype designed to assume the responsibilities of the aging Defense Meteorological Satellite Program (DMSP) satellites in 2025. USSF officials expect the three remaining DMSP satellites to become inoperative by 2026.
The Space Force requested $96.5 million in fiscal 2023 to fund EWS's replacement satellites, and were ultimately approved for $86.5 within the Fiscal 2023 Omnibus Appropriations Act signed into law in late December. Sources: Breaking Defense, Sat News, the Defense Post, C4ISRnet.
Graduate education now consideration in USSF, USAF officer promotions
An important bit of news for some USSF and USAF officers seeking promotion: The Department of the Air Force this week announced that boards considering captains and majors for promotion can, as of January 1, access graduate degrees.
"To compete with China, Russia, or other potential threats, the Air and Space Forces must incorporate new technology more rapidly and effectively than our competitors," USAF Secretary Frank Kendall stated in relation to the change. "To do this effectively, we need leaders and supporting staff throughout the [Department of the Air Force] at all levels who have deep expertise in emerging technologies and their applications to military operations."
"We must also have leaders with expertise in the cultures of our potential adversaries. Such expertise and associated critical thinking skills are developed from many sources and experiences, including advanced academic degree programs." Sources: Fed Week, Military.com.
Raytheon subsidiary contracted for first USSF MEO missile–tracking system
On Wednesday, January 4, representatives of Raytheon subsidiary Raytheon Intelligence & Space announced their company's awarding of a prime contract to develop a prototype Medium Earth Orbit missile tracking system.
Under terms of the contract, Raytheon Intelligence & Space will also deliver the command and control and real–time mission–data processing elements for Missile Track Custody (MTC) system. The ground system will use the Future Operationally Resilient Ground Evolution Mission Data Processing Application Framework (FORGE MDPAF).
"This is an advanced solution to counter emerging missile threats facing our country," said Roger Cole, Raytheon Intelligence & Space strategic systems programs executive director. "From its MEO perch, our system will enable Space Force to accurately detect and track adversarial hypersonic weapons with precision accuracy."
Current plans call for a complete system critical design review in 2023, followed by a build, integration and test campaign to deliver capability to orbit by 2026. Sources: Executive Biz, Raytheon Intelligence & Space PR.
Guardian wins William O. Studeman award
US Space Force Master Sgt. Josef Margetiak began year 2023 in fine fashion, namely winning the Department of Defense's William O. Studeman Military Award. The Studeman award is presented by the non–profit Intelligence and National Security Alliance (INSA) and is given to recognize "the accomplishments of early– and mid–career military personnel in the intelligence, defense, and homeland security communities."
Margetiak is serving as Space Delta 5 (DEL 5) Intelligence, Surveillance and Reconnaissance Division (ISRD) operations superintendent.
"Master Sergeant Margetiak's innovation and hard work are amplified by stellar leadership skills so that he's able to create teams that produce results far greater than the sum of their parts," said USSF Col. Phillip Verroco, Delta 5 commander/Combined Space Operations Center director. "The superior work of the ISRD is a source of great pride for Delta 5 and the CSpOC and Master Sergeant Margetiak's win is further validation of the tremendous talent in the division."
"Since I arrived here, I have been fortunate to work with some of the smartest and most talented Airmen and Guardians and my accolades are a direct result of the hard work that goes on within the ISRD," Margetiak said.
Formal presentation of the award will be held in February. Sources: SpOC official website.
Space Force launches new recruiting website (so to speak)
With the new look came a new look for the Space Force recruitment website. Visitors to SpaceForce.com are greeted with "Space is closer than you think" and are instantly drawn to the opening screen of an animation sequence featuring a rocket launch. This is the beginning of a minimally–interactive prompting which leads to animation of a rocket launch and a satellite deployment.
Air Force Recruiting Service commander Maj. Gen. Ed Thomas toted the new–look SpaceForce.com in press material with "With the launch of the new SpaceForce.com, we've created a virtual space to inspire the next generation of American Guardians who will protect space for the nation."
"We are very excited about the new SpaceForce.com; its interactive pages provide clear insight of what Space Force is, answering many questions about the newest service in the Department of Defense," Angelo Haygood, chief of Space Force recruiting policy, added. Sources: Military.com, Space.com.