Tis the season— to pass the last legislation of the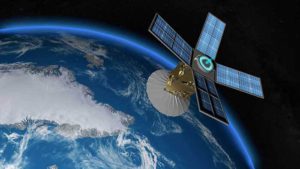 year while looking forward to the next.This past week saw not only the passage of a compromise text on the 2023 National Defense Authorization Act but also a key United Nations resolution on anti–satellite missile test. We also saw a handful of exclusive interviews given by USSF officials and civilian partners, most prominently on The Late Show broadcasting from Greenland. These items plus more in this week's Space Force news!
NDAA compromise passes Senate; DoD, USSF reportage prescribed
On the night of Tuesday, December 6, US Senators reached a bipartisan compromise agreement on the 2023 National Defense Authorization Act (NDAA), sending this new version to the House of Representatives the following day. And while the authorization of $857.9 billion – some $45 billion, or 5.2%, more than requested by the Biden Administration – was good news for the Department of Defense (DoD), Congresspeople added a few caveats for the DoD and the Space Force.
The 2023 NDAA will requires the DoD to provide documentation of "a strategy and requirements for the protection of DoD satellites" to be provided by USSF Chief of Space Operations Gen. Chance Saltzman and the Director for National Intelligence (currently Avril Haines). This call is, according to the NDAA text, in recognition of "the need to shift to a more resilient and defendable national security space architecture." Similarly, Space Force leaders will need to submit "defense and resiliency requirements prior to the start of any new major satellite acquisition program."
The DoD is also directed in the NDAA to "fund tactically responsive space demonstrations" by commercial launch providers in certain cases, and must report on the resiliency of extant launch sites and spaceports.
Also of note: The 2023 NDAA authorizes funding to support a 4.6% pay raise for military servicemembers as well as DoD civilian workforce. Sources: Senate Armed Service Committee, Space News, C4ISRnet.
No Space National Guard yet – but steps are taken
The recent 2023 National Defense Authorization Act (NDAA) draft may include a solid budgetary bump for the Space Force, but the formation of the Space National Guard remains on the backburner – at least for now.
As part of the 2023 NDAA, lawmakers are requesting a report from Space Force leadership on the viability of a Space National Guard to be submitted by March 1. Specifically, the report will need to address "how the part-time model would foster career flexibility for reserve members of the Space Component […] to move back and forth between active and reserve status for prolonged periods of time across a career."
This call by Congress is thought to be a major step forward toward opportunities for part-time service and/or reservist status in the Space Force. However, Air Force spokeswoman Ann Stefanek told Military.com that a provision for the possibility of part-time service by Guardians within the Biden Administration's 2023 budget may be more significant.
"If approved," said Stefanek, "[the Biden] proposal will establish a new approach to managing reserve component forces by merging active-duty Guardians and Air Force Reserve space professionals." Source: Military.com.
UN adopts Biden Administration ASAT resolution
On Wednesday, December 7, the United Nations General Assembly adopted some 86 resolutions and 17 final decisions on matters of international law and justice. Among the resolutions passed was a Biden Administration-introduced draft resolution against anti-satellite missile system tests. Read the UN press release in part: "[The General Assembly] then adopted by draft resolution II, 'Destructive direct-ascent anti-satellite missile testing, by a recorded vote of 155 in favour to 9 against (Belarus, Bolivia, Central African Republic, China, Cuba, Iran, Nicaragua, Russian Federation, Syria) with 9 abstentions (India, Lao People's Democratic Republic, Madagascar, Pakistan, Serbia, Sri Lanka, Sudan, Togo, Zimbabwe). "Among its terms, the Assembly called on all States not to conduct such tests and to continue discussions to develop further practical steps and contribute to legally binding instruments on the prevention of an arms race in outer space."
In response to passage of the ASAT resolution, Gen. James Dickinson of the US Space Command (SPACECOM) told media that "We can't continue to contribute to the debris that we find in the space domain" and that low-Earth orbit is now "congested, competitive and contested." He cited that SPACECOM is now tracking over 48,000 objects in orbit, a figure that has nearly doubled from three years ago, when about 25,000 objects were tracked.
Further, Dickinson stated that "space is a very important piece not only to [China's] or the global economic environment, but also the military environment, so we continue to watch that very closely as they continue to increase capabilities." These capabilities, he said, "hold most of our assets at risk in the space domain." Sources: United Nations PR, Yahoo News, Stars & Stripes.
Here comes the U.S. Mint's Space Force medal – sometime in 2023
Numismatics were certainly interested to get more details on the U.S. Mint's plans to release a 2.5-ounce silver medal honoring the Space Force—though no date for the minting has been announced.
U.S. Mint spokesperson Michael White informed specialty outlet Coin World that the medal will be 2" (5.08 centimeters) in diameter with a matte finish; a smaller 1.598" (4.06) version will also be minted at the same time.
Each version will be a limited-edition mintage, though the production run has not been announced. Coin World reckons, however, that the run is likely to be 10,000 per, as similar medals honoring the other five military branches were all minted with this number of medals. Likewise, the retail price for the larger and smaller medals should be $160 and $65, respectively.
The US Mint has been planning the Space Force medal since September 2021, when Secretary of the Treasury Janet Yellen approved the issuance. Source: Coin World.
Calvelli sneak-peaks USSF acquisitions in 2023
In terms of purchasing and acquisitions, the Space Force's civilian specialist is bullish on 2023. Despite what he sees as much room for improvement within the USSF acquisition process, Space Force acquisition executive Frank Calvelli sees a bright future ahead thanks in no small part to the cooperation of Congress.
Calvelli gave an extensive interview to military IT specialty outlet C4ISRnet which sneak-peeks calendar year, during which he expects to see some grand planning come to fruition. Said Calvelli in part, "we are focused on executing and delivering on our acquisition commitments to the joint force. We look forward to the start of National Security Space Launch Phase 3 acquisition and the start of the Space Development Agency Tranche 2 acquisition.
"We also anticipate delivery of the long-awaited Advanced Tracking and Launch Analysis System and GPS' Next Generation Operational Control System capabilities into operations."
In terms of resiliency – certain to become a buzzword in 2023 – Calvelli stated that "Space architecture resiliency is one of my three top priorities: It's critical that our systems can be counted on during times of crisis and conflict. We gain resiliency by fielding new capabilities, having orbital diversity and using proliferated systems where possible. We accelerate resiliency by adding speed to acquisitions, which we achieve by using existing technologies, building smaller satellites, acquiring space and ground system in more manageable pieces, taking advantage of commercial systems and capabilities, and executing."
For the entire interview, click here. Source: C4ISRnet (via Defense News).
Space Force CTIO: Guardians hampered by antiquated tech
Space Force Chief Technology & Innovation Officer Lisa Costa gave an extensive interview to FedTech magazine for this month's issue; Costa talks a lot of IT, including the difficulties of meshing legacy tech with innovation, cybersecurity and the "Spaceverse" initiative.
In talking IT priorities for the USSF, Costa said that, "When I arrived at this job, over a year ago now, my charge was leading digital transformation and innovation for the force. When it comes to Space Force information technology priorities, the answer is quite simple: Our Guardians need to be equipped with the right tools and technologies to ensure decision advantage and enable joint warfighter lethality… "Guardians today use antiquated tools, techniques and technologies that limit the Space Force's ability to support full-spectrum, multidomain operations. We are focused on delivering an integrated mission environment to collaborate, co-create and operate digital capabilities, models, simulations and twins from any user device.
"We are calling this effort the SpaceVerse. SpaceVerse is Space Force's version of the Metaverse and will leverage technology being developed in the commercial realm to provide Guardians with leap-ahead capability, including resilient networks, high throughput end devices and infrastructure, allowing them to experience their domain through multiple senses."
Costa doubles down on the extreme need to update thoroughly later in the interview, saying: "Understand that as the newest service, born during the digital age, we cannot afford to do things the way they have been done in the past. We are too small of an organization and our responsibilities are too vast. We must use data to make smart decisions and we must use tools like artificial intelligence and machine learning to help us."
The entire interview may be read online here. Source: FedTech Magazine.
CMS Towberman on Colbert's Late Show; silliness ensues
Once certain metric of the Space Force's increasing acceptance by mainstream America: Its presence as party to, rather than the butt of, jokes on TV. Though Jimmy Kimmel still refers to the USSF as "Trump's Space Force" (somebody really should inform this guy that Donald Trump isn't actually still POTUS), at least one primetime player is willing to take the Space Force seriously. Or rather, comedically. You know what we're saying here… The Late Show host Stephen Colbert recently visited Greenland as part of a USO show – for material on his late-night program. Among his stops was Thule Air Base and while there, Colbert talked with Chief Master Sergeant Roger Towberman.
Among the highlights of the quite silly discussion are an analysis of the ending of 2001: A Space Odyssey (guys, the "space baby" represents the next stage of human evolution); the relative laziness of the military branches; and, the bit that went viral, whether or not humans are having sex in space.
Towberman does a reasonable job in the face of Colbert's many non-sequiturs and one terrible pun on "ICBM", managing to explain the concept of space domain awareness and give a brief primer on missile defense.
Whether or not viewers learned very much about the USSF from Colbert's bit, but at least Towberman can enjoy his nine minutes of fame… Sources: Task & Purpose, YouTube.