The Space Force made moves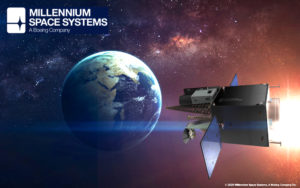 and news globally and locally this week, with the activation of the USSF's 2nd international-focused command activated; the final final decision on the ostensibly done deal bringing SPACECOM headquarters to Huntsville, Alabama; comments from Gen. Saltzman on lessons learned in Ukraine; and the story of the week in terms of mainstream-media coverage, the military supremacy established by the Space Force … in Call of Duty. All this and more in this week's Space Force News!
SPACEENT activated; USSF establishes 2nd global-focused command
Following up on the formal establishment of US Space Forces Indo-Pacific in Hawaii, the first geographically focused USSF component on November 22, Space Force officials announced the activation of a second: US Space Forces-Central (SPACECENT) at MacDill Air Force Base in Florida on Friday, December 2.
SPACECENT will be headed up by Col. Christopher Putman and will report directly to U.S. Central Command (CENTCOM), which is also based at MacDill and overseas military operations in the Middle East and central Asia. A CENTCOM statement described SPACECENT as playing "a significant role in supporting CENTCOM's growing need for space-based capabilities such as satellite navigation, communications and missile warnings."
"Just as the evolution of space as a warfighting domain necessitated the establishment of a separate service," said Putman, "SPACECENT provides CENTCOM a subordinate command focused solely and continuously on space integration across the command – with all domains and all components."
"Space underpins every element of warfighting in the CENTCOM region," CENTCOM Commander Gen. Michael "Erik" Kurilla stated on the occasion. "Today's ceremony catches us up to the reality of history: Since the Cold War, space has ceased to be a sanctuary. It is no longer solely the realm of progress and peace. Space is now a domain of conquest, conflict and — for us — cooperation." Sources: UPI, Stars and Stripes, CENTCOM PR, Florida Politics, YouTube.
Final decision (really) on SPACECOM move to Alabama coming soon
It's (soon to be) official: US Space Command headquarters will be moving to Huntsville, Alabama – probably.
On Tuesday, November 29, Gen. James H. Dickinson spoke at the Schriever Spacepower Forum online hosted by the Mitchell Institute for Aerospace Studies. While there, Dickinson was asked by a Military.com reporter about the Trump Administration Era decision to move US Space Command (SPACECOM) headquarters from Colorado Springs to Huntsville, Alabama, specifically when the decision made nearly two years ago would be implemented.
Said Dickinson, "I think the decision is going to come out shortly. I don't have a date or time. That is a decision by the secretary of the Air Force, and I know that they have been doing a very deliberate analysis of the two reports that came out."
Reportedly the required environmental-impact study was finalized in late September, representing the final major step in the long process to OK the relocation to Redstone Arsenal in Huntsville.
Also complicating the effort were several bipartisan attempts to keep SPACECOM HQ in their state by Colorado's US congresspeople, among them Sen. Michael Bennett (D.), Sen. John Hickenlooper (D.), Rep. Doug Lamborn (R.) and Rep. Jason Crow (D.). By June of this year, both the DoD Inspector General and the Government Accountability Office (GAO) released reports stating no evidence of wrongdoing by Trump – sloppiness, to be sure, but no underhandedness – in response to request from Colorado's representation in Washington.
After this, Bennett et al found new leverage thanks to Alabama's extremely strict abortion laws which do not make exceptions for cases of rape or incest, regardless of the patient's age. Along with the recent Supreme Court decision in Dobbs v. Jackson, Bennett was quoted as saying in a Military.com piece in August that the new law "could have a negative effect on recruitment and morale" among Guardians.
Colorado lawmakers have also argued that such a logistics move would be so cost-prohibitive and time-consuming that, in the medium-term, a move of SPACECOM HQ to Huntsville would "damage America's national security and erode our competitive edge in space."
Nevertheless, the final word on the move to Alabama seems clear and will likely be known before the end of 2022.
Gen. Dickinson's talk from the Schriever Spacepower Forum may be seen directly below. Sources: Military.com (2x), Mitchell Institute official website, YouTube.
Wide Field Of View returns first data to USSF
The Wide Field Of View (WFOV) missile-warning satellite, manufactured by Boeing subsidiary Millennium Space Systems and launched in July, is now returning images to the USSF.
The WFOV satellite, equipped with L3 Harris infrared sensors, will be capable of tracking over one-third of the Earth's surface and is scheduled for a three-year mission. Its deployment represents a prototype for the satellite architecture for the USSF and the other military services in missile tracking globally.
Millennium officials stated in press materials that the WFOV had transmitted first light data (where "first light data" refers to the first exposure in space of the satellite's focal plane) and would be undergoing calibration through January.
In the announcement, Col. Heather Bogstie of Space Systems Command (SSC) said that "achieving this major milestone is a huge accomplishment, and we are very excited to enter into the calibration phase of this program. After seeing the initial images, our team is pleased with how well this sensor is performing. Soon, we will be able to assess it for operations in the missile warning architecture against new and emerging threats."
Millennium Space Systems CEO Jason Kim added, "It's all about the data now – what we learn from this critical testbed will inform future overhead persistent infrared missions. At the same time, there are still so many ways in which this data can be exploited that we don't know about and that we will learn about in the months and years to come." Sources: Space News, Millennium Space Systems PR.
Gen. Saltzman: Russo-Ukrainian War is indicative of the future
In speaking during a panel discussion at the Reagan National Defense Forum on Saturday, December 3, USSF space operations chief Gen. B. Chance Saltzman shared some thoughts on the war in Ukraine with regard to his branch of service.
"I think this modern war that we're seeing play out in Ukraine is just indicative of what we can expect in the future," Saltzman was quoted as saying. Further, he said that the importance of space defense "has been proven out" by the war.
"The capability [for communications] that space offers has demonstrated its value so much so that both sides are engaged in trying to counter those capabilities and deny those advantages to the opponent." Source: Space News.
USSF's Call of Duty champs throw down gauntlet – in orbit
Finally, from the world of sports (well, eSports, anyway): The Space Force's back-to-back champion Call of Duty Endowment (CODE) Bowl teams have put their 2021 title trophy out there with the challenge to "Come and Get It!" – in low-Earth orbit, that is.
In a story gone virally globally, doubtless due to the insane popularity of the Call of Duty game franchise, the Space Force CoD team announced that the USSF had hired an unnamed UK-based private contractor to launch its CODE Bowl III trophy into orbit earlier this year. (Our guess: Skyrora, a Scotland-based rocket-building subcontractor which was visited by then-chief of space operations Gen. Jay Raymond for no apparent official reason in late August.)
@ATVI_AB proudly paid to launch the #CODEBowl trophy into space in honor of the veterans the Call of Duty Endowment serves. No animals were harmed or taxpayer dollars spent.

— Call of Duty Endowment (@CODE4Vets) December 1, 2022
The annual CODE Bowl is a charity competition featuring players from the US Army, Navy, Air Forces, Marines, Coast Guard and Space Force to square off in a tournament of – what else? – Call of Duty. The tournament began in 2019, with the Army's Team Courage taking first prize that year and the Space Force bagging the following two titles.
The CODE Bowl will be live-streamed on the Call of Duty official YouTube and Twitch channels beginning on December 16; reportedly, some 1.7 million viewers tuned in to the CODE Bowl III tournament. All proceeds derived from the event will go to the Call of Duty Endowment, a non-profit devoted to assisting unemployed and underemployed veterans. Sources: Yahoo Finance, Houston Chronicle, YouTube, Twitter.