The Thanksgiving holiday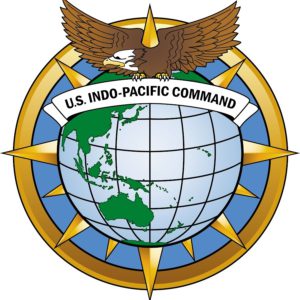 kept most news at a minimum last week, even for the nation's military services but while the holiday was enjoyed at home, Space Force officials were thinking globally, with establishment of the Space Forces Indo-Pacific as well as a new unit coming to South Korea. Meanwhile, at least one US-based contractor announced a winning bid. The Space Force news for an abbreviated week follows.
US Space Forces Indo-Pacific established
Space Force and US Indo-Pacific Command (INDOPACOM) formally established the US Space Forces Indo-Pacific in a ceremony at Camp Smith in Hawaii on Tuesday, November 22. The move gets the USSF "a seat at the table to plan for activities" of INDOPACOM, in the words of vice chief of space operations Gen. David Thompson.
Assuming command of US Space Forces Indo-Pacific was Brig. Gen. Anthony J. Mastalir, who most recently served as deputy commander's assistant at Space Operations Command (SpOC). At the ceremony establishing the command, Mastalir promised to "double down on our commitment to integrate space across all components, all domains,"
Prior to the ceremony, Mastalir had expounded on the idea, explaining that he was "focused on integrating space into the operations plans, contingency plans [to ensure] that other component commanders absolutely, without a doubt, maximize the combat effects available from the space capabilities this nation has."
INDOPACOM commander Adm. John Aquilino said that "Today's ceremony represents a tangible progression in accomplishing our mission of deterrence, while simultaneously increasing our ability to defend the homeland, protect the joint force, operate in contested space, and provide all-domain battlespace awareness."
On his part, Gen. Thompson readily told reporters why establishment of US Space Forces Indo-Pacific was established: "Every day, [Defense Secretary Lloyd] Austin reminds us of the pacing challenge, and that's China."
Further, he commented that "[USAF] Secretary Kendall has a little different way of saying it. He just comes in and says, 'China, China, China.' And so we very deliberately chose INDOPACOM first because we want the nation, the Department of Defense, that combatant command, and anyone who might wish us harm in that region, to understand that's our [priority]."
USSF Chief of Space Operations Gen. B. Chance Saltzman also spoke at the ceremony, saying in part, "This is an important step as we normalize Space into the joint force. Given today's multi-domain character of war, space must be deeply integrated with the joint team. And given today's multi-domain character of war, space must be deeply integrated with the rest of the joint team."
"This is never more true than in this AOR where we find ourselves competing against a thinking adversary who continues to field counterspace systems as well as their own exquisite space-based support systems for their increasingly capable terrestrial forces."
Sources: Hawaii News Now, Air & Space Forces Magazine, Pacific Command official website, YouTube.
US Forces Korea to establish USSF unit
Along with the news of the US Space Forces Indo-Pacific formation, making headlines in Korean and other Asian media sources this week was the announcement that US Forces Korea (USFK) would be establishing a Space Force unit in the country. The USSF unit would be just the second based outside the United States.
In one media report, unnamed sources based in Korea "predicted that the new USFK body will be smaller than the space component command in Hawaii, which has about 20 personnel." Establishment of the USFK Space Force unit is seen as part of the expansion of USSF presence abroad, as with the above-detailed US Space Forces Indo-Pacific.
Asian media tended to frame establishment of the new USFK unit with recent geopolitical developments in the region beyond North Korean missile testing, citing recent China-North Korea negotiations as well as the Japanese government's imminent National Security Strategy review.Sources: Yonhap News Agency, the Globe Echo.
ManTech lands $43.46 million contract from DoD for USSF mission support
Department of Defense officials this week announced some winning contract bids across the armed services, including the awarding of a $43.46 million contract to ManTech Advanced Systems International.
Under terms of the agreement, ManTech will be tasked with specialized acquisition and operations security services in support of USSF mission areas. Space Systems Command (SSC) was noted as the contract activity, with the work to be undertaken at Los Angeles Air Force Base, Vandenberg Space Force Base and Peterson Space Force Base.
The contract represents the first between ManTech and the USSF, with the company already having won $932 million in contracts from the Navy and Marine Corps in 2022.
Sources: Clearance Jobs, ManTech PR.