This week, the business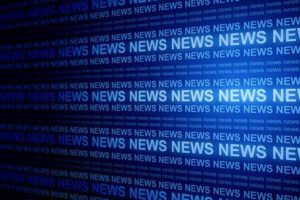 of the Space Force is business. While the biggest USSF-centric news was in-house (namely, SPACECOM's establishment of the Combined Joint Task Force-Space Operations) or on the federal level (the White House's public release of the National Cislunar Strategy), it was USSF private-sector partners that dominated headlines this week. Boeing, Ball Aerospace, Blue Origin, Datapath and Tetra Tech all moved forward in agreements and deliverables in the ongoing development of security satellite technologies. So read on for more in this week's government-contracting – we mean, Space Force news…
SPACECOM establishes new joint task force
The U.S. Space Command (SPACECOM) officially established the Combined Joint Task Force-Space Operations (CJTF-SO) at Peterson Space Force Base on Tuesday, November 15. This new task force is designed to "ensure unity of effort among the functional components' operations," i.e. to liaise between the Joint Task Force-Space Defense (JTF-SD) and Combined Force Space Component Command (CFSCC), both under SPACECOM command.
Upon announcing the task force, SPACECOM Gen. James Dickinson said, "To outpace our strategic competitor, the People's Republic of China, I am rapidly building the command to compete and win in the space domain, deter aggression from extending to space and, when necessary, prevail in conflict. The alignment of task forces and operational centers under one commander will provide SPACECOM a command-and-control structure that enables rapid action to deliver agile and responsive space effects in support of integrated deterrence."
Maj. Gen. Thomas James, formerly JTF-SD commander, will serve as interim commander of the CJTF-SO. James released a statement which stated in part, "Moving forward, the establishment of CJTF-SO will ensure unity of effort among the functional components' operations while USSPACECOM's headquarters staff focuses on achieving national security objectives.
Sources: SpOC official website, Space News.
National cislunar strategy emphasizes Space Force priorities
The National Cislunar Science and Technology Strategy was publicly released by the White House this past week, with at least one media outlet noting that the strategy's development priorities mirror those of the Space Force. Those three priorities include spacecraft and space junk monitoring, a.k.a. space domain awareness; communications; and positioning, navigation and timing (PNT).
The strategy paper is designed to "guide the actions of the U.S. government in advancing scientific, exploration, and economic development activities in Cislunar space. This Cislunar Science & Technology Strategy directly supports the United States Space Priorities Framework…" The Space Priorities Framework was announced by the Biden Administration in 2021.
Reads the accompanying White House factsheet in part: "The decade ahead is critically important for exploration of Cislunar space, including the Lunar surface. NASA estimates that over the next ten years, human activity in Cislunar space will be equal to or exceed all that has occurred in this region since the Space Age began in 1957. Many more countries and other actors are planning to travel to this new sphere of human activity.
"Cislunar space offers tremendous promise for advancing science, technology, and exploration. Humanity's activities on the Moon are uniquely inspiring for people around the world. Cislunar space provides opportunities for answering some of the highest priority questions in planetary science and exploring the history of our solar system and Sun.
"Cislunar space also contains radio-quiet environments that could help catalyze a new generation of radio astronomy, a valuable region for testing human exploration technologies and operations, and the potential to drive economic growth in space."
Sources: Breaking Defense, National Cislunar Science & Technology Strategy, factsheet.
Blue Origin gets greenlight for LSA certification activity
Nearly two years after its Launch Service Agreement with Space Systems Command (SSC) was terminated, Blue Origin and its New Glenn rocket technology may be back in the running for future National Security Space Launch (NSSL) contracts.
On Friday, November 18, a cooperative research and development agreement (CRADA) was signed by Space Launch Delta 45 commander Brig. Gen. Stephen Purdy and Jarrett Jones, Blue Origin's senior vice president for the New Glenn program.
Though the agreement is seen as mostly symbolic, Purdy stated that CRADA "marks the restart of certification activities for Blue Origin's New Glenn that began in 2018 when Blue Origin won a Launch Service Agreement. I look forward to Blue Origin completing New Glenn development and competing for the opportunity to win NSSL launch services." The NSSL requires that any rocket must complete test flights and undergo certification by the SSC before a company may compete for contracts.
The original LSA signed between Blue Origin and the SSC was terminated in December 2020, when United Launch Alliance and Space were awarded all contracts for the NSSL Phase 2 launch services bid.
Sources: Space News, Satnews.
USSF expands Ball Aerospace weather satellite contract, adds $87.3 million
Space Force officials announced this week that its extant order with Ball Aerospace to provide a Weather Systems Follow-on – Microwave (WSF-M) satellite would be expanded to include a second satellite, with the contract value increasing to $510 million.
Ball Aerospace was originally contracted in 2017 to provide a single WSF-M satellite; the first satellite is currently expected to launch in Q3 or Q4 of 2023. The satellites are designed to provide more detailed meteorological information, specifically with regard to tropical storm systems and other oceanographic data.
On November 10, Ball Aerospace technology was included in the JPSS-2 satellite launch.
Source: Denver Business Journal.
Boeing's pacesetting PTS prototype development rolls on
Boeing representatives announced this week that its Protected Tactical Satellite-communications Prototype (PTS-P) had demonstrated hardware/software integration; the technology was engineered as part of the USSF's protected tactical SATCOM project informally known as the "pacesetter program."
According to the company, the PTS-P is designed to "process the US military's space-based Protected Tactical Waveform (PTW) through software-defined beam-shaping." This "leverages geolocation and active jamming suppression in real time, gathering thousands of data points every second."
Stated USSF PTS-P program manager Jstuin Bruner at the conclusion of the testing, "Maintaining communication with our deployed forces during hostility gives us a tactical edge on the battlefield. Our adversaries are always attempting to deny our ability to communicate. On-board, autonomous, real-time nulling of jammers greatly enhances our resiliency, ensuring the United States and our allies can provide our warfighters with secure, reliable communications in a contested environment.
"Boeing has made significant strides in the development and execution of a nulling algorithm with flight-like firmware, demonstrating agile anti-jam capability. PTS-P and all of our Protected Anti-Jam Tactical SATCOM (PATS) programs are critical to this effort."
In mid-March, the Boeing PTS-P passed its critical design review; in April, the company's Protected Tactical Enterprise Service (PTES) anti-jam software was demonstrated with an industry partner.
Sources: the Defense Post, Military Embedded Systems, Boeing PR.
DataPath delivers DKET satellite communications terminal
On Thursday, November 15, representatives of DataPath, Inc., a provider of secure communications solutions and technical support services, announced the delivery of its third-generation Deployable Ku Band Earth Terminal (DKET) satellite communications terminal to the USSF.
"We are honored to support the U.S. Space Force and their mission," stated DataPath sales & marketing senior VP Barry W. Botts in the announcement.
"For over 25 years, our employees have focused on providing innovative C5ISR solutions for our nation's military and commercial customers. We recognize the importance of our customers' critical programs and are proud to have DataPath and our solutions as a continued part of their successes."
Source: DataPath PR.
Tetra Tech wins $86 million IT contract from SSC
Representatives of engineering services provider Tetra Tech Inc. announced on Thursday, November 17, that their company had been awarded an $86 million contract to provide information technology (IT) support to mission-critical systems for Space Systems Command (SSC).
Term of the 6½-year contract call for Tetra Tech to provide technology services for mission-critical facilities.
The announcement came just two days after the U.S. Agency for International Development (USAID) announced its awarding of a contract worth up to $38 million to Terra Tech to support the expansion of strategic climate adaptation and resilience programming worldwide.
One week previously, Tetra Tech's quarterly figures were announced, with the company achieving new highs in revenue, net revenue and operating income.
Sources: Exectuive Biz, Tetra Tech PR.