The Space Force hit a number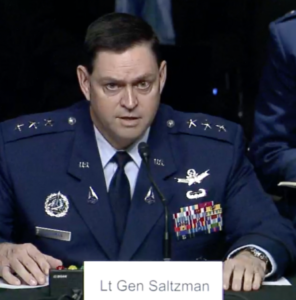 of milestones in the past week, beginning with the assumption of command as Chief of Space Operations by Gen. B. Chance Saltzman – making him the second-ever USSF CSO. Meanwhile, the world's biggest rocket launched seamlessly from Florida and the X-37B spaceplane reached its 900th consecutive day in orbit. These stories and more in this week's Space Force news.
Gen. Saltzman assumes position as Chief of Space Operations
A new era in Space Force history began at Joint Base Andrews on Wednesday, November 2, as Gen. B. Chance Saltzman officially assumed his position as Chief of Space Operations, the highest-ranking post in the USSF. Gen. Saltzman takes over from Gen. Jay Raymond, who had held the post since the formation of the service in 2019.
In his speech at the Change of Responsibility ceremony, Saltzman thanked Raymond for "doing the heavy lifting to establish the Space Force." In addressing Guardians and USSF civilian partners, Saltzman said that "My goal will be to provide you the resources, tools, training and experiences you need to unlock your massive potential.
"You have my commitment that I will work relentlessly to make the Space Force the combat-ready force that our nation needs, so get ready because I'm going to need your best as well."
Further, "The world is becoming increasingly dangerous and preserving U.S. national security interests in space is growing harder every day. Without the space capabilities you are designing, building, protecting, and operating, the Joint Force will not be capable of accomplishing its missions. A resilient, ready, and combat-credible Space Force is indispensable to deterrence today, tomorrow, and every day after that. In the worst case, if deterrence fails, the Space Force will be an indispensable component of our joint force at war."
Among these in attendance were Defense Secretary Lloyd Austin, Chairman of the Joint Chiefs of Staff Gen. Mark Milley, Department of the Air Force Secretary Frank Kendall, and ubiquitous Space CEO Elon Musk.
On his part, Austin enthusiastically described Saltzman in his remarks with "He knows his way around the space domain. He's operated satellites. He's spent many nights at the Joint Space Operations Center during ICBM alerts. And for the past two years, he's helped this new service get off the ground as the Deputy Chief of Space Operations."
Austin also outlined the present and near future for the USSF: "Now, the United States leads the way in space. But in recent years, the competition has picked up. It has become a contested environment. And China and Russia are investing in their own space capabilities.
"As our National Defense Strategy has outlined, the People's Republic of China is the only competitor with the intent to reshape the international order – and, increasingly, the power to do it. That's why the PRC is the Department's pacing challenge. And today's aggressive Russia is an acute threat to our interests and our values.
"So to defend our country and prevent conflict, we will rely on integrated deterrence. And integrated deterrence means working seamlessly across all domains and across the full spectrum of conflict, in lockstep with our unparalleled network of allies and partners, to make it clear to any potential adversary that the risks and the costs of aggression far outweigh any conceivable gains.
"And the United States Space Force is crucial to integrated deterrence."
First commissioned in the Air Force in 1991, Saltzman has served as Minuteman III launch officer, National Reconnaissance Office (NRO) satellite operator, and with the Joint Space Operations Center as Chief of Combat Plans and Chief of Combat Operations. Most recently, Saltzman served as Deputy Chief of Space Operations for Operations, Cyber, and Nuclear.
Sources: USSF official website, Gizmodo, Defense.gov, New York Post.
Gen. Raymond: Remarkable what USSF has accomplished
Following the Change of Responsibility ceremony, the communications technology news website C4ISRnet landed an extensive interview with outgoing Space CSO Gen. Jay Raymond. On the question of whether the Space Force has managed to maintain its initial goal of operating as a lean service, Raymond said in part that:
"The space business is not a manpower-intensive business. We operate the entire GPS constellation with less than 100 people. And so, it's not like some of the other services where the strength is in the mass of people. We are a very technology-focused service, not as much a manpower-focused service.
"One of the big things a next CSO will have to think through is, do we have that right? When we first stood up, the initial plan said we should have a headquarters of 1,035 people. When I was the Air Force's [deputy chief of staff for operations], there might have been across the headquarters less than 100 people.
"So, my first question was, what are 1,035 people going to do? Everybody I had talked to said big organizations are slow, and you've got to be lean and agile, and you've got to go fast. There was a strong desire to have the Space Force focus on capability, not on bureaucracy. So, I slashed it 40% to 600. And that 600 has been laid in over the course of the last several years. We haven't even gotten to 600 yet. Some of the billets are just coming in…"
When asked about the USSF timeline and how well the service has evolved, Raymond was effusive: "I would have flunked the test if you'd told me what we were able to accomplish in three years. It really is remarkable, especially with a global pandemic and people not in the office and not being able to hire folks…
"…I think we have significantly upped our game on is the people business. How do you take care of or do the professional development and force development? That's foundational to being an independent service. And I think the gains that we've made in that have far exceeded what I thought we would have done.
"And […] I think we really significantly advanced the ball in is our partnerships. We have put a lot of emphasis on building partnerships with the intelligence community and building partnerships with our allies and our partners…"
The full interview may be read here.
Source: C4ISRnet.
OSC Director: We're working on infrastructure, delegation of responsibility
Office of Space Commerce (OSC) director Dr. Richard DalBello spoke at the CyberSatGov conference in Reason, Virginia, on Wednesday, November 3, and commented on the progress of their planned civilian space traffic management office.
DalBello stated that the primary efforts of the OSC are on implementing Space Policy Directive 3 first issued in 2018, which calls for providing spaceflight security services for civil and commercial satellite operators; he cited the launch of a prototype cloud-based data repository in 2021 as an early first step in building an infrastructure for space domain awareness.
In September of this year, officials from the OSC and Department of Defense (DoD) signed an agreement to cooperate on responsibility for fulfilling the directive. Source Space News.
Said DalBello, "we clearly are in the beginning of what will be a long, long process [of defining responsibilities]. If you look back at air traffic control, it kind of started in the same way. The first air traffic control centers were organized by the airlines."
He explained that to DoD is not exiting from questions of space domain awareness, but instead are "shifting the focus. We're trying to take over civil and commercial, and some international activities. So we need to clarify roles and responsibilities."
Source: Space News.
Spaceplane news: X-37B passes 900 days in orbit; Chinese craft puts payload into orbit;
On Tuesday, November 2, the uncrewed Boeing X-37B spaceplane marked its 900th consecutive day in orbit, and has now logged over 3,700 total days in orbit since first launched in 2010. The current mission begun on May 17, 2020, also marks the very first Space Force mission undertaken.
Its current mission is mostly classified, although then-USAF Secretary stated with the X-37B launch in 2020 that "The Air Force's Rapid Capability Office has combined forces with the Air Force Reserve Research Lab and now the U.S. Space Force to execute a mission that maximizes the X-37B's unique capabilities.
"This important mission will host more experiments than any prior X-37B flight, including two NASA experiments. One is a sample plate evaluating the reaction of select significant materials to the conditions in space. The second studies the effect of ambient space radiation on seeds. A third experiment, designed by the Naval Research Laboratory, transforms solar power into radio frequency microwave energy, then studies transmitting that energy to earth."
Later in the week, officials of the USSF 18th Space Defense Squadron announced that they had detected the Chinese counterpart to the X-37B deploying an unknown object into Earth orbit. It is known that the Chinese spaceplane has already been in orbit for over 90 days.
China Spaceplane

New companion (54218/2022-093J) still holding station, probably <200 metres

Using thrusters or may be tethered

It separated sometime Oct 24 – Oct 30, before there was enough confidence for Space Track to issue orbit data Oct 31https://t.co/RpUCh030th@AJ_FI

— Orbital Focus (@OrbitalFocus) November 2, 2022
Since the initial tweet, observers have confirmed that the spaceplane and unknown object have steadily moved apart to a distance of about 5 kilometers within the same orbit.
Sources: Task & Purpose, Fox News, Twitter.
Falcon Heavy launch goes off without a hitch
The imagination-grabbing launch of what has been called "the world's most powerful rocket," the SpaceX Falcon Heavy, went off seamlessly on Tuesday, November 1, from Kennedy Space Center. The mission is the rocket's fourth ever and its first since 2019. The two side boosters were employed for the first time ever, though, and these ended up nearly stealing the show from the massive Heavy.
Mainstream media was on-hand for the event, with a CBS News reporter excitedly reporting that the boosters "were programmed to flip around moments after separation and to restart three engines each to reverse course. Another firing slowed the boosters for the plunge back into the dense lower atmosphere.
"Plummeting toward the ground, the boosters restarted their central core engines, deployed landing legs and settled to picture-perfect, side-by-side touchdowns on concrete pads at the Cape Canaveral Space Force Station as sonic booms rumbled across Florida's Space Coast.
Sources: YouTube, CBS News online.