Space Force news was everywhere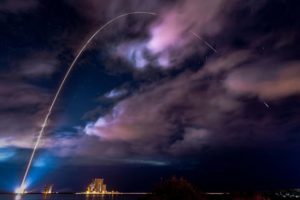 this past week in the mainstream media, triggered by both comments made to the UN General Assembly by a representative of the Russian Federation as well as public release of the 2022 National Defense Strategy. We've got summation of these stories, plus a lot more including a new graduate studies program for USSF officers, readying for the coming Falcon Heavy rocket launch, and lots more. Read up for everything in USSF news.
Russian statement in UN has world looking at Space Force
The biggest Space News of the week – at least in the mainstream media – originated in the United Nations: On Wednesday, October 25, deputy director of the Russian Foreign Ministry non-proliferation and arms control department Konstantin Vorontsov addressed the U.N. chair with some apparently provocative remarks regarding communications satellites.
In calling for greater enforcement of the PAROS agreement reached in UN General Assembly in 1978, Vorontsov said "The ever-growing risks of outer space becoming a launching pad for aggression and war merely confirm the urgent nature of this task. We reiterate our concern about the realisation of the policy by Western countries headed by the United States aimed at placement of weapons in outer space and the use of outer space for military purposes in order to ensure their dominance and supremacy…"
"Such actions are detrimental to international peace and security. […] We would like to specifically stress an extremely dangerous trend that goes beyond the harmless use of outer space technologies and has become apparent during the latest developments in Ukraine. Namely, the use by the United States and its allies of civilian, including commercial, infrastructure elements in outer space for military purposes. […] Quasi-civilian infrastructure may become a legitimate target for retaliation."
Vorontsov may have been referring at least indirectly to Starlink satellites, which have been used by Ukrainian forces in the Russo-Ukraine War when GPS systems are blocked. As Elon Musk himself put it:
The amount SpaceX is requesting for a major battlefield advantage is less than the cost of one new GPS satellite. Ironically, GPS doesn't work on battlefields, as the signal is easy to jam, but Starlink does.

— Elon Musk (@elonmusk) October 15, 2022
A day after Vorontsov's statement, the 2022 National Defense Strategy was released by Pentagon officials. The document reiterated that US stand that "[China and Russia] are already using non-kinetic means against our defense industrial base and mobilization systems, as well as deploying counterspace capabilities that can target our Global Positioning System and other space-based capabilities that support military power and daily civilian life. The PRC or Russia could use a wide array of tools in an attempt to hinder U.S. military preparation and response in a conflict, including actions aimed at undermining the will of the U.S. public, and to target our critical infrastructure and other systems…."
Altogether, the exchange added up to what many are figuring to potentially "prompt the Space Force and U.S. Space Command to see action."
In response to Vorontsov's statement, Center for Strategic International Studies (CSIS) International Security Program director Seth Jones was quoted at Military.com as stating "It's an interesting question, how the U.S. would respond in that case, to an attack against a U.S. or a multinational space company, particularly one that was involved in supporting an ally or a partner of the U.S."
CSIS senior fellow Emily Harding added that "I do know that, from the commercial side, a lot of those companies and corporations are debating internally, 'What have we gotten ourselves into? I do not think this [National Defense Strategy] tackles that question, and I think it's going to become a very pressing question in the next few years."
The question may in fact be pressing right now. The Heritage Foundation released its own assessment of US military forces last week and, in classifying the Space Force as "weak," stated that the USSF has not demonstrated "that it is ready in any way to execute defensive and offensive counterspace operations to the degree envisioned by Congress when it authorized creation of the Space Force."
US Space Command (SPACECOM) spokesperson Maj. Helen Amicelli commented peripherally about Vorontsov's statement to Military.com on Friday, stating that "U.S. Space Command maintains its readiness 24/7 to protect and defend against threats to the space architecture. Commercial space systems are an essential component of U.S. critical infrastructure and vital to our national security."
Sources: Yahoo News, Russian mission to the UN official site, Military.com, National Defense Strategy.
Gen. Thompson: USSF requires more resources – and we'll get them
The Mitchell Institute held its 1st Annual Spacepower Security Forum on Tuesday, October 25; keynote speaker was USSF Vice Chief of Space Operations Gen. David Thompson. Gen. Thompson made a few remarks on the state of the branch's budget going forward.
After a 38% increase year-on-year to $24.5 billion for 2023, Gen. Thompson said that "you should not expect that emphasis and that understanding to change as we move into the future," i.e. budget increase will continue. "There's tremendous need and tremendous opportunity for growth."
He added that Biden Administration and Congressional support for the Space Force has been strong: "They're providing the resources that we need to get after all of the missions – missions that we have to continue to do today, the pivot that we have to do to those more resilient architectures – that we now need to do to defend and protect our interests and capabilities."
At least one estimate figures the FY 2024 USSF budget request to top $27 billion, which would represent an increase of at least 9.3%.
Sources: C4ISRnet, Mitchell Institute official website.
Johns Hopkins and USSF partner on Master's program
On Wednesday, October 26, officials of the Johns Hopkins University School of Advanced International Studies (SAIS) and Whiting School of Engineering announced an in-residence program leading to the Master's degree in International Public Policy. The program was " specifically designed to prepare officers for the evolving needs of this newest branch of the United States military."
Coursework will include SAIS courses, electives from the Whiting School's Space Systems Engineering program and courses from the Joint Professional Military Education requirements.
Johns Hopkins SAIS dean James B. Steinberg said in announcing the program, "We are very excited to be chosen by the U.S. Space Force for this opportunity and are looking forward to this partnership. This decision is a reflection of SAIS's leadership in the field and excellence in preparing leaders to meet the complex challenges of the 21st century. Participants in this program will be integral members of our school, working closely with our distinguished faculty, students, and contributing to our intellectual community."
Source: Johns Hopkins SAIS PR, Space Force official website.
Sixth Space Force GPS satellite delivered
The Space Systems Command (SSC) Military Communication and Positioning, Navigation and Timing (PNT) Directorate has delivered the sixth Space Force GPS satellite to Cape Canaveral Space Force Station.
The Lockheed Martin-built GPS III Space Vehicle (SV) 06, known more familiarly as "Amelia Earhart," is scheduled for launch in January 2023.
The SSC's Col. Jung Ha said, "SV06 is the latest GPS III satellite shipped to Cape Canaveral Space Force Station and marks a key step in our larger goal of GPS constellation modernization. As the fifth GPS III launch campaign with SpaceX, this launch marks the 25th Military-Code satellite introduced to our constellation, providing our satellite operators with highly capable and advanced technology to aid them in their mission."
Source: Air Force Technology.
Video of the week: Business Insider scopes Guardians detecting missiles
Business Insider took an inside look at some USSF activity at Buckley Space Force Base in Aurora, Colorado this week, specifically some missile-detection exercises happening there. The result was a video that racked up over 100,000 views in three days.
From the YouTube description:
"Founded in 2019 by President Donald Trump, the United States Space Force is the newest branch of the US military. Since then it has been met with jokes, misunderstanding, and even a satirical series on Netflix. Insider visited Buckley Space Force Base in Aurora, Colorado, to learn more about the Space Force and to document the guardians in Delta 4, who are taught to detect incoming missiles from adversaries."https://www.youtube.com/embed/4pmvS7afJg0
Excitement builds for Falcon Heavy launch – tickets now on sale!
Mainstream media coverage of pre-launch activities is hardly common – but not every rocket in the SpaceX Falcon Heavy.
On the evening of Thursday, October 27, the Falcon Heavy successfully underwent a "static fire" test at Kennedy Space Center; this keeps the launch on schedule for Tuesday, November 1.
"This launch culminates years of effort by a dedicated team comprised of mission-focused people from across the U.S. Space Force and SpaceX," stated USSF Brig. Gen. Stephen Purdy. "The Falcon Heavy is an important element of our overall lift capability, and we're very excited to be ready for launch."
The Falcon Heavy has captured the imaginations of enthusiasts with its generally acknowledged status as the world's most powerful rocket and its vital statistics are seriously impressive: The 230-foot rocket has three boosters with nine Merlin engines apiece to produce a whopping 5 million pounds of thrust.
Upon its first launch in February 2018, SpaceX CEO Elon Musk cautioned that he figured the rocket had only a 50% chance of success but by April '19 the rocket undertook its first commercial mission.
The November 1-slated mission is classified, but it is known that the rocket will carry two payloads, one of which is the TETRA-1 micro-satellite, described as "the first in a series of prototype GEO satellites launched by the US Military, which will test systems procedures for future satellites."
Those in the area looking for a prime view of liftoff and booster-landing, Kennedy Space Center has opened ticket sales for the viewing area. Official PR promises that "the Falcon Heavy's two side boosters will land on landing zone 1 and landing zone 2 at Cape Canaveral Space Force Station, and the core stage will be expended. During this double landing, you will be able to see the boosters descend back towards the landing zones, like seen in the video below, and then experience a double sonic boom from their re-entry."
Sources: Cnet, Space.com, YouTube, Kennedy Space Center.