Los Angeles was the center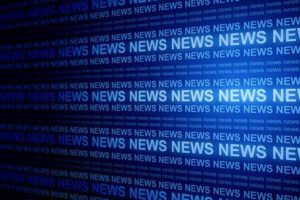 of the Space Force universe last week, as the Space Industry Days conference sponsored by the Armed Forces Communication & Electronics Association (AFCEA) brought much of the Space Systems Command top brass and industry leaders together. Various speakers provided insight, announcements, information and even speculation about the future of the USSF naturally especially with regard to private-sector innovation. Read on for the latest in present and future in this week's Space Force news…
SSC to contract $4.7 billion for missile-warning satellites
Space Systems Command is calling for proposals to develop as many as four medium Earth orbit (MEO) infrared-sensing satellites for a contract of $4.7 billion over five years.
In announcing the contract at the Space Industry Days conference on Wednesday, October 19, Col. Brian Denaro of SSC stated that "We will provide increased capacity and capability, and ultimately resilience for the entire architecture," referencing the Pentagon's current plans for a multi-orbit space sensor architecture.
Task contracts will call on manufacturers to design, develop and produce spacecraft ranging from 12U CubeSats to 180-kg ESPA-class satellites. Additionally, experimentation, testing and launch support of the vehicle will be required.
The contracts are part of the Space Test Experiment Platform (STEP) 2.0 program. The final request for proposals will be in February 2023 and the awarding of contracts is expected to be announced in July.
Col. Edward Bryne announced at the Space Industry Days conference that his office will be hosting an industry briefing on STEP 2.0 beginning on October 25.
A final request for proposals is scheduled to be released in February and IDIQ contract awards are expected as early as July, said Col. Edward Byrne, deputy program executive officer for space domain awareness and combat power.
Byrne spoke at the Space Industry Days conference Oct. 20 in Los Angeles. His office will host an industry briefing Oct. 25-27 to discuss STEP 2.0.
"The purpose of the STEP 2.0 program is to fill the existing spacecraft procurement gap within the Space Test Program, and to ensure space experiments can be hosted on free-flyer satellite buses," said Byrne.
The first task order to be awarded will be for STP Sat-8, a 12U cubesat projected to launch in 2025.
The STP program since it was established in 1965 has deployed more than 300 missions.
Sources: the Morning News, Space News.
Front Door officially opens
Col. Joseph Roth formally announced at the Space Industry Days conference in Los Angeles on Wednesday, October 19, that the Space Systems Command Front Door program is open for business – the business of connecting private enterprises with the appropriate Pentagon offices and officials.
Col. Roth stated that the Front Door is beginning with a core team of eight individuals and that "We may hire more, but I think we're right at that sweet spot where we don't want to get too big, but we really want to be effective."
"The Space Systems Command Front Door is a really important initiative by the command to help connect industry with requirements from the Space Force and Space Systems Command," Roth stated in closing. "And we're definitely putting a lot of effort behind it. It's something I think could provide really great, valuable service to both the industry and our senior leaders within the Space Force."
Source: Breaking Defense.
SSC innovation department envisions "Commercial Augmentation Space Reserve"
Col. Roth also put forth an idea of a commercial spacecraft fleet for the Space Force which would function similarly to the Civil Reserve Air Fleet. A "Commercial Augmentation Space Reserve" would be a civilian force ready for mobilization in military operations.
Stating that meetings with private- and public-sector stakeholders would be held in January to discuss the viability of the proposal. "We definitely need the best and brightest minds working for that," said Col. Roth on Wednesday, October 19. "That concept could be very powerful for us to use today."
Brig. Gen. Dennis Bythewood, deputy commander of U.S. Space Command's Joint Task Force on Space Defense, commented along those lines, saying that the Department of Defense must deploy such private sources and a construct must be created to make use of those services: "I don't know if there is a mission thread, maybe other than missile warning, where there aren't commercial in-roads where they're selling either the same or a similar service to what we buy with the military. We're interested in how we exploit it."
Source: C4ISRnet.
SPACECOM to transfer object-tracking responsibility to Dept. of Commerce
U.S. Space Command (SPACECOM) commander Gen. James Dickinson informed those in attendance at Space Industry Days in Los Angeles on Thursday, October 20, that the tracking of some 47,000 objects in space will be transferred to the auspices of the US Department of Commerce.
Said Gen. Dickinson, "My current priority is to invest in space domain awareness, [to] gain a better understanding of the activities in space. Our challenges center on ensuring the warfighter has relevant and timely data to execute missions in a very complex and changing environment."
Further, "Operationally our allies and partners are increasing their investments in [space domain awareness], offering enhanced capabilities that can augment U.S. Space Command's globally-distributed sensor network. We must find innovative ways to create an integrated sensor network on a global scale. Through an integrated network we can build knowledge of the environment. Through knowledge, we know we can gain better wisdom."
The shift in responsibility for object-tracking is an undertaking with an eye to the future: "Next-generation spacecraft require renewables and resupply to extend their lifespan and assure they are available for many, many years," said Gen. Dickinson. "This is where our partnership with industry converges. Given our pacing challenge and expansion of dynamic space operations, we need to leverage commercial capabilities that are available today or maybe tomorrow."
Source: Defense.gov.
Space Force Assoc. president: USSF is crucial, must be fostered
USAF Col. (ret.) Bill Woolf, currently serving as Space Force Association president, took on The Heritage Foundation on the pages of Beltway-based media outlet The Hill.
Woolf specifically referred to the Foundation's 2023 Index of US Military Strength, which described the USSF showing "little evidence it has improved its readiness to provide nearly real-time support to operational and tactical lees of force operations or that it is ready in any way to execute defensive and offensive counterspace operations to the degree envisioned by Congress."
Countered Woolf in part: "All other military services and their respective operations rely on the use of the space domain. […] One only need look at the effectiveness of commercial space in supporting Ukrainian command and control mission to determine how necessary space-based capabilities are. These are the types of capabilities the USSF deliver to ensure other military services can accomplish their objectives.
"The budget and personnel need to be adjusted due to the criticality of the USSF mission. Because the success of the USSF is critical to the joint fight, it is noteworthy that it is only given about 2.5% of the Department of Defense budget. Congress needs to examine whether this amount can provide the necessary systems the USSF will need to accomplish their assigned tasks…"
While Woolf admits that issues of personnel and command structure within the Space Force still require addressing, he argues that "The National Defense Authorization Act's (NDAA) language has not allowed the USSF to grow to support its global mission of creating the expertise and developing the systems necessary to conduct its space superiority mission."
Source: The Hill.
Space Micro wins USSF's first Orbital Prime contract
Representative of Space Micro Inc. and its parent company Voyager Space announced the awarding of the USSF's first Orbital Prime contract under the Small-business Technology Transfer (STTR) program. Space Micro had put forth its proposal for development of the robotic spacecraft Control Moment Gyro Barnacle (or "Barnacle"). Barnacle is promised to "replace or restore Attitude Determination and Control Systems (ADCS) capabilities and to expand on-orbit servicing, assembly, and manufacturing (OSAM)."
"We are excited to have won this Space Force contract as part of the first-ever Orbital Prime program," said Space Micro executive chair David J. Strobel. "The award is significant because of the wide-ranging opportunities that Barnacle provides for future commercial and national security use cases. It allows Space Micro to validate the work our team has been doing to bring the technology to life."
Voyager Space chief revenue officer Clay Mowry enthused that "This win is significant for Space Micro given Barnacle's potential capability to resurrect failing GEO assets and save notable costs in comparison to launching new satellites. OSAM will be transformative for the space industry. Voyager is eager to continue our cross-company collaboration in exploring this new technology and play a critical role in the future space servicing marketplace."
The proposal was developed in partnership with Altus Space Machines, also a subsidiary of Voyager, and Sandia National Laboratories.
Sources: Executive Biz, Space Micro PR.