This week, the business of the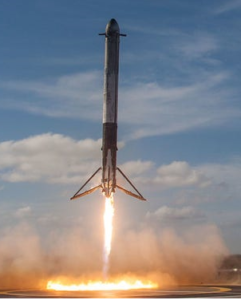 US Space Force is business. SpOC chief Lt. Gen. Whiting spoke on the importance of public-private partnerships particularly in cybersecurity, while SpaceX announced the imminent launch of its massive Falcon Heavy rocket to much fanfare – but is SpaceX getting too big for the DoD's good? Meanwhile, "Gas Stations in Space" take another step forward, and Defense Secretary Lloyd Austin announces a nomination. Read on and follow the money…
SpOC chief on competitiveness in space, challenges of cybersecurity
Space Operations Command (SpOC) chief Lt. Gen. Stephen Whiting spoke to media from the Center for Strategic and International Studies in Washington, D.C., on Friday, October 14, and reiterated the importance of private partnerships in maintaining US military superiority in space.
"Throughout the 60s, 70s and even into the 80s, space was highly competitive," said Lt. Gen. Whiting. "We have a history of this kind of competitive, contested domain, but we did go through a long period […] in the early 1990s until the Chinese [anti-satellite] test in 2007. But from 2007 until today, it is all about the threat."
Naturally, the topic of cybersecurity in the theatre of the Russo-Ukrainian War came up, to which Lt. Gen. Whiting answered that SpOC is "paying attention to what is happening in Russia and Ukraine and certainly I think we have seen the importance of commercial space in that conflict. And that kind of validates what we have seen now for a decade or more of how fast commercial space is moving."
Speaking specifically on Russian advancements in space, Lt. Gen. Whiting focused on that country's missile strike which destroyed an aged satellite in November 2021: "you absolutely, in no way, can forgive the Russians for doing that less than a year ago as this historic and sophisticated space power. They knew what they were doing, and they were sending us a message."
Among the primary challenges that SpOC and the USSF are facing, according to Lt. Gen. Whiting, are all in cyberdefense; he sees "How do we measure risk in the cybersecurity area?" as a primary question.
"We do not have the same tools or intuitive understanding of how to assess our cyber risks," he said. "I don't want to act like we don't have any of those tools, but it's not the same comprehensive understanding we have for physical security."
Sources: Stars and Stripes, Breaking Defense.
SpaceX readies Falcon Heavy for first launch since 2019
Maybe reporting another SpaceX launch is old hat – but the big company is generating media interest with the announcement of an upcoming rocket liftoff: For the first time since 2019, SpaceX is readying a Falcon Heavy rocket for launch from Kennedy Space Center reportedly before month's end.
The Falcon Heavy is typically referred to as the world's most powerful rocket and its vital statistics are seriously impressive: The 230-foot rocket has three boosters with nine Merlin engines apiece to produce a whopping 5 million pounds of thrust.
Upon its first launch in February 2018, SpaceX CEO Elon Musk cautioned that he figured the rocket had only a 50% chance of success but by April '19 the rocket undertook its first commercial mission.
SpaceX and the U.S. Space Force have not announced a specific launch date and time for the Falcon Heavy liftoff, but it is known that the USSF-44 payload will be aboard.
Sources: Fox Weather, Yahoo News, Inferse.
Could SpaceX ruin DoD's hybrid architecture?
On Thursday, October 13, Defense Innovation Unit (DIU) space program manager Rogan Shimmin spoke at the MilSat Symposium, offering a stark message regarding SpaceX's recent domination of the military communications satellite sphere.
Said Shimmin, "There is a particular commercial satellite provider in low Earth orbit, for example, that is several years ahead of the rest of the field. They do tend to try to establish interfaces, proprietary interfaces, that don't necessarily want to play well with others."
In Shimmin's opinion, the DIU faces a serious issue with the proprietary technology of SpaceX Starlink technology (and presumably that of others who are not "several years ahead"), given the current plan of the Department of Defense to build its Transport Layer, a hybrid architecture among its satellite constellations as part of the Joint All-Domain Command and Control (JADC2) concept.
"We want to augment [the DoD Transport Layer] with the commercial communications architectures that are coming online to proliferate the internet in space, get every satellite talking to every other satellite, relaying through ground stations. Regardless of who owns the ground stations, they should all function as routers."
Or, as Shimmin alternatively put it, what the DIU and DoD hope to build is a "futuristic techno-utopia with satellites talking to each other."
Source: Space News.
Orbit Fab gets $13.3 million USSF contract for Gas Stations in Space™
Representatives of Colorado-based Orbit Fab Inc., a startup financed by Lockheed Martin Corp. and Northrop Grumman Corp., announced the company's win of a $13.3 million government contract to provide fuel for US Space Force satellites.
🛰️ Orbit Fab has won a $13.3 million government contract to provide fuel for United States Space Force satellites in GEO in 2025. This is another major step toward building the bustling in-space economy!https://t.co/Ruz46FZDjv via @business #GasStationsInSpace #space

— Orbit Fab (@OrbitFab) October 11, 2022
Under terms of the four-year contract, Orbit Fab is to deliver hydrazine propellant to at least one USSF satellite in geostationary orbit by 2026. The agreement marks the second refueling contract for Orbit Fab in 2022 after a $12 million deal was signed with Astroscale US of this week to provide a refueling port for military satellites.
Orbit Fab co-founder Jeremy Schiel was quoted in Bloomberg Business as saying that "This is another focal point showing the commercial industry that the government is buying Orbit Fab's services. We're getting de-risked … and it's less likely we won't be around in five to 10 years. That makes it easier to work with Orbit Fab."
The Space Force contract is the latest step for the ambitious Schiel and his company, which envisions the blossoming of entire industries via space refueling technology: "Orbit Fab believes a bustling in-space economy is a precondition to permanent jobs in space. By providing a ubiquitous supply of satellite propellant in Earth Orbit [a.k.a. Gas Stations in Space™], the company improves existing space business models and helps open new industries like space tourism, manufacturing and mining," reads company press material in part.
Sources: Bloomberg Business, Twitter, Fast Company, Orbit Fab PR.
Biden, Austin nominate Maj. Gen. Burt for USSF deputy CSO
With Gen. B. Chance Saltzman set to take over as USSF chief of space operations, his former position of deputy chief is, as yet, unoccupied. On Wednesday, October 12, Secretary of Defense Lloyd Austin announced that President Joe Biden had nominated Maj. Gen. DeAnna Burt for the job.
Maj. Gen. Burt is currently serving as special assistant to the vice chief of space operations. She has also previously served as commander of the Space Command's Combined Force Space Component Command; vice commander of Space Operations Command (SpOC) at Vandenberg Space Force Base; and as commander of the 2nd Space Operations Squadron, the 460th Operations Group and the 50th Space Wing.
If confirmed to the position, Burt would also receive a promotion to the rank of Lieutenant General.
Source: Executive Gov.