A bit of a slow news week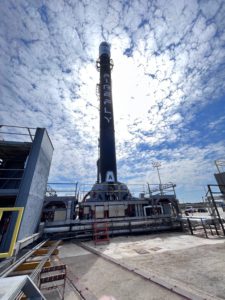 was the past week – unless you were one of two Space Force/Space Systems Command-partnering private sector firms. More specifically, Firefly Aerospace and SpaceX both punctuated space-based news columns throughout the week with their rocket launches of … let's say, differing success rates. We've got these stories (plus tweets and video) as well as brief notes on Gen. Jay Raymond's meetups with higher-ups among Japan's air/space forces; read on!
Firefly Alpha payload orbits rapidly decay; company denies mission failure, announces new SSC contract
After several aborted attempts, Firefly Aerospace's Alpha rocket finally launched from Vandenburg Space Force Base early Saturday, October 1. This week, however, all three payloads launched from Alpha entered orbit well lower than planned and four days later reentered.
Whereas Firefly had planned to place the satellite payloads in a circular orbit of 300 kilometers, they were instead placed in an elliptical orbit of 220 to 275 km.
Satellite database provider Slingshot Aerospace classified the Into The Black mission a failure the following day:
There is now some evidence of an underperformance on the Firefly Alpha second flight – probably the upper stage – meaning the satellites will re-enter much earlier than expected. Seradata works out the severity of a partial failure relative to loss of capacity and loss of life. https://t.co/aMDEV0GBc9

— Seradata (@seradata) October 5, 2022
Jeff Foust of Space News asked for comment on the launch from Firefly representatives, who denied the mission had been a failure: "First stage and second stage performance was in-line with our flight 2 requirements and therefore successful," Space News was told.
Further, Firefly stated "Our primary objective for the Alpha FLTA002 mission was to achieve a pre-defined elliptical orbit, following the second stage burn, which was 100% successful. Our data review continues, but we are excited by our preliminary review showing that we will only need to make very minor tweaks for our next mission."
Between the Alpha Flight 2 launch and the deorbiting of its payloads, Firefly Aerospace was announced as the winner of a $17.6 million contract from the USSF Space Systems Command (SSC) to provide launch services for SSC's VICTUS NOX mission under the Orbital Services Program 4 (OSP-4) Contract.
The VICTUS NOX mission will demonstrate end-to-end Tactically Responsive Space capability to perform a Space Domain Awareness (SDA) mission from Low-Earth Orbit (LEO).
Firefly Aerospace CEO Bill Weber said that "Now more than ever, our country needs the ability for quick response capabilities to combat threats in space. Our Alpha launch vehicle is designed to drive affordable, rapid access to space. We look forward to working with [SSC Small Launch & Targets Division chief] Lt. Col. Justin Beltz and [Materiel Leader at SSC's Space Safari] Lt. Col. MacKenzie Birchenough along with their experienced team at Space Force to help bring this innovation to the national security community."
Lt. Col. MacKenzie Birchenough stated that "This end-to-end mission will demonstrate the United States' ability to rapidly place an asset on-orbit when and where we need it, ensuring we can augment our space capabilities with very little notice."
On October 1, the Alpha Flight 2 mission launched from Vandenberg Space Force Base. Alpha Flight 3 is currently getting integrated for the NASA Venture Class Launch Services Demonstration 2 (VCLS Demo 2) payload.
Sources: Space News, SpOC official website, Twitter, Firefly Aerospace PR.
SpaceX launches two rockets in one day; tally up to 46 for 2022
Another day, another SpaceX rocket launch – actually, make that two, one on either coast.
On Wednesday, October 5, SpaceX celebrated the successful launch and achievement of stable orbit for the joint NASA SpaceX Crew-5 mission on its way to the International Space Station. SpaceX's trusty Falcon 9 rocket propelled four astronauts – commander Nicole Mann and pilot Josh Cassada of NASA; Anna Kikina of Roscosmos; and Koichi Wakata of the Japan Aerospace Exploration Agency (JAXA) – aboard the Dragon Endurance spacecraft.
The craft would successfully dock with the ISS on Thursday, about 30 hours after launch.
NASA Administrator Bill Nelson stated that "During their stay aboard the International Space Station, Crew-5 will conduct more than 200 science experiments and technology demonstrations, including studies on printing human organs in space and better understanding heart disease. While our eyes are focused upward on the heavens, let us never forget these missions will also better life here on Earth."
Meanwhile, on the West Coast, another SpaceX Falcon 9 launch from Vandenberg Space Force Base with a payload of some 52 Starlink satellites into low-Earth orbit (LEO). Naturally, the launch and primary vehicle landing went off just about perfectly. This second Wednesday launched marked the 45th rocket launch for the company in 2022.
And on Saturday evening from Cape Canaveral Space Force Base went number 46:
Liftoff! pic.twitter.com/u8f8lXcW0e

— SpaceX (@SpaceX) October 8, 2022
Sources: the Lompoc Record, NASA PR, Click Orlando, Twitter.
Gen. Raymond in Japan for bilateral partnership agreement
Gen. Jay Raymond may be the outgoing Chief of Space Operations, but he remains on the job as the face of the US Space Force at home and abroad. From October 2 to 6, Gen. Raymond was in Japan to meet with top-level state and military officials in expanding their nations' bilateral partnership in the space domain.
In Tokyo, Gen. Raymond met with Japanese Minister of Defense Hamada Yasukazu; National Space Policy Secretariat Director General Yasuyuki Kasai; Japan Self-Defense Forces Joint Chief of Staff Gen. Koji Yamazaki; and Japan Air Self-Defense Forces Chief of Staff Gen. Shunji Izutsu.
Gen. Raymond also visited JASDF Air Defense Command headquarters at Yokota Air Base and JASDF Space Operations Group at Fuchu Air Base as well as taking a meeting with U.S. Ambassador Rahm Emanuel and Lt. Gen. Ricky N. Rupp, Commander of U.S. Forces Japan.
According to USSF PR, Gen. Raymond "underscored that the U.S.-Japan Alliance is a cornerstone of peace, security, and stability in the Indo-Pacific, and welcomed Japan's interest in working with the U.S. and other like-minded nations on establishing international norms of behavior in space."
Sources: Space Coast Daily, USSF official website.