Some major events for the Space Force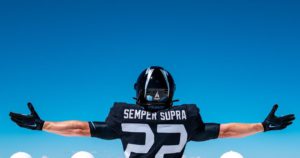 went down this past week: The Senate confirms now-Gen. Chance Saltzman as USSF chief of operations, the Space Development Agency official became part of the USSF, and initial results are in on a 10-year joint US/Australia project to increase space domain awareness. And that's just for starters: We've got new graduates, new rockets and the new Space Force college football team (sort of), too. Read on for a jam-packed column of Space Force news!
The new boss: Chance Saltzman gets confirmed, promoted
Lt. Gen. Chance Saltzman was confirmed as USSF Chief of Operations by the Senate on Thursday, September 29. He is expected to be sworn in on November 2.
Saltzman also received a promotion to four-star general with the post. He had been serving as USSF deputy chief of space operations for operations, cyber and nuclear. He was nominated by President Joe Biden to replace Gen. Jay Raymond in July and sat for a Senate Armed Services Committee hearing on September 13.
"Space is truly a critical domain for U.S. interests, so we must all be clear-eyed in our understanding that our strategic competitors have invested heavily in fielding systems capable of disrupting, degrading and even destroying our space capabilities," Gen. Saltzman said at that time. "If confirmed, I will work to ensure that the Space Force is ready to protect these vital interests from these threats."
In confirming the news, he said, "I'm humbled and honored to be confirmed as the next Chief of Space Operations. I look forward to leading the US Space Force and building on the strong foundational leadership Gen. Raymond has provided for almost three years."
Sources: Military.com, GovConWire.
Firefly Alpha rocket finally launches; company named for demo
After twice aborting launches on the previous day, including a literal last-second abort on the second attempt, Firefly Aerospace finally got the Alpha rocket launched from Vandenburg Space Force Base early Saturday, October 1.
The Alpha launched at 12:01 a.m. from Space Launch Complex-2 with a payload of low-Earth orbit (LEO) satellites. Launch of the mission To The Black was originally slated for September 11, but those attempts were also scrubbed for various technical and weather issues.
According to the official statement from the USSF, Firefly had three educational payloads aboard and successfully inserted into an elliptical transfer orbit, coast to apogee, and performed a circularization burn.
"Early this morning the Western Range helped make possible a historical small vehicle demonstration launch into low Earth orbit," said Space Launch Delta 30 commander Col. Robert Long. "Once again, our outstanding Airmen and Guardian professionals continue to showcase flawless execution and teamwork alongside Firefly. We are proud of their accomplishment and look forward to future launches."
Alternatively, as the Firefly Aerospace blue-check Twitter feed put it:
🚀 100% Mission success. Congratulations to the entire team.

— Firefly Aerospace (@Firefly_Space) October 1, 2022
Alpha is a smaller rocket which is designed for payloads of maximum 2,579 pounds (1,170 kilos) to low Earth orbit.
Between the aborted and successful launches, USSF Space Systems Command (SSC) announced that Firefly subsidiary Firefly Space Transport Services had been selected to demonstrate a rapid-response Tactically Responsive Space (TacRS) mission in 2023.
The U.S. Space Systems Command announced Sept. 30 it selected Firefly Space Transport Services and Millennium Space Systems to conduct a demonstration of a rapid-response space mission to low Earth orbit in 2023. Teaming with Firefly on the demonstration will be Boeing subsidiary Millennium Space Systems.
The demonstration is part of the TacRS-3 mission, a space domain awareness small satellite projected to launch in 2023, and both companies are contracted as part of the USSF Orbital Services Program (OSP-4), an indefinite delivery/indefinite quantity (IDIQ) contract.
As for those failed launches on Friday, a local news outlet called Noozhawk covers that story with dramatic flair:
"A last-second automatic abort kept a fledgling rocket on the ground at Vandenberg Space Force Base early Friday morning, and it wasn't clear when the team would try again for liftoff."
"The abort for the Firefly Aerospace rocket occurred just before 1 a.m. at Space Launch Complex-2 during a countdown where a crew member confidently declared, 'Send it.'"
"However, at T minus 0 and after the engines ignited, a mission manager declared, 'Vehicle abort. Safing the vehicle' as Alpha's engines shut down and the rocket remained standing…"
Firefly Aerospace representatives later stated that the shutdown was traced to an electrical issue.
Sources: Space Force official website, Associated Press, Space News, Noozhawk.
US/Australian joint SST project achieves benchmark
Representatives from the Australian Department of Defence announced with USSF officials on Friday, September 30 (Australian local time) that the Space Surveillance Telescope (SST) at Naval Communication Station Harold E. Holt had achieved initial operational capability.
The SST was originally built at the White Sands Missile Range Army Base in New Mexico and is a joint project of the two armed forces to increase space domain awareness for Australian forces and private sector interests. The telescope provides ground-based broad-area search, detection and tracking of objects in deep space.
"In an increasingly contested and congested space environment, The Space Surveillance Telescope will provide enhanced awareness of the space domain and contribute to greater Alliance cooperation," said Cath Roberts, commander of Australian Defence Space Command.
Also weighing in was Gen. Jay Raymond, Chief of Space Operations, who said that "Reaching initial operational capability is a major achievement that underscores the importance of working together to secure the ultimate high ground.
"My thanks and congratulations to our Australian partners and our Guardians and Airmen who have been collaborating for almost a decade to make this possible. I'm impressed at how far we've come together and look forward to continuing our close partnership as we work toward full operational capability."
The SST was originally developed by the Defense Advanced Research Projects Agency and the Massachusetts Institute of Technology (MIT). In November 2013, a Memorandum of Understanding (MoU) was signed by then-U.S. Secretary of Defense Chuck Hagel and Australian Defence Minister David Johnston. In 2017, the SST was relocated to Australia and in 2020 was functional and capturing. Full operational capability is expected for 2023.
Sources: SpOC official website, Defense News.
Space Development Agency officially transferred to Space Force
The transfer of the Space Development Agency (SDA) to the Space Force, originally mandated by the U.S. Congress as part of the 2021 National Defense Authorization Act (NDAA), was made official on Saturday, October 1.
The SDA was originally formed by Pentagon officials to foster development and use of commercially-built space technology, and its transfer as called for in the 2021 NDAA was part of the effort to streamline military operations in the space domain.
Though many media outlets have speculated about complications in changing the SDA chain of command, USSF officials have sought to reassure for months. Officially, USSF head of acquisitions Frank Calvelli will oversee SDA transactions, and incoming USSF chief of operations Gen. Chance Saltzman will be in charge of all else.
"SDA will be key to rapidly delivering space capability to our warfighters," stated Calvelli on occasion of the official transfer. "I fully support their strategy, and we will maintain their structure and culture to let them continue to move fast and do what they do best. I'm excited for this dynamic organization to join the Space Force team."
SDA director Derek Tournear stated that the SDA will focus on "speed, delivery and agility that our agency has demonstrated in the past."
Sources: Space News, USSF official website.
First USSF cyber officer commissioned through DCP
Congratulations to Lt. Jessica Thompson, who became the first U.S. Space Force cyber officer commissioned through the Direct Commission Program (DCP) when she graduated from Officer Training School on Friday, September 30.
Lt. Thompson was one of six cyber professionals chosen from among 358 applicants to be offered a commission. She was able to commission to a higher rank and grade through the CSC program based on her advanced cyber degree, skills and experience.
"I had the opportunity to work in information technology with both a large defense contractor and a financial institution with one of the best cyber security programs in the country … As the Space Force builds up their cyber security programs, I'll understand the military side of things and offer a unique perspective of next steps from my civilian background."
Source: USSF official website.
Football: Space Force 13, Navy 10
And from the sports world, last Saturday saw a successful result in the first-ever college football game for the Space Force, as the Guardians beat the Navy Midshipmen, 13-10.
All right, so technically it was the Air Force Falcons taking the first game in the 2022 Commander-in-Chief's Trophy series, but the AFA was outfitted in alternative Space Force-themed jerseys each reading SEMPER SUPRA on the nameplate.
The game represented the typical punishing effort by the Falcons, who are currently leading all college football teams in rushing and led the nation in 2021: "Air" Force's four ball carriers amassed 200 yards on 47 carries, while QB Haaziq Daniels attempted just eight passes while running 14 times.
Unfortunately for the metaphorically high-flying 'Force currently at 4-1 for the season, worse news than a mere L also came out this week, namely that the team had been put on probation for two seasons by the NCAA for recruiting violations.
After completing an investigation begun in May, NCAA officials penalized the AFA football program for "recruiting violations committed during Covid-19 dead periods." Officials also stated that "the Air Force Academy and four individuals involved in the alleged violations reached an agreement with enforcement staff about penalties."
As one of the aforementioned penalties places a limit on number of coaching staff, we may assume at least some perpetrators of the violations come from the coaching ranks.
This is disheartening news for any football program and is particularly sad for the Air Force, as the 2022 team is literally playing as one of its finest ever squads.
Ah well, at least Space Force Academy stands at 1-0…
Source: ESPN.