Anyone paying attention to any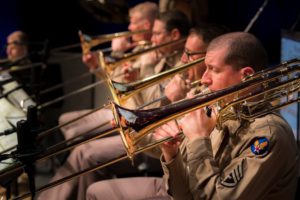 sort of news this week surely stumbled upon stories and/or "humor" about "Sempra Supra," the new official Space Force anthem. But while most twittered away about the song, Space Force officials, Guardians and civilians were going about business, whether hobnobbing at the annual Air Force Association conference or proceeding with more rocket launches. (Mostly, anyway.) Read on for this week's Space Force-centric news!
"Semper Supra," Space Force anthem, drops
As far as mainstream media was concerned, the Space Force-centric story of the week hit on the morning of Tuesday, September 20:
BREAKING 🚨: The US Space Force has just unveiled its official song pic.twitter.com/UxgmnKeVhr

— Latest in space (@latestinspace) September 20, 2022
The tune and lyrics to "Semper Supra" were written by Jamie Teachenor, formerly of the Air Force band and currently a professor at Middle Tennessee State University. Teachenor reportedly reached out to Gen. Jay Raymond and USSF Chief Master Sergeant Roger Towberman, who accepted his offer. Once Teachenor had composed the lyrics and melody, he collaborated with US Coast Guard Band staff arranger Sean Nelson to create the orchestral version. The lyrics to "Semper Supra" run as follows.
We're the mighty watchful eye,
Guardians beyond the blue,
The invisible front line, Warfighters brave and true.
Boldly reaching into space,
There's no limit to our sky.
Standing guard both night and day,
We're the Space Force from on high.
Naturally, apparently bored internet voices, mainstream media and "entertainment" shows put forth jokes, perhaps most succinctly summarized in this pithy and clichéd response by whoever does social media for George Takei:
Oh dear. 😬 What's your take on the song, folks? pic.twitter.com/QJXzkyjsMc

— George Takei (@GeorgeTakei) September 25, 2022
Guessing here that whoever does social media for Takei has never heard the lyrics to the theme song of a show with which he's intimately linked:
Beyond
The rim of the star-light
My love
Is wand'ring in star-flight
I know
He'll find in star-clustered reaches
Love,
Strange love a star woman teaches.
I know
His journey ends never
His star trek
Will go on forever.
But tell him
While he wanders his starry sea
Remember, remember me.
While Gen. Raymond stated officially that "I will be proud to sing 'Semper Supra' alongside my fellow Guardians" in the press release accompanying the song's launch, the less-than-stellar publicity had some officials backing down on the enthusiasm a bit, with Chief of Staff Gen. Charles Brown telling Military.com, "I'm sure it will grow on us."
Perhaps not coincidentally, the following day saw Sgt. Towberman perform the 1980s hit "Don't Stop Believin'" and subsequently go viral. Maybe media would have been happier with these lyrics for the USSF anthem…?
Strangers waiting
Up and down the boulevard
Their shadows searching in the night
Streetlights people
Livin' just to find emotion
Hidin' somewhere in the night
Don't stop believin'
Hold on to that feelin'
Streetlight people…
Sources: Space Force official website, WPLN (Nashville), Military Times, Military.com, Politico, Yahoo News.
Sgt. Towberman in keynote speech: Retention of Guardians top priority
Release of the "Sempa Supra" anthem was just one bit of news coming from this week's 2022 Air & Space Forces Association Air, Space and Cyber Conference; we've got several stories following.
The conference opened with the keynote speech delivered by USSF Chief Master Sgt. Roger Towberman, who enumerated the Space Force's achievements over the past 12 months. He stated that "We believe in the Guardian Ideal, and we believe that it's important to remember that it is literally a standard of perfection. It is a principle; it is not a goal to achieve. We will never be done. That doesn't mean we can move slowly…or leave things undone. However, it does mean improving continuously. It is about our commitment to mastery of ourselves, our team, of our domain."
Along the same lines, Sgt. Towberman stated that retention of service members must remain Space Force's priority: "The technical expertise, the depth of experience, the phenomenal craftsmanship we need to stay ahead of China, and to win cannot be built in six months, or a year, or in four years. We have to be retention focused."
Source: Space Force official website.
SDA director details transition to USSF oversight, LEO focus
Space Development Agency (SDA) director Dr. Derek Tournear spoke extensively on the conference's second day on various topics.
Firstly, Tournear detailed both at the conference and to media about the changes he expects the SDA to face under its soon-to-be Space Force oversight and how the SDA will relate to Space Systems Command (SSC). In short, essentially nothing will change as Tournear sees it.
"There's confusion about where is SDA going to fall in the SSC org structure. That's easy: SDA is going to fall outside of the SSC org structure. So, we're what is called a 'direct reporting unit'. SSC is what's called a 'major command'. But basically, we both report to [Assistant Secretary of the Air Force for Acquisition and Integration Frank] Calvelli for acquisition."
SDA is reasonably on schedule to transition to Space Force oversight "within the next couple of weeks," with a deadline of October 1.
In remarks to conference attendees, Cavelli had offered some high praise for the SDA, stating that the agency's agile development-to-acquisition cycle should be a model for USSF acquisitions and development.
"I am genuinely excited about [SDA's] approach to doing business," Calvelli enthused. "They are building small, they are doing things on two-year [cycles], and they are delivering capabilities faster. And I think that's a model that we can take advantage of and actually push across the organization, across the other PEOs [program executive offices] and something we can learn from."
In response, Tournear told media that the SDA methodology has received and still needs "a lot of advocacy within the department and external to make sure that industry can perform at these scales and these timeframes, which they're showing they can, and then also that the department can respond in a requirements process and approval process on those timeframes."
Tournear also discussed the ongoing transition from the Next Generation Overhead Persistent Infrared (Next-Gen OPIR) system to a focus on Low-Earth Orbit (LEO) satellite constellations. "The path that the Space Force is marching toward is that we won't rely on [OPIRs] in the future. We'll do away with the GEOs, and the big, exquisite expensive satellites."
The Next-Gen OPIR GEO satellites are planned for launch in 2025, with the constellation set by 2029. As Tournear sees it, "We will have this proliferated layer in LEO and MEO that provides missile warning, missile tracking, and then also what we call the fire control from the LEO layer.
"So, you'll get missile warning missile tracking and full missile defense from LEO, and then missile warning/missile tracking from the Next-Gen OPIR development program is being developed to replace the current [Space-Based Infrared System] SBIRs satellites."
Sources: Breaking Defense (2x), Defense One.
Gen. Raymond in "farewell speech" touts USSF progress and future
Naturally, Gen. John Raymond was at the AFA conference to address attendees. In what the USSF official website is calling essentially a farewell address, Gen. Raymond stated that the burgeoning Space Force is "on strong footing."
Gen. Raymond opened with "On 20 December 2019, the United States took an opportunity to elevate space to a level commensurate with its importance for our nation; an opportunity to enhance global security by amplifying deterrence, increasing the lethality of our joint and coalition forces that are critical to integrated deterrence.
"It was an opportunity to firmly establish the United States' leadership in space and to shape the norms of behavior in the space domain."
During his talk, Gen. Raymond reiterated the six core principles which the USSF has developed by:
Recruit, Assess, Develop, Care for and Retain its People;
Write its own Doctrine…like what the Air Force did leading up to its independence;
Build its own budget;
Design its Force, both from an organizational and force structure point of view
Ready the Force;
Present the Force to Combatant Commands.
"Because of our small size and because we were starting from scratch, we wanted to fundamentally change our ability to develop our most important resource, our people."
He added that "The United States Space Force has just begun, and it has a great history ahead," and "I couldn't be more excited for the future of the Space Force."
Gen. Raymond also spoke extensively to media covering the event, giving some details on various subjects. On the year's worth of analysis done on replacing the Joint Surveillance Target Attack Rader System (JSTARS) aircraft, Gen. Raymond said, "the Air Force has had a JSTARS aircraft and was looking for a multi-domain solution for that. We have just completed the AoA on that work to determine how best to do that from a multi-domain perspective. And we're in the process now of out-briefing those results to help inform budgets going forward."
On the question of working with other military or intelligence agencies on Intelligence, Surveillance and Reconnaissance [ISR] data and dispensation, Gen. Raymond said "What we're now exploring with the intelligence community is the question [of strategic vs tactical ISR]. Traditionally, that has been an NRO model or business area – and we've done other things like GPS and missile warning – and we are working very closely with them. We don't want to duplicate capabilities. We don't want to waste dollars [but] we want to move at speed."
Sources: Space Force official website, Breaking Defense.
A tale of three launches
The cram-packed 2022 launch schedule ticked a couple more successes off the list this week – but the one awaited by millions of US citizens received some bad news.
On the afternoon of Saturday, September 24, the last-ever United Launch Alliance Delta IV Heavy rocket lifted off from Vandenberg Space Force Base, launching a National Reconnaissance Office (NRO) mission.
Said Co. Bryan Titus, Space Launch Delta 30 vice commander, on occasion of the launch: "Today the Western Range closed a chapter in history that began with the first Delta IV vehicle launch from SLC-6 in 2006. Our outstanding Airmen and Guardian professionals continue to showcase flawless execution and teamwork alongside NRO and ULA conducting safe launch and range operations to ensure a successful mission. Go NROL-91!"
The same day on the other coast, it was business as usual for SpaceX, which launched a Flacon-9 mission from Cape Canaveral in Florida. The rocket carried a payload of some 52 Starlink internet satellites and went off without a hitch, despite the threat of inclement weather to the instantaneous launch window. The launch represented SpaceX's 62nd of year 2022.
Then there's the progress – or rather, a setback to – NASA's long-awaited Artemis 1 launch. In the middle of this past week, Space Force officials formally gave the go-ahead on the extension of the launch date to NASA for the mission. Additionally, the SLS rocket had passed a cryogenic tanking test on the hydrogen leak which had scrubbed the planned September 3rd launch.
However, just about simultaneously with the breaking of these stories came the news that the approach of tropical storm Ian will almost certainly set back the launch further still.
In fact, this weekend NASA officials were forced to decide whether to roll back the Artemis rocket to the base's Vehicle Assembly Building in order to avoid damage from the storm. On Sunday, the decision was punted to the following day, Monday, September 26, at which point officials announced they would indeed be moving the rocket off the launchpad.
The current available dates for launch would be on September 27 – which clearly will not happen – or October 2, which is also in doubt. The next launch window would run from October 17 through 31.
Sources: Vandenberg SFB official website, San Luis Obispo Tribune, Florida Today, Gizmodo, NASA blog.