Lt. Gen. B. Chance Saltzman stole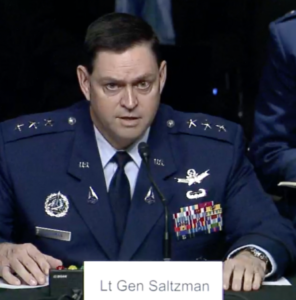 most of the attention in Space Force-related news this week as he sat for a nomination hearing last Tuesday, but Guardians and private-sector partners were taking care of business as well. We've got stories of a pair of Guardians who performed lifesaving CPR on a fellow servicemember, a revolutionary desalinization project to be based at Vandenberg SFB and the new Space Force museum exhibit – and more in this week's USSF news…
Lt. Gen. Saltzman in Senate Committee confirmation hearing
The biggest Space Force-related news this week was the Senate Armed Services Committee nomination hearing of President Joe Biden's nominee for space operations chief, USSF Lt. Gen. B. Chance Saltzman.
Lt. Gen. Saltzman sat before the hearing for just over 90 minutes, answering the typical range of questions on the Space Force and its operations. The hearing was quite revealing of the Lt. General's philosophy and plans for the USSF – and was also a handy Rorschach test for the various mainstream and military media outlets covering the hearing.
The entire hearing may be seen in the embed below. Choice quotes for Lt. Gen. Saltzman included:
"Space is truly a critical domain for U.S. interests, so we must all be clear-eyed in our understanding that our strategic competitors have invested heavily in fielding systems capable of disrupting, degrading and even destroying our space capabilities. If confirmed, I will work to ensure that the Space Force is ready to protect these vital interests from these threats."
"The most immediate threat, in my opinion, is the pace with which our strategic challengers – first and foremost the Chinese – are aggressively pursuing capabilities that can disrupt, degrade and ultimately even destroy our satellite capabilities and disrupt our ground infrastructure."
"We are still the greatest spacefaring nation on the planet. The Space Force's capabilities are extremely capable and I still put us at the head of the table. Unfortunately, our adversaries are investing heavily to close that gap and supersede us. I'm worried about the pace with which they are making those changes, China first amongst them but Russia also which is committed to investing heavily in the kinds of capabilities that are going to disrupt, degrade or even destroy our on-orbit capabilities."
"The criticality of the mission means we are going to have to innovate; we're going to have to do things differently in order to deliver the kinds of capabilities that the nation needs to protect its Space Force, to protect its space capabilities and protect the joint force from our adversaries."
"It's one of my primary objectives to make sure that a war does not extend into space. That's not a good day for the United States. The best way to create a deterrent capability to prevent that is to have a credible force that can both deny benefits of those actions and impose costs where necessary."
"It is one of my earliest priorities to make sure that we're on track to build and field effective capabilities and then train the guardians to operate in a contested domain so that we can counter this activity by our strategic competitors."
"Many of our cyber-guardians are needed to perform traditional base communication and IT support functions, and therefore are not available to perform the more critical mission assurance to secure, monitor and defend USSF mission systems. The USSF is working to contract out most of the traditional communication and IT support functions to free up more cyber-guardians to focus on cyber defense. Once resourced to do this we will have a better understanding of the full set of cyber defense manpower."
"[The USSF is also] investing in tools and training that will make our cyber workforce more efficient and effective in performing their cyber defense roles; however, with the growing number of cyber threats and the expansion of critical networks, I believe there will be a future need for more cyber experts in the Space Force."
"We're also looking at flexible and innovative ways to make sure that we have viable and flexible career paths for our guardians. It's important that we retain this talent for an extended period of time to get the most out of them. If confirmed as CSO, I would certainly welcome the opportunity to continue to work with members of this committee and other stakeholders to make sure that we get the right organizational structure to take advantage of these capabilities."
Lt. Gen. Saltzman is currently serving as deputy chief of space operations for operations, cyber and nuclear within the Space Force.
Sources: The Register, Executive Gov, USAF official website, Defense.gov, Fox News.
Could innovative desalinization project cure Vandenberg water woes?
An engineering project in its conceptual stages rarely gets headlines – even on a news site's science pages – but the proposed water-purifying project to be based off the California coast is no ordinary idea.
To address the needs of Vandenberg Space Force Base and South San Luis Obispo County, the Ocean Portal Water Co. has designed an eco-friendly desalinization buoy which would produce over 300 million gallons of freshwater annually. The company plans to build the system offshore of the now-disused Space Launch Complex 1.
Though the company has yet to break ground on the project, Ocean Portal Water Co. president told media this week that the buoy could be up and running in 2025.
Vandenberg SFB leadership has affirmed their support for the project, as its need in drought-stricken California is particularly critical. The Government Accountability Office (GAO) reported in 2019 that the water supply at Vandenberg is the most at-risk among US bases.
Ken Domako, chief of portfolio optimization at Vandenberg SFB, told local meda, "Water is essential for mission-critical and support activities, and reliability of this new water supply has the potential to substantially backstop our current drought-prone sources."
Sources: San Luis Obispo Tribune, Lompoc Record.
Guardians in lifesaving action at Vandenberg SFB
Major kudos to CYS cyber operators USSF Spec. 4 Derek Avenetti and Spec. 3 Jesse Hayden, who managed to perform lifesaving treatment on a fellow Guardian during physical training at Vandenberg Space Force Base.
On Tuesday, September 13, Avenetti and Hayden were about to oversee a PT test when they heard calls for a defibrillator. They restored the cardiac arrest victim's heartbeat with the defibrillator, she became responsive again and medics attended to her.
"It was only about a week prior to this incident that we had both become fully certified as [Physical Training Leaders] by completing the required first aid and CPR training," Avenetti said afterward. "I was always comfortable with first aid, but the PTL training fundamentally gave me a lot more confidence with an AED. A majority of my knowledge on how to use it directly came from the PTL training."
Advised Aventti: "Always be prepared. You never know if you'll find yourself in a situation like this and if it happens to you, it'll reinforce the importance of always having the right equipment and the proper training."
Source: SpOC official website.
Video of the week: Space Force featured in Air Force Museum exhibit
At the National Museum for the Air Force, the 75th anniversary of the USAF was observed this past weekend with various exhibits and activities. This included the launch of the Space Force-themed interactive science exhibit "Above and Beyond," which is billed as about "exploring transformative innovations in aerospace."
The 500-square meter exhibition is touted as offering "an unprecedented interactive demonstration of advances in aviation and aerospace, from the first powered flights to the newest innovations on Earth and in space."
Click here for an interview with museum curator Doug Lantry on the exhibits; directly below runs the teaser preview released by the museum in July.
Sources: Dayton Daily News, USAF official website, YouTube.