It's mostly business as usual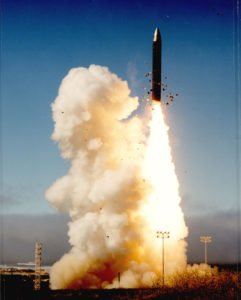 in Space Force news this week. Artemis seeks to get that Artemis I launch back on track (with USSF permission, that is); another call for the formation of a Space National Guard was made; a sizable data-processing software development contract was signed; and while top Pentagon officials held a classified meeting, the USAF test-launched an ICBM from California…
NASA formally requests USSF permission for third Artemis I launch attempt
It isn't often that a matter of inter-office bureaucracy makes mainstream news headlines but then again, it's also not often the NASA plans missions to the Moon.
After two failed launches of its Artemis I rocket, the would-be Moon mission has remained in the public discourse as the public awaits attempt number three. This week, as NASA technicians work on repairing the hydrogen-fuel leak which had scrapped the second launch attempt, officials announced the formal waiver request from the Space Force so as to make a third attempt at the Artemis launch.
Following the last launch attempt earlier this month, the Artemis I has remained on Launch Pad 39B at Kennedy Space Center as repairs and maintenance are undertaken.
Jim Free, NASA associate administrator, informed media of the request to Eastern Range on Thursday, September 8, stating that they'd requested permission to launch "for a couple of dates" later in the month. Based on current launch schedules, those two dates are known to be September 23 and 27; Free stated that NASA is considering dates in October as well.
Sources: Gizmodo, Spectrum News Orlando.
Calls for Space National Guard rise anew at roundtable
The conversation on establishment of a Space National Guard have ebbed and flowed since the Biden Administration took office in 2021, and this week the pro-Guard side got their say.
Gen. (ret.) Joseph Lengyel and Brig. Gen. Laura Clellan, Adjutant General of Colorado, gave their view on the necessity of the Space National Guard in their online roundtable event of Friday, September 9 on "Why We Need a Space National Guard." Both agreed that the USSF "lacks mobilization, training effectiveness and standardized culture" without a national guard.
As Brig. Gen. Clellan sees it, the 1,000 or so National Guardsmen on space-related missions currently under the auspices of the US Air Force have effectively been "orphaned" within the command structure.
Lengyel stated that, based on DoD studies and analysis since 2019, creation of the Space Guard would be most cost-effective and efficient option" to integrate space-related military functions on the homefront.
In May of this year, Sens. Dianne Feinstein (D.-Calif.) and Marco Rubio (D.-Fla.) introduced the Space National Guard Establishment Act into the Senate, but Lengyel still sees barriers to Space Guard foundation in the Senate: "The [Senate Armed Service Committee] is where we're held up," Lengyel stated, adding that the National Defense Authorization Acts (NDAAs) of both 2021 and '22 included no provision for such a move.
The NDAA for fiscal year 2023 also omitted budget for a Space National Guard but Rep. Jason Crow (D.-Colo.) added an amendment addressing this, which passed the House Armed Services Committee along with the NDAA in June.
The main sticking point for establishment of a Space Guard is, naturally, the projected costs of the undertaking. In September 2021, the White House Office of Management and Budget (OMB) issued a statement which stated the Biden Administration "strongly opposes the creation of a Space National Guard," because "Establishing a Space National Guard would not deliver new capabilities – it would instead create new government bureaucracy, which the Congressional Budget Office estimates could increase costs by up to $500 million annually…"
As do most proponents of the Space Guard, Lengyel questions the accuracy of the BMO figures as "overestimat[ing] what the military is proposing" and that the DoD merely seeks to integrate the units in question: "The National Guard Bureau has made it clear it requires no additional funds or personnel to transfer current space units that are in the Air National Guard into the Space Force, once the Space National Guard is created."
Source: Tribune Content Agency, Colorado National Guard official website, Air Force Magazine.
Pentagon leaders meet for discussion on new tech in China, Russia
A advisory group composed of Pentagon leaders met this week for a discussion on "how China and Russia's potential development of fractional orbital bombardment systems and space-to-ground weapons could impact U.S. deterrence and strategic stability, as well as to consider U.S. response options to the potential development of such capabilities by any adversary."
The content of the meeting is classified, but Under-Secretary of Defense for Policy Colin Kahl stated at a news conference in Arlington, Va., that the focus of the meeting was "China's increasing dependence on space for intelligence, data relay and communications."
Kahl described China as "doubling down" on the use of space for war, but assured that the US still holds a significant edge: "We believe that there is nothing that China has developed that undermines the bedrock of our nuclear deterrent, for example."
Kahl went on to say that, in response to Chinese technological development, the US will invest more heavily in tracking systems for hypersonic missiles.
"We need a missile warning, missile tracking and integrated air and missile defense that accounts for all of [the new tech], which is why we're making significant investments – not just in things like updating our interceptors for ballistic missiles or cruise missile defense, but also significant investments in space-based missile warning and tracking."
Source: Defense News (2x).
SciTec wins contract for data processing tech
Space Systems Command (SSC) officials announced this week that New Jersey-based SciTec had been awarded a $272 million contract for data processing software development.
Under terms of the contract, SciTec will develop software to analyze raw sensor data collected by the U.S. military's early-warning infrared satellites and distribute the relevant information to military users, civilian first responders and researchers. The contract is in support of the currently in-development Future Operationally Resilient Ground Evolution (FORGE) to collect and process data from the Space-Based Infrared System (SBIRS) and the Next-Generation Overhead Persistent Infrared (Next-Gen OPIR) missile warning satellites.
"After performing competitive prototyping among three nontraditional companies for one year, the down-select and award went to SciTec," said Col. Dan Walter, strategic missile warning senior materiel leader at Space Systems Command. "This is a no-fail mission, and we're excited for the game-changing applications being delivered."
SciTec will be partnering with Centil, Cosmic Advanced Engineering Solutions, L3Harris Technologies, Monterey Technologies, Outside Analytics, and Raytheon Technologies on the FORGE project.
Sources: Space News, Military Embedded, SciTec PR.
Video of the week: ICBM launch from Vandenberg
In what was characterized as a routine test, Air Force Global Strike Command launched a Minuteman III Intercontinental Ballistic Missile (ICBM) on Wednesday, September 7.
Seeking to assure media, Col. Bryan Titus, Space Launch Delta 30 vice commander stated that "These test launches demonstrate the readiness of U.S. nuclear forces and provide confidence in the lethality and effectiveness of the nation's nuclear deterrent."
See the video below for some footage of the ICBM traveling at speeds of up to 15,000 MPH on its way to a point near the Marshall Islands.
Sources: KMPH TV Fresno , YouTube.