'Tis the season for … reports, apparently.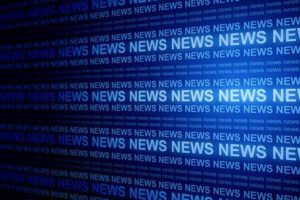 This week's Space Force news is all about reporting on reports: In last week's headlines were the findings and recommendations in the 4th annual State of the Space Industrial Base; some preliminary hints at the GAO's report on ISR; the USSF ISR director reporting on the space-intelligence race with China; and preliminary details about the USAF/USSF pilot program on beards for servicemen. It's all about reporting on reporting in this week's Space Force news!
4th annual State of the Space Industrial Base report released
The past week saw the release of "Winning the New Space Race for Sustainability, Prosperity and the Planet," the fourth annual "State of the Space Industrial Base" (SSIB) report from USAF, USSF and Air Force Research Laboratory (AFRL) miliatry and private-sector officials.
Report authors note that "SSIB '22 workshop attendees were slightly negative in their assessment of US progress made over the past year" on previous recommendations, offering the following observations this year:
strategic competition in space remains a paramount concern;
strategic vision is required;
the space ecosystem is at risk;
we must get off-planet, i.e. begin to develop off-world resources;
commercial space technology has forever changed the nature of conflict; and
sustaining US leadership in global research and development requires action.
With the report release on Wednesday, August 24, Defense Innovation Unit director summed up the 110-page report's themes with "China could surpass the U.S. in space superiority if we don't increase our investment" and "what's required to win the space race is the strengthening of private-public partnerships that emphasize commercial technology over bespoke systems. We need to provide government contract revenue to these companies building the future of space."
The main recommendations included, in brief,
establishment of an enduring US North Star vision for space;
enabling national security priority processing of licenses/environmental clearances for critical space systems;
elevation of the Office of Space Commerce (OSC) to report directly to the Secretary of Commerce;
requirement of a process for the DoD to rapidly acquire and constitute commerically-sourced capabilities for the US and allies;
advancement of off-world power production, manufacturing and lunar resource extraction; and
acceleration of progress on strengthening the space industrial base.
The entire report "Winning the New Space Race for Sustainability, Prosperity and the Planet" may be read here.
Sources: Space News, SSIB report.
NGA commercial ops head: GAO report on ISR communication not groundbreaking
In July, the Government Accountability Office released its extensive report on communications between the Space Force and various intelligence organizations in disseminating space-based Intelligence, Surveillance and Reconnaissance (ISR) data to the Department of Defense. The report is still undergoing DoD review prior to release of the unclassified version, but this week a few hints were offered as to its contents.
Among others speaking at the Intelligence National Security Alliance (INSA) webinar of Thursday, August 25, was National Geospatial-intelligence Agency (NGA) head of commercial operations David Gauthier.
"I've seen the GAO report," Gauther told webinar attendees, "And I don't think there's anything groundbreaking. From my recollection, the biggest recommendation is about clearly defining roles and responsibilities going forward. And that's something we all know needs to be done."
Gauthier also stated that he will visit Space Systems Center (SSC) in Los Angeles this week to "talk to them about their acquisitions versus our acquisitions and how we work together."
Source: Breaking Defense.
USSF ISR director on space-intelligence race with China
Brig. Gen. Gregory Gagnon, now USSF Intelligence, Surveillance and Reconnaissance (ISR) director, was keynote speaker for the Potomac Officers Club's 2nd Annual Space Intelligence Forum event on Thursday, August 25. From this platform, he outlined the role of the Space Force and US intelligence agencies on China, which he and other USSF officials consider the chief threat.
Brig. Gen. Gagnon described Space Force resources as "training an unblinking eye" on Chinese military operations, explaining that "the reason they've had such rapid advancement in their space capabilities is because [China has] had consistent planning. They are not a bottom-up system that fights competing designs and competing ideas. They are a top-down system that sets goals, sets targets and allocates resources. And because of that, they've been able to move very rapidly."
Furthermore, "What they are designing from a military space perspective is the ability to execute fires at long range while holding targets in custody. That is a capability that for those of us in uniform, we have grown very accustomed to using over the last 20, 25 years of combat, but we haven't faced an adversary who could do the same thing back to us. And that is one of our great challenges."
Brig. Gen. Gagnon was optimistic about the potential of the US to outpace Chinese competition in the future: "…in 2018 to 2021, the world launch leader was China. This year, that is not the case because SpaceX is basically launching [about] once a week. So they have reestablished U.S. dominance in space launch, which is fantastic. And the Space Force has been part of that."
He also promised that "Space Force intelligence will double in size in the next 4½ years. It's all funded, it's in the program."
Source: GovConWire.
Could beards be returning to the US military?
Rumors are circulating about the reported pilot program currently under consideration by the Department of the Air Force which would allow beards to be won by active USSF and USAF servicemen. And according to Military.com, the change, "one of the most requested changes to uniform and grooming standards among servicemembers," might be coming sooner than expected.
The most recent round of rumors on the test program recently blew up on the Amn/NCO/SNCO Facebook page, when an August 18 post revealed a few details on an embryonic pilot program for facial hair.
Department of the Air Force spokesperson Ann Stefanek explained to Military.com that the screenshot in the Facebook post "reflect[s] a volunteer's recommendation for how to proceed if a proposal for a pilot program is approved." She also confirmed that the pilot program is indeed "being discussed," in particular among the USAF Black/African-American Employment Strategy Team.
Back in May of this year, USSF Maj. Mark Natale wrote an impassioned article for Military Times with the radical proposal that the Space Force introduce a policy "Not just 'allowing' beards, but endorsing it – especially for officers," which would "distinguish our team and show that we really care more about our Guardians' abilities than upholding outdated traditions."
Additionally, "changing the grooming standards would actually be a sign of racial inclusion, which we desperately need. This would show the force we can be disciplined while supporting our people. In a pre-decisional brief commissioned by the Air Force's Black/African-American Employment Strategy Team, a convincing argument, supported by statistics, models and unemotional data, recommended allowing 1/8- to 1/4-inches of facial hair for service members."
Maj. Natale is certainly pleased with this week's news…
Sources: Facebook, Newsmax, Military.com, Military Times.