We're looking ahead t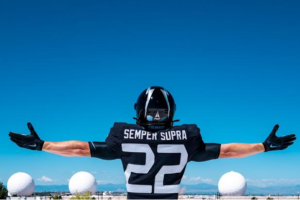 o the future in this week's edition of Space Force news: in the short-term to October football with the Space Force Falcons, in the medium-term to the relocation of STARCOM to Alabama (would you believe another objection?), and in the long-term to encouraging STEM education to the next generation of spacefarers. We've also got an anniversary celebration for Space Systems Command, Gen. Raymond's tour of Johnson Space Center, and the historical assumption of satellite defense command by the USSF. Always above, always moving forward with Space Force news!
Global SATCOM, Defense Satellite Comm System now controlled by USSF
On Monday, August 15, the US Army transferred control of its satellite ground control stations to the auspices of the Space Force. The USSF now has authority over the Wideband Global SATCOM (WGS) and Defense Satellite Communications System.
Marking the historic occasion, Army Space & Missile Defense commander Lt. Gen. Daniel Karbler sated that "This is a historic moment for the Department of Defense and military satellite communications as we bring all military SATCOM capabilities under one service for the first time ever."
"My thanks to the U.S. Space Force, and in particular Lieutenant General Stephen Whiting and his team for their tremendous teamwork throughout this transition period. I know our SATCOM professionals will continue to provide world-class service and support while embodying the proud heritage of the Army SATCOM mission."
Some $78 million will be transferred to the USSF 2022 budget to cover operation costs for the satellite systems, and 500 military and civilian personnel will be transferred to Schriever Space Force Base.
The move is seen by many as a big step in Department of Defense efforts to consolidate space-based operations under Space Force command.
Sources: Army Times, Overt Defense, Space Force official website.
Gen. Raymond tours Johnson Space Center, touts Houston contractors
Media outlets in Houston, Texas, were abuzz with news of the touring of Johnson Space Center by USSF chief of operations Gen. Jay Raymond on Friday, August 19.
Gen. Raymond gave interviews to several Houston media stations, prompting speculation that the city might pay an expanded role in Space Force infrastructure in the future naturally enough, as some 50 aerospace industry contractors have headquarters in the Houston area.
"We're working hard to build those close partnerships," Raymond said. "Not just with NASA, not just with international partners, but also with commercial industry to leverage those technologies that are being developed."
When asked by the area ABC affiliate about popular perception of the US armed forces' newest branch, Gen. Raymond stated, "I'm not worried about perception. We know exactly how important this service is to our country. We're focused on making sure we can deliver for our nation each and every day. This with the Space Force has been discussed for 30-something years."
Raymond also stated that the Biden Administration has been "very supportive" of the USSF's ongoing development.
Sources: Yahoo News, KTRK TV.
Orion Space Solutions wins $44.5 million to develop three spacecraft
On Tuesday, August 14, representatives of the aerospace joint venture Orion Space Solutions (OSS) announced the winning of a $44.5 million contract with the USSF to develop three spacecraft in support of the Tetra-5 Space Vision program.
OSS will partner on the contract with Hera Systems Inc., Booz Allen Hamilton Inc., and SCOUT Space Inc. with a mission "to build and deploy new satellites to geostationary orbit (GEO)." First founded in 2005, OSS specializes in building mission-specific systems, including spacecraft and payload design, assembly, integration, and testing capabilities, as well as mission operations and ground support.
"The OSS team looks forward to supporting USSF," says Chad Fish, the project's principal investigator and COO of Orion Space Solutions. "The team, comprised largely of small, non-traditional aerospace businesses, demonstrates the depth of skill, as well as agility and innovation that small business delivers to U.S. government programs and more broadly within the aerospace industry."
According to OSS, the USSF anticipates a five-year development and mission for the contract.
Sources: BizWest Media, Orion Space Solutions PR.
SpaceX deploys more Starlink satellites, Dragon capsule splashes down
In a virtual mirror image of the previous Firday's launch – except with an even larger payload – SpaceX launched another Falcon 9 rocket with a payload of Starlink internet satellites from Cape Canaveral Space Force Station. On this occasion, 53 satellites were deployed.
As with last week's mission, the Falcon 9 first stage landed on a SpaceX droneship off the Florida coast.
Almost exactly 23½ hours later, on Saturday, August 20, an unmanned SpaceX Dragon cargo capsule splashed down with a reported 4,000 pounds' worth of experiments and other cargo aboard.
The spacecraft carried more than 4,000 pounds of valuable scientific experiments and other cargo back to Earth from the International Space Station (ISS). The Dragon capsule was launched for the ISS on July 16 and carried out experiments including those related to impact of space environment on new materials and components; colling systems in spacesuits; and cell signaling in microgravity.
Sources: Space.com, SciTech Daily.
Could STARCOM move to Huntsville be stymied by Alabama abortion law?
In case anyone thought the controversy over the imminent move of STARCOM to Huntsville, Alabama, was over with, certain Colorado politicians have been fanning the embers to prove them wrong.
Sen. Michael Bennett (D.-Colo.), long a prime mover to overturn the eleventh-hour Trump Administration decision to relocate STARCOM, has recently found new leverage thanks to Alabama's extremely strict abortion laws which do not make exceptions for cases of rape or incest, regardless of the patient's age. Along with the recent Supreme Court decision in Dobbs v. Jackson, Bennett argues, the new law "could have a negative effect on recruitment and morale." He told a Military.com reporter that he was "deeply concerned about how the Dobbs decision and state abortion bans will affect Space Command's workforce and readiness if the command leaves Colorado."
An Air Force spokesperson told the publication that the state's abortion law would be taken into account by the Secretary of Defense in the final decision-making process.
For just about two years now, Bennett, along with Colorado Sen. John Hickenlooper (D.), Rep. Doug Lamborn (R.) and Rep. Jason Crow (D.), have been fighting the Trump Administration decision on Huntsville. In June, the Government Accountability Office (GAO) released an extensive report on the process involved in the decision; though finding the DoD deficient in 14 of 21 areas of the decision-making process, the report is not a legally binding document and plans to move forward with the relocation are, by most accounts, continuing to move forward.
At stake for the local economy is the relocation of 1,400 civilian jobs.
Sources: Military.com, Alabama Political Reporter.
Video of the week: SSC encourages STEM by launching paper rockets
As part of the observance of the one-year anniversary of Space Systems Command (SSC) becoming a field command for the Space Force, Los Angeles Air Force Base played host to area grade schoolers. At the base, the students were tasked with building paper rockets and – even more fun – launching them to great heights.
While the schoolchildren are too young for recruiting purposes, the STEM Outreach Program directors on-hand emphasized that this event and others are about eliciting excitement in STEM fields early. Jonathan Stroud, SSC STEM deputy director cited studies showing that by age 13, the great majority of kids have chosen whether they want to someday work in a STEM field.
Sources: Yahoo News, YouTube.
Introducing the Space Force Football Team! (Well, for one game, anyway…)
Football season is just about upon us and so the Air Force football team has announced its annual entrant in its "Air Power series" of specialty jerseys For one week in October, Air Force football will be playing as the Space Force. The USSF-themed jerseys are black with silver numbers and the motto SEMPER SUPRA replacing the nameplate on the back. An alternate helmet design will be used as well.
The jerseys will be worn for the October 1st game when the Air Force Falcons host the Navy Midshipmen in Colorado Springs, Colorado.
Source: CBS News.