Just a few items make up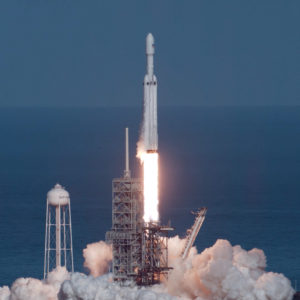 the Space Force news this week, with a report on the upcoming Holistic Health Assessment program to be implemented next year and a couple of pieces of news on SpaceX. Liftoff with the Space Force news below!
Some Guardians express concern with Holistic Health Assessment program
Back in March of this year, USSF officials released a memo stating that the service would like to introduce a whole new method of assessing physical fitness of Guardians. Rather than undertaking a single annual fitness assessment, Guardians would be equipped with wearable devices and a cloud-based app to track daily physical activity.
Since news of the first memo outlining the general principles and goals of such a program was issued by USSF Deputy Chief of Space Operations for Personnel and Logistics Patricia Mulcahy, the idea has gained a name – the Holistic Health Assessment program – and is currently gaining exposure through the Space Force ranks by way of roadshow presentation format.
However, according to news outlet Military.com, the initial enthusiasm at the prospect of dropping the nearly universally loathed annual physical review may have dampened a bit.
The roadshow pitch offers some concrete details on the program. Already known is that FitRankings technology will be supplying the wearable technology and software, but it has been revealed that a benchmark of 300 minutes' worth of purposeful activity has been set. Among the main data points to be monitored are individuals' muscle oxygen consumption levels and height-to-waist ratio.
Further, groups known as "Guardian Resilience Teams" comprised of service members specialized in fitness & training, would act as analysts of the data. A red/yellow/green coded system will be employed
A "Guardian Resilience Team," a group of service members at each base who specialize in fitness and training, would oversee the data brought in by the wearable fitness devices to track who is falling behind. Guardian data is analyzed and categorized by color code. Red if it's failing, yellow if it's average, and green if it's doing well and exceeding expectations – and this is where the concerns of guardians comes in.
Military.com quotes strength & conditioning specialist Carl Sheppard as telling guardians during a presentation at Peterson Space Force Base that "There's a lot of socialization about this being a non-punitive program and taking all the punishment away from fitness and there's a little bit of truth to that, but there's still going to be an accountability piece."
As a more concrete example, a second presenter reportedly explained that "If somebody is red for a quarter, that's when the command is going to get involved." In reaction, one anonymous guardian speculated that "the program could become punitive and lead to similar problems the Air Force saw – like people evidencing disordered eating to make the standards."
In response to Military.com, USSF spokesman Maj. James Fisher stated that "Depending on the findings from our test phase, we hope to move away from episodic physical fitness training and test with a new program that is focused on holistic health."
The Space Force plans to implement the Holistic Health Assessment program sometime in 2023.
Source: Military.com.
Launch/video of the week: SpaceX Falcon 9 launches with 46 satellites
Usually, we'd start an item under a headline like this with "Another week, another SpaceX launch," but the Friday, August 12, launch by SpaceX of a Falcon 9 rocket was notable at least for the size of its payload. The rocket launched from Vandenberg Space Force Base with a whopping 46 Starlink low-Earth orbit satellites; launch officials stated that some 1 million pounds of fuel and liquid oxygen were used.
The first-stage booster touched down on a landing platform at sea eight minutes, 25 seconds after liftoff.
Sources: Hanford Sentinel, YouTube.
Falcon Heavy to begin deploying spy satellites
Speaking of Space X Falcon rockets, the financial world became well excited this week on the news that SpaceX had received Space Force approval to launch spy satellites on its Falcon Heavy rockets.
Space Force officials informed Bloomberg reporters that the first such Falcon Heavy launch will happed during Q4 of 2022 as part of the National Security Space Launch mission for the National Reconnaissance Office. USSF officials publicly released news of the decision reached in June to the Bloomberg news service perhaps due in part to the successful launch and return of SpaceX's first-stage drone (see item directly above), SpaceX's 32nd satellite deployment of 2022.
The Falcon Heavy is touted as the world's most powerful rocket in operation and has the third-greatest payload capacity of any orbital vehicle ever produced. The first Falcon Heavy launch came in February 2018, famously carrying a Tesla car as a payload.
Sources: Yahoo Finance, Business Insider.