The Space Force news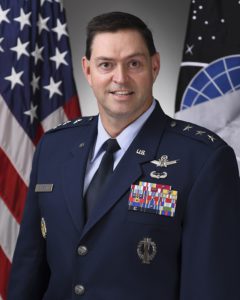 this week starts out with congratulations for the (presumably) new SPACECOM Chief of Space Operations, continues with a couple kudos for companies winning contracts with the USSF, acknowledges the flaming end of the latest Long March rocket launch from China and caps everything with a cameo from ubiquitous Florida Man. Enjoy this week's Space Force news while you can – 'cause the dragons are coming…
POTUS nominates Lt. Gen. Saltzman for USSF Chief of Space Operations
On Wednesday, July 27, President Biden officially submitted his nomination of Lt. Gen. B. Chance Saltzman for promotion to four-star general and to the position of USSF Chief of Space Operations. Lt. Gen. Saltzman has been serving as deputy CSO. The nomination(s) now await approval from the Senate Armed Services Committee, and the position is expected to be filled by the end of 2022.
Lt. Gen. Saltzman reportedly received strong backing from his CO, Gen. Jay Raymond, to serve as his successor to the position. Certainly, Gen. Raymond's recommendation helped put Saltzman's bid over the top: In late May, Breaking Defense reported that the shortlist for the position had been narrowed to two names: SPACECOM deputy commander Lt. Gen. John Shaw and Space Operations Command head Lt. Gen. Stephen Whiting.
Lt. Gen. Saltzman naturally began his career in the Air Force after graduating from Boston University in 1991, ultimately rising to the position of deputy commander of U.S. Air Forces Central Command overseeing coalition air forces in Middle East actions. He transferred to the USSF in 2020 to assume the deputy CSO position.
In April of this year, Lt. Gen. Saltzman provided some hints as to his vision for the Space Force. Speaking at the GEOINT Symposium in Denver, he stated that the USSF will request funding in 2024 specifically for "space-based intelligence, surveillance and reconnaissance" and that the US military in general needs more expansive training as well as improvement to space-based Intelligence, Surveillance and Reconnaissance (ISR).
"Protecting and defending our space-based capabilities and defending our joint force from irresponsible or hostile use of space-based capabilities is the reason that your Space Force was established. Our guardians must be trained and equipped to operate and prevail in a contested space domain against a thinking adversary," he said.
Sources: Military Times, Space News, Breaking Defense.
SPACECOM confirms reentry of Chinese Long March rocket
On Saturday, July 30, SPACECOM officials were able to finally confirm the reentry of a Long March rocket launched six days earlier from China for a mission to the Tiangong Space Station. The rocket's retnry point into Earth's atmosphere had been unknown.
SPACECOM announced the news in the fashion of our time, i.e. via Tweet.
#USSPACECOM can confirm the People's Republic of China (PRC) Long March 5B (CZ-5B) re-entered over the Indian Ocean at approx 10:45 am MDT on 7/30. We refer you to the #PRC for further details on the reentry's technical aspects such as potential debris dispersal+ impact location.

— U.S. Space Command (@US_SpaceCom) July 30, 2022
SPACECOM has tracked Long March rockets to reentry in 2020 and '21, and another such rocket will reportedly launch in October.
Sources: Weatherboy, Twitter.
Rocket Lab wins contract for solar power supply to USSF
Representatives of Rocket Lab USA, Inc. this week announced that their company had been contracted to provide its Coverglass Interconnected solar Cell (CIC) assemblies for three Lockheed Martin Next Gen OPIR GEO satellites contracted by the USSF. Rocket Lab was very likely an easy choice for the contract, as the company in January 2022 acquired SolAero, the solar-power provider which had supported the USSF's Space-Based Infrared System (SBiRS) program.
"We are excited to continue our long-term partnership with Lockheed Martin by powering the Next Gen OPIR GEO satellites," said Rocket Lab VP/general manager of space systems power solutions Brad Clevenger. "These satellites are critical to the mission needs of the Space Force and our national security, and we are proud to be supporting their production on an aggressive schedule."
Rocket Lab's CICs will be integrated into the solar panels and arrays on the Lockheed Martin-designed and -built spacecraft. The spacecraft recently successfully passed critical design review, and the first of the three satellites is scheduled to launch in 2025.
Sources: Space News, Rocket Lab PR.
Wallaroo Labs wins SpaceWERX OPP contract
On Tuesday, July 26, the folks at Wallaroo Labs announced their win of a contract within the SpaceWERX innovation program. The fully-funded Phase 1 project has a stated goal "to solve edge model deployment challenges specific to On-orbit Servicing, Assembly and Manufacturing (OSAM) missions." Wallaroo will work in collaboration with Catalyst Campus (CCTI) to consider edge model deployment challenges for use cases such as satellite life extension, on-orbit refueling, active debris removal, and reuse/recycling of materials to build the foundation for assembly and manufacturing in space.
"The mission of the United States Space Force (USSF) is to organize, train, and equip Guardians to conduct global space operations that enhance the way our joint and coalition forces fight, while also offering decision makers military options to achieve national objectives," said Dr. Joel Mozer, Director Science, Technology & Research at SPACEWERX. "To do this effectively, we must invest in AI and ML capabilities that can be deployed in the cloud and at the edge. Wallaroo has demonstrated their AI/ML Enterprise Platform, and I believe this platform – with its uniquely modern, interoperable, and integrated architecture – is positioned exceptionally well to deliver game-changing capabilities to the USSF."
Source: Wallaroo Labs PR.
You want a Florida Man story? We got your Florida Man story right here.
Here's a guaranteed method of getting the Space Force namedropped in mainstream media outlets: Involve that superhuman figure who turns mundane police blotter stories into irresistible clickbait headlines.
Case in point: An incident at Patrick Space Force Base on the evening of Monday, July 25, which resulted in headlines like "Florida man uses stolen truck while warning Space Force about a war between aliens and Chinese dragons."
As it turns out, one Corey Johnson stolen a Ford F-150 pickup to warn the USSF. "Mr. Johnson disclosed he took possession of the vehicle three days prior and did not know who the owner of the vehicle was," reads the arrest report in part. "He stated the President of the United States told him in his head he needed to take the vehicle." More specifically, Joe Biden instructed Johnson to inform of an ongoing war between "U.S. aliens" – presumably extraterrestrials who have achieved citizenship – and "Chinese dragons."
Johnson was booked into Brevard County Jail on charges of grand theft auto and had bond set at $3,000, while journos around the country (and at least as far outside the borders as the U.K.) began flexing the creative-ironic muscles.
Humor site Boing Boing, clearly big fans of all things Florida Man, noted that "Sadly, like Galileo, Johnson was imprisoned for his radical observations." The Washington Examiner closed its coverage with a terse "How the U.S. military would intervene in a war between aliens and dragons could not be confirmed," but Vice was willing to examine the question a bit further:
"…Patrick Space Force Base [is] in charge of satellite launches and operations on the east coast of America. It's hard to know if a fight between U.S. aliens and Chinese dragons would technically fall under its jurisdiction.
"Most likely, a joint task force representing all the branches would be tasked with handling the Alien-Dragon war. The Space Force would most likely fall into a supply, logistics, and intelligence role…"
Sources: Boing Boing, Washington Examiner, Vice.