While much of the mainstream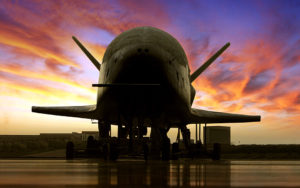 media's attention to the USSF was devoted to the post-launch explosion of a test rocket at Vandenberg SFB, in this week's Space News, USSF brass looks to the future of intelligence, contractor Boeing sets another on-orbit record, Northrop Grunman is full speed ahead on its ROOSTER satellite bus and more. Read on for all the Space Force news…
X-37B breaks endurance record
On Thursday, July 7, the folks at Boeing were proud to announce that their X-37B, touted as "the world's only reusable spaceplane" and contracted by the USAF/USSF, had broken its on record for endurance.
The X-37B launched for its current mission on May 17, 2020, thus marking its 781st day in continuous orbit on the June 7th, and establishing a new on-orbit record.
781 days and counting!

The world's only reusable spaceplane, #X37B, has set another endurance record — as it has on every mission since it first launched in 2010. Congratulations to the @USAirForce, @SpaceForceDOD and all our teammates who support X-37B! #SemperSupra pic.twitter.com/zzZAOG0Wa5

— Boeing Space (@BoeingSpace) July 7, 2022
No details are forthcoming as to when the X-37B will be landing to complete this mission, the craft's sixth.
Sources: WGXA-TV Macon, Space.com, Twitter.
Test rocket explodes after launch at Vandenberg SFB
A missile test ended in an explosion some 11 seconds after launch from Vandenberg Space Force Base at night on Wednesday, July 8. Despite the lack of personal injury or property damage, however, the story spread like wildfire through mainstream media.
This attention might be chalked up to the quite excellent run of USSF-based launches – After all, one media outlet audaciously ran a headline of "Trump's Space Force launches missile test, ends in explosion seconds after liftoff."
Or maybe press digs things exploding.
The general much ado was settled after some minor work by the Vandenberg Fire Department. Ran the press statement released by Vandenberg SFB:
"A Minotaur II+ rocket exploded approximately 11 seconds after launching from Test Pad-01 at 11:01 p.m. PDT Wednesday.
"There were no injuries in the explosion and the debris was contained to the immediate vicinity of the launch pad.
"'We always have emergency response teams on standby prior to every launch,' said Col. Kris Barcomb, Space Launch Delta 30 vice commander and launch decision authority for this launch. 'Safety is our priority at all times.'
"An investigative review board has been established to determine the cause of the explosion."
Sources: The Independent UK, Newsweek online, Vandenberg SFB official site.
Northrop Grunman wins $22 million ROOSTER contract
Representatives of Northrop Grunman announced on Friday, July 8, that their company had won a $22 million contract to produce its Rapid On-Orbit Space Technology Evaluation Ring (ROOSTER) satellite bus.
Northrop Grunman was originally awarded a contract for its Long Duration Propulsive ESPA (LDPE) satellites – subsequently renamed ROOSTER – in December 2017. Now under the auspices of the Space Force, the first of the three ESPA satellites ordered in 2017 was launched in December 2021, with the second and third to be launched before the end of 2022.
The recently-awarded contract calls for a "multi-manifest rideshare satellite supporting operational and prototype missions in a geostationary orbit and maturing technology needed to conduct on-orbit refueling for future missions," per the Northrop Grunman statement, and has a deadline of Q4 2026.
Sources: Space News, Northrop Grunman PR.
SSC Front Door to open soonish, probably
In February 2022, Space Systems Command promised that a website called "SSC Front Door" would be up and running to provide private-sector vendors a "one-stop shop" for tech & research development programs.
Instead, that door remains essentially closed, with the website but a page in the Space Force subdomain announcing the forthcoming Space Domain Awareness Industry Day.
Speaking at the latest National Space Security Association (NSSA) webinar on Wednesday, July 6, SSC executive director Joy White stated that the Front Door online infrastructure is "still in its infancy," but promised that "We're working to add a lot more capability to the front door in the coming weeks, so I asked you to continue to return to that page. We're still manning up that office, and we're still building up that capability…"
Since White's statement, the Front Door page has added some cursory information regarding the SDA Industry Day event.
Source: Breaking Defense.
Video of the Week: SpOC commander promises "eye-watering" USSF intel
USSF Space Operations Command (SpOC) head Lt. Gen. Stephen Whiting guested on the most recent episode of the Aerospace CSPS Space Policy Show, detailing quite a bit on Space Force intelligence, a critical area which he sees great progress being made.
As Lt. Gen Whiting explains, Space Force intelligence specialists are working to deliver on the "full TPED intelligence cycle," where TPED stands for Tasking, Processing, Exploitation, Dissemination."
Ultimately, Lt. Gen. Whiting envisions a system in which "our space operators or cyber operators are 'executing mission' [and] there's an intel operator sitting right next to them bringing them that intel that they need. And they're going to figure out new ways of operating that I think are going to be eye-watering as we move forward."
Watch the full video directly below.
Source: Vimeo.
E98 – USSF Space Operations Command with Lt Gen Whiting from Aerospace CSPS on Vimeo.
Congressmen appeal for permanent STARCOM base in California
Everybody wants a piece of Space Force infrastructure, it seems. This week, US representatives/California Aerospace Caucus co-chairs Ted Lieu (D.-Calif.) and Ken Calvert (R.-Calif.) directly addressed USAF Secretary Frank Kendall to urge the permanent relocation of Space Training And Readiness Command (STARCom) to their state, specifically at either Vandenberg SFB or Los Angeles AFB.
Read the letter signed by Lieu, Calvert and 24 members of the California Aerospace Coalition in part: "The DAF's assessment of locations will be based on factors including mission, infrastructure capacity, community support, and cost.
"We are proud that California is home to one of the most exciting and innovative space ecosystems in the world. The establishment of Space Systems Command at LA AFB last year and the critical space-related missions and assets at Vandenberg SFB reflect the state's long history of driving innovation and supporting our national efforts in space.
"Coupled with outstanding research universities, unrivaled federally-funded research and development centers, leading aerospace companies and startups, and world-class talent, we have the utmost confidence that either California base would be a perfect choice for this new command headquarters."
Source: Homeland Prep News.