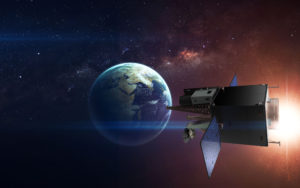 Perhaps in advance of the long July 4th holiday weekend, a couple of huge rocket launches went off last week and at least one big media appearance was put in by USAF acquisitions chief Frank Calvelli. These stories and more in this week's Space Force news; read on!
Big launch for ULA in Florida…
Getting quite a bit of media attention this week was the United Launch Alliance Atlas V rocket launch from Cape Canaveral on Friday, July 1.
Contents of two deployments from the Atlas are publicly known: The Wide Field of View (WFOV) testbed missile detection satellite developed by L3 Harris based on a Millennium Space Systems platform; and the USSF-12 Ring spacecraft built by Northrop Grumman.
"We're focused on integration of an end-to-end mission capability for resilient space-based missile warning tracking and defense to prevail what is a fast-evolving threat, particularly in hypersonic missile threats across the globe," stated Col. Brian Denaro, Program Executive Officer in the SSC Space Sensing Directorate.
The WSOV statellite will be capable of tracking over one-third of the Earth's surface and is scheduled for a three-year mission. This deployment represents a prototype for the satellite architecture for the USSF and the other military services in missile tracking globally.
Following the liftoff, which was delayed two days due to weather issues, project contractors were quick to publicize their contributions. Northup Grunman PR detailed their technology in part thusly: "Four of the company's 63-inch-diameter Graphite Epoxy Motors (GEM 63) solid rocket boosters provided approximately 1.5 million pounds of thrust at launch to help lift the rocket and payload from the pad…
"Northrop Grumman produced the composite first-stage heat shield, the Centaur Interstage Adapter that houses the second-stage engine, and the broadtail that adapts from the core vehicle to the five-meter diameter fairing. The company also manufactured hydrazine propellant tanks, which feed the Centaur Upper Stage reaction control system to provide guidance and control…"
The launch represented the 94th for ULA but one of the last for the Atlas V rocket, planned for phasing out in favor of the Vulcan Centaur by the end of this year. For some extremely nice images of the ULA Atlas V launch, see the gallery at Space Coast Daily.
Sources: Stars & Stripes, United Launch Alliance PR, Air Force Magazine, Space Coast Daily.
…and a massive Virgin Orbit launch in California
A nighttime Virgin Orbit launch from Mojave Air and Space Port on Friday, July 1, earned a good amount of media attention, due in no small part to the sheer size of the undertaking.
Some seven U.S. Department of Defense (DoD) satellites were launched from a modified Boeing 747-400 aircraft while above the coast of southern California. This was the fourth satellite launch conducted by Boeing, all using the same aircraft, christened "Cosmic Girl", as launching point for the Newton Four rocket.
Virgin Orbit founder Richard Branson commented on the launch, saying that "The LauncherOne rocket and Virgin Orbit team have made me immensely proud with today's Straight Up mission. There is so much potential benefit for everyone from space if we just manage it well together. We are delighted for the opportunity to work with the US government to help make space a safe and fruitful environment for all."
Singer/performer Paula Abdul had toured the Mojave Air and Space Port prior to the launch; the mission had been named "Straight Up" by Virgin Orbit based on a 1988 hit of the same time by Abdul for Virgin Records. (Remember when Virgin was a record label…?)
Sources: Military.com, Simple Flying, Virgin Orbit PR.
Northrop Grunman announces testing on End Crypto Unit
Representatives of Northrop Grumman announced this week that their firm will in Q2 of 2023 begin testing on the End Crypto Unit (ECU), a new hardware/software prototype for the Space Force designed to protect large interlinked satellite networks from cyber attacks. Space Coast-based surveillance electronics firm Aeronix is teaming with Northrop Grunman on development of the ECU.
"We are developing a hardware unit that can survive in the space environment, with the intent of deploying the hardware on satellites orbiting in proliferated low earth orbit (pLEO)," stated spokesperson Amanda Walsh. "We are also developing cryptographic software that will run on this hardware module, and this cryptographic software will enable network users to securely communicate within the network."
Northrop Grumman is under contract with the Space Development Agency (SDA) to develop its Transport Level of high-speed data and communications satellites in low-Earth orbit under a $692 million contract awarded in February. Those satellites are part of the Pentagon's Joint All-Domain Command and Control (JADC2) concept.
Sources: Breaking Defense, Northrop Grunman PR.
POTUS nominates Maj. Gen. Garrant for appointment to CSO
On Wednesday, June 29, Secretary of Defense Lloyd J. Austin III announced that President Joe Biden had nominated USSF Maj. Gen. Philip A. Garrant for appointment to the grade of lieutenant general, with assignment as deputy chief of space operations for strategy, plans, programs, and requirements, Office of the Chief of Space Operations (CSO), Pentagon, Washington, D.C.
Garrant is currently serving as the program executive for ground-based weapon systems for the Missile Defense Agency at Redstone Arsenal in Alabama.
Source: DoD official website.
Calvelli promises "new and innovative" acquisition methods for USAF, USSF
Frank Calvelli, assistant secretary of the Air Force for space acquisition and integration, met with members of the media on Thursday, July 28, to discuss any number of subjects, but especially his vision for the streamlining certain processes, which he promised to be "new and innovative."
Also high on the agenda was commenting on Phase 3 of the National Security Space Launch program, which Calvelli said is on track for completion by Q4 of this year.
In commenting on recent House Appropriations Committee recommendations to consider service providers other than United Launch Alliance and SpaceX, who together have been awarded 100% of all contracts in Phase 2, Calvelli said, "There are all these different providers out there, some really great ones. So, how do you take advantage of some of that and make sure that you're able to be innovative in terms of allowing new folks to be on the contract?" He also touted the Rocket Systems Launch Program, a contract mechanism designed to attract a greater pool of commercial providers.
As for whether Space Systems Command (SSC) and other Space Force branches need to undergo further reorganization, Calvelli said "I'm quite happy with what I've inherited" in this respect and that "I plan no organizational changes at all across the three organizations," i.e. the SSC, the Rapid Capabilities Office (RCO) and the Space Development Agency (SDA).
He does see some opportunity in expanding the Space Acquisition Council, however: "Congress gave me this neat little tool called the Space Acquisition Council, and so my intentions are to use that as the integrating function across all things space for the DoD."
Sources: C4ISRnet, Breaking Defense, Space News.