The theme for this week's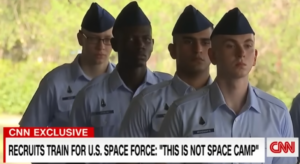 Space Force news? Workers, careers and promotions! Against something of a slow news week, employees made themselves heard on CEO Elon Musk's "embarrassing behavior" amidst an extremely busy weekend for SpaceX, the first-ever USSF basic training nears completion (and gets CNN coverage!), and a couple of career moves made headlines. Read on for this week's Space Force news!
SpaceX launches three rockets; SpaceX employees launch complaints against Musk
The story lede was invariably the same: SpaceX put on an extravagant show of its technology, launching three rockets (details below) from three different sites in 36 hours running June 17-18. Media outlets, however, had more to report on than just another business-as-usual satellite deployment, namely an in-office war between SpaceX workers and CEO Elon Musk over the latter's social media habits.
On June 15, an email written as an open letter to SpaceX president Gwynne Shotwell by person(s) unknown was sent to employees. The letter sought to address several behavioral issues of Musk's in public and in-house. At the heart of the complaint, as reported but not published in full at theVerge.com, is this:
"Elon's behavior in the public sphere is a frequent source of distraction and embarrassment for us, particularly in recent weeks.
"As our CEO and most prominent spokesperson, Elon is seen as the face of SpaceX – every Tweet that Elon sends is a de facto public statement by the company. It is critical to make clear to our teams and to our potential talent pool that his messaging does not reflect our work, our mission, or our values."
No specific instances of crudity on social media were noted but in May, Musk was reported to have paid a former employee some $250,000 in hush money so as to avoid a sexual harassment suit. Among the allegations were that Musk had promised to trade a horse for sexual favors from the woman. Naturally, Musk explicitly denied the allegations, blithely arguing that " If I were inclined to engage in sexual harassment, this is unlikely to be the first time in my entire 30-year career that it comes to light."
Soon thereafter, Musk joked on Twitter to a friend with "Hi Chad, long time no see! Fine, if you touch my wiener, you can have a horse." The SpaceX open letter called on the company president and leadership to "publicly address and condemn Elon's harmful Twitter behavior" and "separate itself from Elon's personal brand."
Shotwell was having none of it. One day later, after a few hundred employees had reportedly electronically signed the open letter, she issued a memo of her own to the workers, stating that "a number of employees" had been fired due to the open letter's issuance.
The employees' letter had complained that Musk's recent actions made his workers feel uncomfortable and that company leadership was not living up to company policies; Shotwell shot back with the same ammunition, writing in part that "the letter, solicitations and general process made employees feel uncomfortable, intimidated and bullied, and/or angry because the letter pressured them to sign onto something that did not reflect their views."
Further, it was the letter and not Musk's actions that were proving distracting in-house: "We have three launches within 37 hours for critical satellites this weekend … We have too much critical work to accomplish and no need for this kind of overreaching activism."
Despite the kerfuffle, the three launches went off on schedule and as planned. First was a Falcon 9 launched from Kennedy Space Center on Friday, June 17. The following morning another Falcon 9 left from Vandenberg SFB, carrying a payload of a German SARah-1 radar-imaging satellite. Finally, a bit after midnight on June 19, the third SpaceX rocket launched from Cape Canaveral Space Force Station with a payload which included a Globalstar FM15 low-orbit satellite and other classified items.
Sources: Space News, the Verge, Business Insider, New York Times, Space.com.
Video of the week: CNN goes to boot camp
The mainstreaming of Space Force coverage continued this week, with none other than CNN devoting a few minutes to the service. In advance of the 71 Guardians set to complete the first-ever Space Force basic training this coming Thursday, June 23, Kristin Fisher covered the basics (so to speak) with a report from Joint Base San Antonio (JBSA)-Fort Sam Houston.
Video and transcript (via CNN online) follow.
As dawn breaks on Day 38 of basic training at Joint Base San Antonio, a bugle playing reveille blasts over the loudspeakers as a sergeant can be heard screaming, "Are you prepared to join the world's greatest space force? Then hurry up! Let's go, let's go."
It looks — and sounds — like basic boot camp for soldiers, sailors, marines or airmen. But all 71 of the new recruits at this basic training are guardians, the name for members of the first new branch of the armed services in more than 70 years.
Until now, new guardians have trained alongside airmen in the Air Force's basic military training program. What makes this boot camp unique is it's the first ever guardian-only basic training, led entirely by Space Force instructors who are teaching a space-centric curriculum.
Master Sergeant Eric Mistrot, the Space Force's first Military Training Instructor, is quick to point out that, "This is still the profession of arms. This is still the United States military. This is not space camp."
Mistrot oversees all training for new guardians during the 7-and-a-half weeklong process.
GUARDIAN SYRIAH HARRIS: "I come from an Air Force family. So when Space Force came around most people were like, what is that? That's real?"
The biggest change between this basic training and other boot camps is in the classroom, where guardians are taught a new Space Force-specific curriculum — everything from space history to space vocabulary.
MISTROT: "So if I say the word LEO — L, E, O — that stands for low Earth orbit, right? You need to start thinking along these lines. That the world is bigger than what you see. That we go out to 22,500 miles into orbit."
None of the guardians at this boot camp are training to go to space. Instead, they'll be operating US military satellites from the ground or analyzing satellites from countries like China and Russia.
GUARDIAN ABUBAKKAR SIDDIQUE: "You're not dealing with tanks or ballistics or anything like that. You're dealing with little blips on a, on a little computer screen."
It's a different type of warfighter — one that must strain their eyes and flex their mind more than their muscles — and it leads to the other big difference about this basic training: its core values.
MISTROT: "We want to build guardians here and what a guardian is, is about our core values: character, commitment, connection, and courage," said Mistrot.
During a class on the Space Force's core values, a sergeant asked a guardian, "What does courage mean to you?" The guardian replied, "I think courage means being able to ask for help when you need it."
It's a mindset made for a modern military force.
LT. COL. TARA SHEA: "Maybe you believe in a God, maybe you don't. Maybe you need to step away and have some meditation time. Whatever it is, we want our guardians to be strong and healthy. From a diversity and inclusivity aspect, we want them to feel like you can express that in our service, you can express who you really are."
HARRIS: "Coming here, I had a lot of people that were like, 'You're going to be the only Black girl there.' But I even have two other teammates that look like me."
It's just the kind of space nerd the Space Force is looking for to protect and shape a new domain of warfare.
HARRIS: "We need our own Space Force basic training because we are our own branch now. We broke away, so we need to stop being in the shadows of the Air Force." Harris and 70 other guardians are expected to graduate from the Space Force's first basic military training on June 22 and 23.
Sources: CNN, YouTube.
New director for Space Force RCO…
Congratulations to Kelly Hammett, who was named to the position of the USSF Rapid Capabilities Office (RCO) based at Kirtland Air Force Base on Monday, June 13. Hammett had previously headed up the Air Force Research Laboratory (AFRL) Directed Energy Directorate.
Also on her résumé is over 20 years' worth of experience at AFRL, including overseeing of the USAF's Maui Optical and Supercomputing (AMOS) site. AFRL's directed energy division has 1,200 employees and an annual budget of $355 million.
Said Kelly, "I'm really excited about the new opportunity and the trust being placed in me to lead the Space RCO team as they deliver new capabilities to the U.S. Space Force that are desperately needed to fill important warfighter gaps."
Source: Space News, Los Alamos Daily Post.
…and new commander for 4th Electromagnetic Warfare Squadron
Further congratulations to Lt. Col. Nicholas R. Shaw, who assumed command of the USSF's 4th Electromagnetic Warfare Squadron based at Peterson Air Force Base on Wednesday, June 15. In so doing, Lt. Col. Shaw becomes the first Space Force commander to have transferred from another service other than the Air Force.
After graduating from West Point in 2004, Shaw had tours of duty in Iraq and Afghanistan. Most recently, he was with the Defense Intelligence Agency in Washington, D.C., where, among other tasks, he assisted in the early formation of the Space Force.
Lt. Col. Shaw assumed command from Lt. Col. Kara L. Sartori, who is new serving as USSF operations officer within the U.S. European Command.
Source: Air Force Magazine.