This week in Space Force news,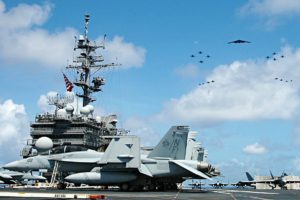 it's all about the USSF reaching out – to private subcontractors (and by extension, employers), to the government of Canada, to the other branches of the US military and to academia – in partnerships extending across all facets of American life. Details follow in this week's Space Force-centered news.
House Armed Services to recommend single launch provider, more SAR subcontractors
A bit of the House Armed Services strategic subcommittee's draft report on the DoD's FY 2023 budget proposal was released to media this week, including a recommendation that the Space Force streamline its launch integration to a single launch-integration manager.
"The committee understands that the use of a common launch integrator that works across department customers, satellite manufacturers, and launch providers can provide tested space vehicle integration processes," read the draft in part.
"The committee believes this approach could be an effective method to lower costs, reduce launch readiness timelines and increase competition for launch providers."
With regard to the recommendation, a report before the committee on the possibility of imparting the single-provider system is expected in February 2023.
Additionally, the report will recommend to USSF and National Reconnaissance (NRO) officials an even greater leverage of private industry in Synthetic Aperture Radar (SAR) satellites.
"The committee recommends the NRO accelerate, to the extent possible, their adoption and integration of proven highly capable U.S. commercial SAR systems by working proactively with industry to apply domestic commercial solutions to known intelligence, surveillance, and reconnaissance gaps of the Department of Defense, and providing on-ramps for new capabilities as they become available."
Sources: C4ISRnet, Air Force Magazine.
9th biennial Valiant Shield FTX starts
The biennial field training exercise (FTX) Valiant Shield kicked off this week. Some 13,000 personnel from the Army, Navy, Air Force, Space Force, Marine Corps and Special Operations will take part in the coordinative exercise in the area of Guam, the Northern Mariana Islands and Palau.
Valiant Shield seeks to builds real-world proficiency in sustaining joint forces through detecting, locating, tracking, and engaging units at sea, in the air, on land, and in cyberspace. Valiant Shield will prepare the Joint Force to rapidly respond to crises and contingencies across the spectrum of operations from humanitarian assistance and disaster relief to armed conflict.
Participants include the USS Ronald Reagan (CVN 76) and USS Abraham Lincoln (CVN 72) Carrier Strike Groups; USS Tripoli (LHA 7); 94th Army Air and Missile Defense Command (AAMDC); I and III Marine Expeditionary Force (MEF); 36th Wing; plus 15 surface ships and over 200 aircraft.
VS 22 is the ninth iteration of the exercise, which began in 2006. The FTX will run through Friday, June 17.
Source: Naval News.
Based on USSF contracts, Motley Fool bullish on ULA
The investment-centric website Motley Fool has noticed a trend in Space Force contracting and is advising its readers accordingly: Namely, over the past five years, the USSF has consistently awarded 60% of its launch contracts to United Launch Alliance (ULA), with SpaceX earning 40% – this despite ULA's reportedly higher prices.
"And that's good news for profits at Boeing and Lockheed Martin," enthuses the Fool.
As Motley Fool surmises, "the next eight Phase-2 Procurement national security missions will weigh more heavily in ULA's favor. This time around, ULA again gets the majority of the contracts [and] also gets the vast majority of the money being allocated, $566 million.
"…therefore, Boeing and Lockheed's joint venture has been awarded 102% more money than SpaceX to do just 67% more work on these eight launches."
The piece goes on to praise ULA CEO Tory Bruno for "succeeding in his promised goal of lowering the cost of ULA space launches. Per launch, these five latest ULA launches will cost taxpayers only $113.2 million apiece – a huge reduction from just a few years ago, when ULA was famously quoting prices as high as $400 million for a Delta V launch."
Even so, SpaceX launches are becoming cheaper as well, at $93.3 million per.
To the investor, these numbers should suggest that the USSF is "willing to overpay ULA […] relative to the rates it could charge if it awarded all contracts to SpaceX … if this remains Space Force policy in the future, it could put a 'floor' below the space profit margins that Boeing and Lockheed Martin will earn."
Source: the Motley Fool.
Canadian PM visits Aerospace Defense Command in Colorado
On Wednesday, June 8, Canadian Prime Minister Justin Trudeau visited Aerospace Defense Command in Colorado Springs. Accompanying Trudeau on the visit were Colorado Lt. Governor Dianne Primavera, also co-chair of the Colorado Space Coalition; Secretary of Defense Lloyd Austin; Canadian Minister of National Defense Anita Anand; Kirsten Hillman, Canadian Ambassador to the US; and Sylvain Fabi, Consul General of Canada.
"…I am proud to welcome Prime Minister Trudeau to our beautiful state and to showcase Colorado's world-class aerospace industry and the critical role we play supporting vital missions in the space domain," said Primavera.
Austin further accompanied to NORAD's Cheyenne Mountain facility.
According to the DoD, Trudeau, Austin and their parties discussed "further cooperation through NATO to counter Russian aggression against Ukraine; NORAD modernization; and bilateral defense cooperation in the Indo-Pacific, the Western Hemisphere, and in the Arctic region. All agreed on the importance of both nations' investment in modern, ready, and capable forces.
"The leaders reaffirmed the deep and long-standing partnership between the United States and Canada based on a shared commitment to a secure and prosperous North America."
Sources: Ark Valley Voice, Defense.gov, DoD PR.
USSF delivers first payload for Space Norway ASBM
Space Force officials announced on Wednesday, June 8, that the USSF had completed and delivered the first Enhanced Polar Systems-Recapitalization (EPS-R) payload for the upcoming Space Norway Arctic Satellite Broadband Mission (ASBM).
The $1.3 billion contract for the EPS-R was awarded in July 2019, with the payloads originally planned for launch in Q4 2022. This liftoff date has been pushed back to Q1 2023 and the EPS-R will be launched from Vandenberg Space Force Base on a SpaceX Falcon 9 rocket.
The Arctic Satellite Broadband Mission seeks to place satellites in a highly elliptical orbit in order to supply broadband access at extreme latitudes within the Arctic Circle that geostationary orbital satellites simply cannot cover.
The mission will also include communications technology deployment for the Norwegian Ministry of Defense and UK-based satellite operator Inmarsat.
Source: Space News (2x).
Arizona State joins USSF University Partnership Program
On Tuesday, June 7, Arizona State University officials announced completion of a University Partnership Program (UPP) agreement with the Space Force to "combine efforts on space exploration, defense research and education."
ASU president Michael M. Crow and USSF CTIO Lisa Costa were on-hand to mark the occasion. Said Costa in part, ""Our partnership today with ASU will pave a path to higher education and workforce development. With a stellar reputation in space engineering, defense research and innovation, ASU is the perfect addition to the program and will be instrumental in helping us take the Space Force mission into the future."
"We are certainly no stranger to space," Crow said – and that's an understatement. ASU is already home to the School of Earth and Space Exploration, while its researchers and students have already participated in more than 20 US space missions and are currently actively participating in four current/near future missions:
LunaH-Map, a shoebox-size spacecraft built at ASU which analyzes water content at the lunar south pole;
the Psyche mission, which is analyzing the metal-rich Psyche asteroid orbiting the sun between Jupiter and Mars;
the Europa Thermal Emission Imaging System within the Europa Clipper spacecraft, built by ASU scientists and engineers to investigate Jupiter's moon Europa; and
ShadowCam, a telescope instrument built by ASU experts to explore and map the moon's permanently shadowed regions in search of evidence of frost or ice deposits.
"ASU is a leader in exploring the universe, from planets to asteroids and from the Milky Way to the most distant galaxies," said Crow. "We are excited to work with Space Force to continue on this path toward discovery and insight."
Sources: KTAR News [Phoenix], ASU PR.