The week that was was a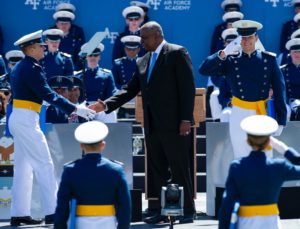 big one for several folks in the Space Force community: BlueHalo, United Launch Alliance and SpaceX have new contracts to celebrate; Space Delta 5 has welcomed in a new commander; and kudos go out to the 973 graduates of the Air Force Academy, Class of 2022. All this and more in this week's edition of the Space Force news.
Infrastructure Asset Pre-Approval (IA-Pre) program introduced
On Thursday, May 26, Space Force officials released the details of its Infrastructure Asset Pre-Approval (IA-Pre) program, an effort to streamline the process of evaluation for commercial satellite operators.
Under auspices of the new IA-Pre, satellite-based service firms will be evaluated once for in-house cybersecurity practices. Once thoroughly quality-checked, the suppliers/service providers in question will thereafter be pre-approved for similar technology development.
Further, the IA-Pre program is now often for business: "Our office will begin accepting IA-Pre applications for a limited number of assets to perform assessments," stated Jared Reece, program analyst at the Space Systems Command (SSC) commercial services systems office.
One-site compliance assessments will be undertaken by third-party private-sector auditors. Pre-trials are expected to begin in June.
Sources: ExecutiveGov, Space News.
BlueHalo wins $1.4 billion SCAR program contract
Representatives of BlueHalo were certainly pleased the awarding of a $1.4 billion contract from the USSF unit Space Rapid Capabilities Office (SpRCO) as part of the Satellite Communication Augmentation Resource (SCAR) program.
BlueHalo's key contribution to SCAR is its proprietary Multi-band Software Defined Antenna (MSDA) technology. MSDA is phased array technology that simplifies mission operations through agile and re-configurable beamforming tiles. In addition, BlueHalo Broad Area Deployable Ground terminal-Enabling Resilient communication (BADGER) provides a multi-band, deployable ground communications system extensible across multiple mission areas.
"Between the proliferation of new space satellite constellations at a relentless rate and the criticality of the U.S. maintaining its strategic advantage as a nation in space in the face of advancing adversaries, new technologies had to be brought to bear," said BlueHalo CEO Jonathan Moneymaker with the announcement.
"I could not be prouder of BlueHalo's talented engineers, scientists, and support staff for leading the development of our BADGER offering and the partnership we have forged with the SpRCO to bring the SCAR program to life. This program will redefine our national capabilities for decades to come."
BlueHalo will partner with Kratos Defense & Security Solutions, Inc. on the SCAR effort. Kratos will provide the OpenSpace Platform, a software-defined satellite ground system which enables scalable deployments within an elastic, cloud-agnostic, fully virtualized environment built upon widely-accepted industry standards.
Kratos was reportedly awarded some $160 million as part of the SCAR program.
Source: BlueHalo PR.
Class of 2022 graduates Air Force Academy; Sec. of Defense gives commencement
The class of 2022, totaling some 973 cadets, graduated the Air Force Academy this week; among the graduates were 94 now Space Force officers.
The commencement ceremony naturally had no shortage of dignitaries. Secretary of Defense Lloyd Austin III delivered the commencement address, speaking of the importance of innovation and praising the graduates' resilience: "Innovation is the ballgame of the 21st century and countries either lead or get left behind. As the Defense Department weaves together our concepts and capabilities in new and networked ways, we're going to call on you…
"In just four years, you've seen more changes than many see in a lifetime. A pandemic reminded us that some of this century's biggest threats don't even notice borders. America's longest war – one that spanned nearly all of your lifetimes – came to an end and Russia's cruel and unprovoked invasion of Ukraine dragged Europe into the largest security crisis since World War II.
"Graduating from this Academy is hard enough without a global pandemic, and graduating after years clouded by COVID shows serious courage and behavior. But what counts is how you respond to hard times and I'm told that during lockdown you kept this wing flying and insisted on taking care of each other. Your class motto is 'strength through sacrifice' and during a once-in-a-generation pandemic, that's exactly what you showed."
Lloyd closed with, "All of you have answered your country's call with courage and commitment, with tenacity and teamwork, and with strength and sacrifice. With outstanding young leaders like the Class of 2022, the future of our country is bright."
Sources: AFA official website, Space Force official website
Eight launch contracts under NSSL Phase 2 awarded to ULA, SpaceX
Space Systems Command (SSC) officials announced on Friday, May 27, that eight launch services contracts had been awarded per National Security Space Launch (NSSL) Phase 2 procurement: the missions GPS III-7, USSF-16, USSF-23, USSF-43 and WGS-11+ to United Launch Alliance (ULA) and USSF-62, USSF-124 and a SDA-1 Tranche 1 mission to SpaceX.
"This action represents the crucial role the Space Force plays in putting vital space capability successfully into orbit to meet the emerging threat," said Brig. Gen. Stephen Purdy of SSC. "Now, more than ever, we must do everything in our power to ensure each National Security Space launch is successful; it's the best way to stay ahead of our adversaries in the near term. We launch the nation's 'eyes and ears,' secure communications, GPS, and Space Awareness that provide our warfighters and national decision-makers with the vital information they need to protect our nation and allies."
All eight launches are scheduled to take place before Q4 2024.
Source: SAT News.
Video of the week: NBC News NOW special
A few national and cable broadcast networks have been given access to "never before seen" behind-the-scenes work at various Space Force areas of operation. The past week, however, streaming channel NBC News NOW gave the USSF the half-hour treatment with the documentary Battlefield Space, a full-on episode's worth of material about the service from the importance of securing communications satellite constellations, space domain awareness, and establishing a code of conduct in a new domain of potential international conflict.
The network-provided description reds, "Meet the war-fighters of the future. Correspondent Tom Costello goes inside Space Force, the newest branch of the U.S. Military, gaining exclusive access to the classified, nuclear-hardened facilities where Space Force operates America's constellation of satellites in Earth orbit – now threatened by hostile, armed Russian and Chinese spacecraft. Battlefield Space, an exclusive NBC News documentary examining what the Pentagon says is likely the next conflict zone."
Source: YouTube.