There's much hurry-up-and-wait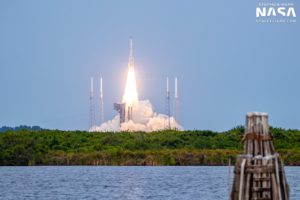 is in this week's Space Force news, but at least the long-awaited Boeing Starlink OFT-2 launch and rendezvous with the ISS went off. Otherwise, Breaking Defense breaks a story on to the naming of the Gen. Raymond's successor as Chief of Space Operations, while the Space National Guard vs Space Component debate rages on. This and more in the USSF news!
Rumor: Shortlist of two for Chief of Space Operations post
With Chief of Space Operations Gen. Jay Raymond expected to retire at the end of September, the Pentagon has been seeking to name a successor. This week, media outlet Breaking Defense reported that top brass has narrowed the list of candidates to two: SPACECOM deputy commander Lt. Gen. John Shaw and Space Operations Command head Lt. Gen. Stephen Whiting.
Lt. Gen. Shaw has also served as commander of the Combined Forces Space Component Command; Space Operations Command deputy commander; and Air Force Space Command deputy commander. Lt. Gen. Whiting's résumé includes service as SPACECOMM Integrated Air, Space, Cyberspace and ISR Operations director; deputy Joint Force Space Component Commander; and USSF deputy commander.
Gen. Raymond was named the first-ever USSF chief in December 2019 shortly after the foundation of the Space Force. Breaking Defense, among other sources, has reported the rumor that he will retire from service the autumn rather than serve out his term through 2023.
Sources: Breaking Defense, SPACECOMM official site, SpOC official site.
Military officials tout Space National Guard, contrary to USSF and POTUS
The back-and-forth between proponents of a new Space National Guard and Space Force officials sticking to their Space Component plan continued at a National Guard Association of the United States (NGAUS) virtual event of Thursday, May 19. Among the issues justifying the formation of a Space National Guard is the question of how to assign USAF Guard airmen with missions based in the space domain, and a few officers weighed in.
Referring specifically to the 1,000-plus servicepeople based in seven U.S. states and the island of Guam who will soon require reassignment, Col. Jason Knight of the California Air National Guard said that "Our expectation, and the Guard Bureau's expectation, is those individuals that are no longer in missions that support whatever they were – in my case, I'd have space electronic warfare and one satellite command and control unit that would go away – need to be re-managed or repurposed."
Col. Knight explained that if and when the Space Component is actualized, many would be left behind in the Air National Guard and forced to transfer to an altogether different mission: "I heard the Space Force were given direction to plan for FY 2025 when they needed to have everything converted over. If that's the case, then these moves will be happening probably by this summer, right? If this summer we don't see it in the [2023 National Defense Authorization Act], then we're going to have a problem.
"The problem for me is I'm going to have to go and [tell my Airmen,] 'Hey, I'm sorry, we don't have a job for you here in space. We're going to have to find something for you.' That's going to obviously result in probably a lot of folks wanting to leave and move on to something different, which is not a good thing for the nation, I would argue."
Further, "When those [space] missions go away … those people are still here. If you take those forces out and you don't transfer the Air Guard forces [to the Space Force], which I believe is the plan … then they have to find a new mission for those individuals. Our expectation is those individuals and those billets need to be repurposed into … something that would meet an Air Force requirement to get after our National Defense Strategy."
Col. Knight's comments raised the pragmatic concerns of a unit commander, whereas others opposed to the Space Component plan see such a reworking as resulting in gaps in certain areas that National Guard troops typically cover such as natural disasters. Florida Air National Guard commander Brig. Gen. Michael Valle stated at an AFA Michell Institute forum of last week that "While supporting the federal mission of homeland defense on full-time status, on different occasions I've had the opportunity throughout those years to also support my state through multiple disasters—hurricanes, wildfires, pandemic response, and also travel to other states to support.
"[This] is what space professionals in the Air National Guard do today and can continue to do so if we establish a Space National Guard: We can conduct and do the mission while being available to support our state and our country."
The sentiments of Col. Knight and Brig. Gen. Valle run counter not only to the Space Component, but also the stated preference of the Biden Administration. In September 2021, the White House Office of Management and Budget (OMB) issued a statement which declared the Biden Administration as "strongly opposed" to any efforts to creation of such a unit.
Last week, the bipartisan Space National Guard Establishment Act bill which would mandate the formation of a Space National Guard was introduced in the US Senate by Sens. Marco Rubio (R-Fla.) and Dianne Feinstein (D-Calif.).
The GAO report argued that creation of the Space National Guard would require an initial outlay of $500 million, but Colorado National Guard Joint Staff chief Col. Michael Bruno disputed this figure at the NGAUS event.
"If we keep the status quo and the Air National Guard space mission stays in the Air Force, the problem becomes increased bureaucracy, the man hours to find the workarounds, specifically when it comes to funding."
The Air National Guard's contention is that creation of a Space National Guard would not require more than cosmetic changes such as signage. Said Col. Bruno, "These future space Guardians would continue to accomplish their mission in their current facilities with their current equipment."
Sources: Air Force Magazine, Air Force Times, YouTube.
USSF formally approves Space Networking Center at Grand Forks AFB
On Wednesday, May 18, Sen. John Hoeven (R-N.D.) releases a statement confirming that the Space Force has formally approved the establishment of Space Development Agency (SDA) Space Networking Center located at Grand Forks Air Force Base.
The Space Networking Center will act as support for low-Earth orbit (LEO) missions of the SDA. As a member of the Senate Defense Appropriations Committee, Hoeven has been attempting to secure funding to ensure the Space Networking Center may be operational by FY 2024.
"Grand Forks is the ideal location to house this new Space Networking Center," ran Hoeven's statement in part. "We've been working with SDA and Air Force to secure this new mission, which provides essential support for our national security and will help our nation stay ahead of our adversaries in developing critical new technologies."
Hoeven speculated that the "mission could include not only operating SDA satellites but linking them with unmanned aerial systems, which would complement GFAFB's role in the Air Force's intelligence, surveillance and reconnaissance missions."
Sources: Grand Forks Herald, office of Sen. Hoeven.
Video of the Week: Boeing Starliner capsule launches after 2½-year delay
Making mainstream news this week was the launch on Wednesday, May 18, of Boeing's Starliner Orbital Flight Test 2 space capsule, an innovative reusable vehicle whose liftoff from a United Launch Alliance rocket had been delayed some 2½ years.
Despite a minor malfunction in one of its thrusters, the Starliner capsule docked with the International Space Station on Friday, May 20, and will be returning to Earth early next week. The thruster glitch experienced upon separation from the ULA rocket on Thursday was certainly unwelcome news, as technical issues with the thrusters had resulted in the most recent delay to the joint Boeing/Lockheed Martin project, of eight months.
However, redundant systems were able to react in time to keep the mission on point.
Sources: Space.com, YouTube.