We'll admit it: This week's Space Force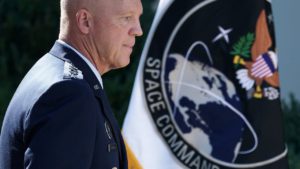 news is mostly set in the political sphere. Below run news briefs on the GAO's final decision regarding a permanent SPACECOM headquarters, a Senate bill which would establish the Space National Guard and some details on the USSF's Space Test Enterprise Vision. Read on for more in Space Force news.
GAO reports decision for Alabama STARCOM HQ was fair, legal
The controversy regarding the location for US Space Command (SPACECOM) headquarters has reportedly been settled by the Government Accountability Office (GAO): The permanent HQ will indeed be Huntsville, Alabama, as selected by Trump Administration officials.
The GAO has completed its second review of the selection process involved in the decision made during President Trump's last days in office. In the GAO's report released Tuesday, May 10, lead author and Department of Defense (DoD) Inspector General Robert Storch wrote in part:
"We found that the process Air Force officials used to select Huntsville, Alabama, as the preferred permanent location for the U.S. Space Command headquarters complied with law and policy, and was reasonable in identifying Huntsville as the preferred permanent location."
"We determined that, overall, the basing action process directed by the Secretary of Defense complied with federal law and DoD policy, and the Air Force complied with the [requirements of the Secretary of Defense] for the basing action."
Among those taking victory laps afterward was Sen. Tommy Tuberville (R.-Ala.), whose statement released directly after the briefing read:
"The bottom line of the report is that the Air Force's process which led to the selection of Redstone as the best home for SPACECOM was rock solid. For more than a year the IG conducted an audit of the Air Force's work. I'm pleased that, after this extensive evaluation, the IG confirmed that the basing process complied with the law and that the decision was based on objective factors. The prior administration followed the rules to make the best decision for the warfighter: SPACECOM should be in Huntsville."
For some 16 months, Colorado lawmakers including Sens. Michael Bennet and John Hickenlooper contended that unfair influence had been exerted on Pentagon officials to make a politically motivated decision. Tuberville replied to his Colorado colleagues in kind.
"The GAO was critical of eleventh hour attempts to elevate a much lower ranked installation into the number two position," stated Tuberville in a video statement on Friday. "That artificial action gave the appearance of bias."
Alabama Lt. Gov. Will Ainsworth also weighed in on the decision, telling local media on the day following the report's release that "For the past several years, the Alabama Military Stability Commission has worked hard to make our state the nation's friendliest and most welcoming for active and retired military families alike. From professional licensing reciprocity to school choice options to access to well-paying, long-lasting 21st-century jobs, Alabama is continuing to fill the needs of service members and their dependents."
Sources: AL.com, Decatur Daily, Alabama Political Reporter, Office of Sen. Tuberville PR.
Space National Guard Establishment Act bill introduced in Senate
Apparently against the wishes of the Biden Administration and Air Force Secretary Frank Kendall, U.S. Sens. Marco Rubio (R.-Fla.) and Dianne Feinstein (D.-calif.) on Wednesday, May 11, introduced the "Space National Guard Establishment Act" bill. A companion bill has been introduced into the House of Representatives by Reps. Jason Crow (D.-Colo.) and Doug Lamborn, (R.-Colo.)
Feinstein touted the creation of the Space National Guard as a money-saver and stated that it would "ensure a smoother process in the event we need to activate personnel. Not establishing a Space National Guard was a mistake when Space Force was created, and this bill will remedy that."
Rubio stated that "creating a Space National Guard would boost our military readiness and increase efficiency. It would also ensure that the Space Force retains needed talent."
However, Pentagon and DoD officials have argued against such a plan. Most recently, in early May, USAF Sec. Kendall stated before a Senate Armed Services Committee hearing on the Pentagon FY 2023 budget proposal that the formation of a separate military component would be too cost-prohibitive. Kendall instead backs the proposal submitted to Congress in early April, which would involve formalizing an active-duty service roster composed of full- and part-time members in order to avoid the talent drain of which Sen. Rubio is concerned.
In September 2021, the White House Office of Management and Budget (OMB) issued a statement which declared the Biden Administration as "strongly opposed" to any efforts to creation of such a unit. Reads the section devoted to Space National Guard proposals:
"The Administration strongly opposes the creation of a Space National Guard. When the Space Force was established, Congress and the Administration alike emphasized the need to minimize administrative expenses and prioritize the development of space capabilities; this Administration remains committed to that approach. Establishing a Space National Guard would not deliver new capabilities–it would instead create new government bureaucracy, which the Congressional Budget Office estimates could increase costs by up to $500 million annually. The Air National Guard and Air Force Reserve units with space missions have effectively performed their roles with no adverse effect on DOD's space mission since the establishment of the Space Force. The Administration looks forward to working with the Congress on alternative Space Force concepts that are efficient, effective, and appropriate for space missions."
That figure has angered National Guard officials, and some outside observers believe the cost could be much less.
The Adjutants General Association of the United States sent a letter to the Senate Armed Services Committee in late March saying that moving those 14 Air Force units under Space Force's command could cost as little as $250,000, with no need to create new facilities.
"Most importantly, there is no plan to advocate for additional space force structure for all states, territories, and the District of Columbia. The proposal we support is the transfer of existing space structure from the Air National Guard to the Space National Guard," the letter stated.
The National Guard Association, which lobbies on behalf of the component in Washington, praised the new bill.
Rubio and Feinstein's legislation is co-sponsored by Sens. Michael Bennet (D.-Colo.), Marsha Blackburn (R.-Tenn.) Mike Braun (R.-Ind.), John Cornyn (R.-Texas), John Hickenlooper (D.-Colo.), Joe Manchin (D.-WV), Lisa Murkowski (R.-AK), Alex Padilla (D.-Calif.), Rob Portman (R.-Ohio) and Rick Scott (R.-Fla.).
Sources: Military.com, US National Guard Association PR, White House OMB official site.
Details released on USSF Space Test Enterprise Vision
On Tuesday, May 10, the Air Force public affairs department released a few details on its foundational Space Test Enterprise Vision.
"The test vision and the associated test culture it portends are critical elements of the Guardian Ideal and our core values," Gen. David Thompson, Vice Chief of Space Operations, was quoted as saying in the USAF release. "While we expect every Guardian to be bold and innovative in pursuit of concepts and capabilities that protect U.S. interests in space, the commitment to mastery of our missions also demands that we be confident in the effectiveness of those capabilities. Test – integrated test – gives us that confidence."
Further, "To stay ahead, the USSF test enterprise must evolve to address the very real threat environment and the emergence of new technologies and capabilities while maximizing the efficiency of an extremely small service if we are to deliver credible warfighting capabilities on operationally relevant timelines."
The vision provides strategic guidance on how the USSF will integrate developmental and operational test and evaluation activities across a capability's lifecycle and throughout the test enterprise encompassing organizations, workforce, infrastructure, acquisition and operations.
"Just as air, land, maritime, and cyber forces evaluate their systems against adversarial capabilities, space now requires the realism of a contested environment and a robust independent test capability," explained Space Force Test Enterprise director Col. Nick Hague. "Our Guardians, in addition to our systems, must be resilient to operations in the harsh environment of launch and on-orbit conditions as well as against current and evolving threats. Proper testing elucidates a system's 'operational envelope' that Guardians need for optimum full-spectrum operations."
Critical to this mission is the proposed National Space Test and Training Complex (NSTTC), a configurable set of test/training facilities to simulate the Space Force's unique joint warfighting environment. "The Complex will be lean, efficient, and interoperable with other joint test infrastructure, supporting multiple interests within the USSF to include developmental test, operational test, and advanced training," promise officials.
In a follow-up to media, STARCOM Commander Maj. Gen. Shawn Bratton stated that integrated testing "will save time" in that "Instead of conducting two separate tests, with two separate test scores at two different times, we'll both reduce schedule and then, we think, we'll be more efficient – just because we'll conduct a single integrated test activity that will cut down on the requirements for both the developmental test and operational tests. So, we've got to prove that execution and gather data to show that it is, but we absolutely believe we will save money."
Source: Breaking Defense, C4ISRnet.