Lots of congratulations are in order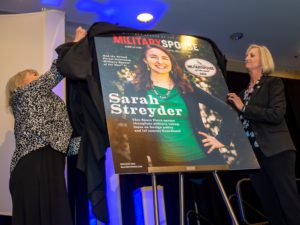 for some top-ranking officers, Guardians and family members, it appears: This week's Space Force news tells us of the 2022 Military Spouse of the Year award-winner, four USSF colonels nominated by the president for the position of brigadier general and 150 R&D teams granted funding in a SpaceWERX program. This plus the nattily-attired Grn. Raymond's appearance before the Senate Armed Services Committee in this week's Space Force news…
Armed Services Committee hearing: Gen. Raymond promises pivot to diverse orbital architecture
Air Force Secretary Frank Kendall and Chief of Space Operations Gen. John Raymond were among those to testify before the Senate Armed Services Committee on Tuesday, May 3, as part of its hearings on the $773 billion Pentagon budget for FY 2023.
Sen. Jack Reed (D.-RI) prompted Gen. Raymond with, "It is critical for the Space Force to design its warfighting objectives in the same way the Chief of Naval Operations designs our Navy fleets and the Chief of the Air Force designs our air posture. I will want to know your progress toward that objective."
In responding, Gen. Raymond touched on many familiar themes of the USSF philosophy and strategy. He reiterated that top priority is "to modernize the missile-warning space architecture to defend against increasingly advanced hypersonic missiles and glide vehicles being developed by U.S. adversaries."
Gen. Raymond went on to explain that the USSF, under auspices of the FY 2023, would invest in a combination of tracking satellites and early-warning systems to supplement extent technology. "It's critical that we make this transformation," he said. "We are diversifying the architecture to reduce the threat in space to an attack that may occur. We [will] pivot from handfuls of very exquisite, very expensive satellites to an architecture that's more diversified to get after both the emerging class of missiles and the threat that currently exists in space."
Further, he stated that "Space is becoming more congested, more contested and more competitive. Just a couple of years ago, U.S. Space Command was tracking about 22,000 objects. Today, we're probably tracking close to mid-40,000 objects."
The issue of the once-proposed Space National Guard was raised again, but Kendall stated this his position was more in line with that of the Biden Administration, which figures the formation of a separate military component would be too cost-prohibitive. Kendall instead discussed the proposal submitted to Congress in early April, which would involve formalizing an active-duty service roster composed of full- and part-time members.
Currently, the Space Force receives additional support from some 800 Air National Guard servicepeople, and Kendall stated that he believes "we can find a way to keep those people doing what they're doing. They're very valuable. So we want to keep them around. We just need to find the right mechanism to do it."
Source: Space News.
Not Fake News: Space Force dress uniform prototype finally unveiled
Could a primary point of contention by Guardians finally be getting resolved? As part of the aforementioned Senate Armed Services Committee hearing on Tuesday, Gen. Raymond also unveiled the latest prototype for the Space Force dress uniform – by wearing one himself.
Air Force spokeswoman Maj. Vicki Porto gave some details to Miiltary.com, saying the new designing includes "adding stripes down the pants, changing the pocket style, adding pockets on the lower half of the jacket, and decreasing the number of buttons on the interior enclosure of the jacket."
Since the release of the last design for the uniform at an Air Force Association (now Air and Space Forces Association) and some subsequent surveying of Guardians, two main critiques of the uniform were essentially unanimous: The pants were too loose and the collar too tight.
Source: Military.com.
Military Spouse Appreciation Day observed; Military Spouse of the Year award won by Guardian's wife
Friday, May 6, marked Military Spouse Appreciation Day, an observance which officially "recognizes those who also serve but may not wear a uniform." On the previous day, a ceremony was held in honor Sarah Streyder, who was named the Armed Forces Insurance Space Force Spouse of the Year and Armed Forces Insurance Military Spouse of the Year for 2022.
Streyder is the founder/executive director of the Secure Families Initiative, a non-profit which seeks to "mobilize military partners, family members, and veterans to vote and advocate for their communities, especially on issues of foreign policy and national security." She is married to Sgt. Jason Streyder, IT requirements manager at Office of Special Investigations Headquarters.
Upon receiving the award, Streyder told media that "It's surprising and humbling. I went into this excited and passionate to represent my branch because I'm really proud of the Space Force and everything we're building."
"I'm very passionate about my platform," she said of her non-profit work. "I care a lot about voting and advocacy, and making sure military families know how to do that and how to do it well."
Also on hand for the ceremony was Chief of Space Operations Gen. John Raymond, who said, "I am incredibly proud of Sarah for her selfless support to our military families. She is the perfect example of the commitment and connection so many of our Guardian spouses and loved ones bring to our new service, and we are thrilled that Sarah is being recognized as the first-ever Space Force Military Spouse of the Year."
Source: Space Force official site.
Presidential nominates four in USSF for appointment to brigadier general
On Wednesday, May 4, Secretary of Defense Lloyd J. Austin III announced today that President Joe Biden had made the following nominations:
Space Force Col. Robert J. Hutt for appointment to the rank of brigadier general. Hutt is currently serving as the chief, programming division, Office of the Deputy Chief of Space Operations for Plans, Programs, Requirements, and Analysis, Headquarters, U.S. Space Force, Pentagon.
Space Force Col. Anthony J. Mastalir for appointment to the rank of brigadier general. Mastalir most recently served as the director of space forces, U.S. Air Forces Central Command, Al Udeid Air Base, Qatar.
Space Force Col. Jacob Middleton Jr. for appointment to the rank of brigadier general. Middleton is currently serving as the director of national security space policy, National Space Council, Washington, D.C.
Space Force Col. Kristin L. Panzenhagen for appointment to the rank of brigadier general. Panzenhagen is currently serving as the senior material leader, Integrated Ground Enterprise Directorate, National Reconnaissance Office, Chantilly, Virginia.
Space Force Col. Brian D. Sidari for appointment to the rank of brigadier general. Sidari is currently serving as the director of intelligence, surveillance, and reconnaissance, Headquarters, Space Operations Command, Peterson Space Force Base, Colorado.
Source: Department of Defense official website.
125 industry proposals for Orbital Prime selected
On Saturday, May 2, Lt. Col. Brian Holt announced that, as part of the SpaceWERX Orbital Prime Small Business Technology Transfer (STTR) program, some 125 R&D teams had been selected to receive funding of up to $250,000.
Disbursements of funding will be rolled out in May, and teams will be given up to 150 days to deliver the expected research or product. Funding of up to $1.5 million for phase 2 of Orbital Prime will be opened for proposals in Q4 2022.
Source: Space News.