Lots of future-looking was done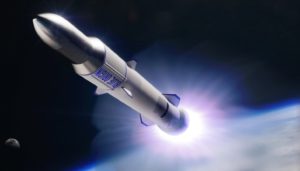 by Space Force officials and related media this week, with comments on the USSF budget for FY 2024, on the increasing demand for Geospatial Intelligence services & tech, and on the possibility for competitive opportunity in Phase 3 contracting. Plus, a certain lackluster series gets cancelled by the crumbling Netflix. Read on for this week's Space Force news.
Florida congressional delegation urges STARCOM to Patrick SFB
Some 25 of Florida's 29 congressional representatives this week signed on to an appeal to bring USAF Space Training and Readiness Command (STARCOM) to the Sunshine State, specifically Patrick Space Force Base. Patrick SFB was recently named as one of six contenders to win the bid to host the permanently home of STARCOM, which has been based at the Air Force Academy.
An official letter to Air Force secretary Frank Kendall drafted by Sen. Marco Rubio (R.), Sen. Rick Scott (R.), Rep. Stephanie Murphy (D.) and Bill Posey (D.) was signed by 21 others. Full text follows.
Dear Secretary Kendall:
We write to urge you to select Patrick Space Force Base (SFB) and Cape Canaveral Space Force Station (SFS) as the permanent location of the U.S. Space Force's (USSF) Space Training and Readiness Command (STARCOM).
Florida is the most military-friendly state in the Union. Our state proudly hosts three combatant commands, 21 installations, and an effective national guard. Additionally, Florida has a robust defense industry spread throughout the state and is also home to top-tier universities with cutting-edge research programs with extensive history of working with the Air Force and Department of Defense (DoD). Florida also has the third-highest veteran population.
Patrick SFB and Cape Canaveral SFS hold a unique place in America's history of space flight and exploration. Every crewed mission to space in our nation's history has launched from Brevard County, Florida. From Apollo, to the Space Shuttle, and the future Artemis missions, Florida has served as our nation's gateway to the stars. NASA and DoD formed significant bonds with the local community, private industry, and academic institutions for more than half a century.
We are grateful for your recognition of the value the State of Florida brings to the Air Force and Space Force in selecting Patrick SFB and Cape Canaveral SFS as the sole-candidate to host Space Delta 10. Space Delta 10 will develop USSF doctrine and tactics, and execute wargames for the USSF. This selection will continue the long history of Floridians working hand in hand to advance America's national security and leadership in space.
We urge you to continue this storied tradition by selecting Patrick SFB and Cape Canaveral SFS to host STARCOM. Thank you for your fair and full consideration.
Sources: Florida Daily, Orlando Sentinel.
USSF to seek funding in 2024 to expand GEOINT use
At last week's 2022 GEOINT Symposium in Denver hosted by the United States Geospatial Intelligence Foundation (USGIF), miliary and intelligence officials met to talk on the theme of "The Foundation of Intelligence."
Representing the Space Force was Lt. Gen. B. Chance Saltzman, USSF deputy chief of space operations. Lt. Gen. Saltzman was quite bullish on the branch's future use of Geospatial Intelligence technology. He stated that the USSF in fact will request funding in 2024 specifically for "space-based intelligence, surveillance and reconnaissance."
Stated Lt. Gen. Saltzman in part: "We will continue to be demanding customers and what we need from GEOINT is persistence both terrestrially and in space in order to posture for potential encounters or conflicts."
As he sees it, US military needs more expansive training as well as improvement to space-based Intelligence, Surveillance and Reconnaissance (ISR).
"Protecting and defending our space-based capabilities and defending our joint force from irresponsible or hostile use of space-based capabilities is the reason that your Space Force was established. Our guardians must be trained and equipped to operate and prevail in a contested space domain against a thinking adversary."
"The failure to maintain our ability to attribute action and negate threats and protect interests diminishes our leadership, our ability to deter aggression, undermining norms of responsible behavior and increasing the likelihood of miscalculation and conflict."
Further, he stated that "Our goal is to ultimately develop a comprehensive set of needs and gap analysis with traceable documentation of the joint warfighter requirements for space. The foundations of our space-based ISR enterprise will have profound effects not only in the space domain, but in all warfighting domains."
Sources: Space News, Breaking Defense, USGIF.
Gen. Raymond: Phase 3 will welcome competition to ULA, SpaceX
Chief of Space Operations Gen. John Raymond spoke in House Armed Services Committee hearing on the Air Force budget request for fiscal year 2023 on Wednesday, April 27.
In response to a question from Rep. Adam Smith (D.-Wash.) on the expiration of contracts with United Launch Alliance (ULA) and SpaceX in 2024, Gen. Raymond hinted that other companies could be considered for space launch services.
"I think there [are] opportunities, with a manifest that's becoming more significant in numbers, that there's room for increased competition."
The contracts for what is called Phase 3 in the SSC's launch program will include calls for new technology and services such as in-space transportation.
Said Gen. Raymond in part: "I very much believe that we have a huge opportunity in space, that there are so many companies, certainly the big ones that we've heard about, SpaceX, Blue Origin, others, but then gosh, probably a dozen others that are smaller. And if we can encourage that competition, I think we can get a better product for a better price. So I want to make sure we do that."
Gen. Raymond's mention of Blue Origin as a possible Space Force contractor for rocket launches was hardly gratuitous, as the company is based in Sen. Smith's home state of Washington.
Blue Origin is also reportedly developing the large-scale New Glenn rocket with an eye to winning part of the Phase 3 contract. Company PR describes the New Glenn as a "single configuration heavy-lift launch vehicle capable of carrying people and payloads routinely to Earth orbit and beyond" with "a reusable first stage built for 25 missions."
Sources: Space News, Blue Origin PR.
Air Force Academy gets first Space Force professor
Congratulations to Col. Luke Sauter, Air Force Academy department head of astronautics, who is now the first-ever Space Force officer to serve as a permanent professor at the college.
Col. Sauter officially transferred into the USSF in a ceremony on Friday.
AFA dean of faculty Brig. Gen. Linell Letendre stated in advance of the ceremony that "It's important that our cadets see Guardians across our academy and that they have the opportunity to speak with Colonel Sauter and other leaders about the Space Force as they consider which branch of military service they would like to join."
Col. Sauter is himself a graduate of the Academy, having completed his Bachelor of Science degree in 2002; he went on to earn a Master's at MIT and a Ph.D. at the University of Surrey.
"It has been an incredible point of pride for our entire Astronautics Department to play a role in developing space-focused officers for decades here at the academy," Col. Sauter said. "It is certainly a historic day to have our first Space Force permanent professor assigned; I hope there will be many more to follow."
According to AFA statistics, 9% to 11% of graduating cadets from the classes of 2020 and '21 commissioned into the USSF, and some 10% of the class of 2022 are expected to serve in the Space Force.
Sources: Military.com, AFA official website.
The Big Short: Netflix cancels Space Force series
Now we'll never know why Maggie Naird is in federal prison or about Dr. Chan and Captain Ali's inevitable children – not to mention to entire fate of the freakin' human species implied to be in the hands of Gen. Naird's intrepid force…
Unsurprising but true: Netflix has canceled Space Force, leaving the program's few fans forever hanging on an extinction-level event cliff.
Already crippled with a massive budget for the streaming service – series star and co-creator Steve Carrell alone was banking $1 million-plus per episode – and lukewarm-at-best critical/audience response, the well-publicized financial woes at Netflix did in the half-baked science-fiction comedy.
Ah, well. Carell and co-star John Malkovich are certain to land on their professional feet – and maybe now Tawny Newsome is freed up to do more episodes of the excellent Star Trek: Lower Decks…
Sources: Deadline Hollywood, Bleeding Cool, Hollywood Reporter.