This week in Space Force news,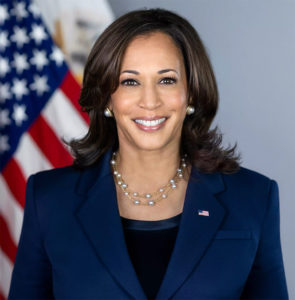 it's all about assessing the past and looking to the future. Beginning with Vice President Kamala Harris's visit to Vandenberg Space Force Base and continuing through the mid-week C4ISRnet conference, much was revealed about the USSF and SSC short-term. Plus, a key official's resignation comes with dire warnings for the DoD and ABL Space Systems advances some very interesting launch technology. For these stories and more, read on for a week's worth of Space Force news.
VP Harris at Vandenberg, announces ASAT test ban
The top Space Force-related story of the week, at least in view of mainstream media coverage, was clearly the visit of Vandenberg Space Force Base by US Vice President Kamala Harris.
Harris came to Vandenberg SFB on Monday, April 18, and was joined by Sen. Salud Carbajal (D.-Calif.), Sen. Alex Padilla (D.-Calif.) and Deputy Secretary of Defense Kathleen Hicks.
Harris was briefed at the Combined Space Operations Center and met with some guardians personally before publicly speaking.
Though some of Harris's more banal, perhaps off-the-cuff remarks were widely scoffed at on social media and some more conservative-leaning outlets, at least one major announcement was made by the VP.https://www.youtube.com/embed/iN4SeIejWpo
"We have consistently condemned these [anti-satellite tests] and called them reckless, but that is not enough," stated Harris. "Today, we are going further. I am pleased to announce that as of today, the United States commits not to conduct destructive direct ascent anti-satellite missile tests. Simply put, these tests are dangerous and we will not condone them.
"We are the first nation to make such a commitment. And today, on behalf of the United States of America, I call on all nations to join us whether a nation is spacefaring or not," she continued. "We believe this will benefit everyone, just as space benefits everyone. In the days and months ahead, we will work with other nations to establish this as a new international norm for responsible behavior in space."
Harris also tied in the Russo-Ukrainian War with the need for cyber- and GPS security: "As we have seen in Ukraine, Russia has completely violated the set of international rules and norms established after World War Two, which provided unprecedented peace and security in Europe. In the face of Russian brutality […] these rules and norms must be upheld. I'm heartened to see such a strong affirmation of their importance.
"At the same time, our administration is working to establish new rules and norms for the new challenges of the 21st century – areas like emerging technologies, cyber security and, of course, space," said Harris.
Sources: Daily Wire, Daily Nexus, YouTube.
CSIS analyst: DoD support of ASAT test ban "long time coming"
Naturally, response to the Vice President's comments swiftly spread through defense-centric media.
At Wednesday's online forum hosted by the Center for Strategic and International Studies (CSIS), CSIS defense analyst Todd Harrison commented that the ASAT test ban "has been a long time coming. Direct ascent is a capability that we don't really need. It's not that useful to us."
Department of Defense support of the announced ban "certainly exceeds any risk or cost involved," in Harrison's opinion.
"It allows the U.S. to retake a leadership role on the international stage when it comes to advancing responsible behavior and responsible norms of behavior, and it puts China and Russia in particular on the defensive to justify why they won't implement a moratorium themselves and why they would want to continue testing in this irresponsible way."
Source: Space News.
Exiting USAF/USSF CAO: Pentagon must use commercial
After serving as Chief Acquisitions Officer (CAO) of the USAF and USSF since January 2019, Preston Dunlap left the post this week, offering some dire words to Pentagon officials, namely that private enterprise must be relied upon to provide technological innovation in American defense.
Said Dunlap to The Register: "If the Department of Defense is going to compete on today's global stage and maintain its technological edge, it has to ride the wave of commercial innovation. If it doesn't, it risks drowning under its own weight."
Dunlap issued a statement in the form of an open letter on LinkedIn on Monday, April 18, that accentuated the positive of his professional experience with the DoD but nevertheless commented in part that "driving innovation and change in a large organization – let alone the largest organization on the planet, the Department of Defense – is hard, but not impossible."
But he was noticeably more pragmatic with The Register, saying in part that "I naively thought that resuscitating DoD with innovation and speed, solving decades-old unsolvable problems, and getting the warfighter tech they needed and loved would be enough. However … structural change is required.
"To borrow an analogy from the personal computer world, DoD suffers from an acquisition 'blue screen of death' that requires more of a repair of the proverbial DoD hard drive, not simply a rebooting."
In a resignation letter given to his superiors at the DoD, Dunlap wrote in part that ""By the time the government manages to produce something, it's too often obsolete" and "Much more must be done if DoD is going to regrow its thinning technological edge."
Sources: The Register, LinkedIn, Bloomberg Newa, Stars and Stripes.
SSC's 19th Space Defense Squadron to monitor xGEO space
Military intelligence media outlet C4ISRnet hosted an online conference last week, and Space Force brass were in attendance. Among the attendees was 18th Space Defense Squadron commander Lt. Col. Matt Lintker, who commented on Space Systems Command's new emphasis on monitoring extra-geosynchronous orbital (xGEO) space.
Lt. Col. Lintker announced on Wednesday, April 20, that the 19th Space Defense Squadron had been officially established on April 6 of this year with the primary mission of tracking objects in xGEO space, an area which includes the increasingly important Cislunar space.
"The 19 SDS is responsible for providing continuous Space Domain Awareness (SDA) for government, civilian, and international users and to maintain continuous and transparent SDA to assure global freedom of action in space," reads the mission statement.
"The challenge for us is the math and the potential options are different," Lt. Col. Lintker said. "As we look at what we're historically aligned to within Low Earth Orbit and Geosynchronous Orbit, it's Keplerian orbital dynamics. So it's a two-body problem. As you start to get out past Geosynchronous Orbit, it no longer becomes just a two-body problem."
The 19th is based at Space Force Delta 2 at Dahlgren (Virginia) Naval Base.
Sources: Defense One, USSF official website.
Lt. Gen. Guetlein: No divestment of USSF assets
Also speaking at the C4ISRnet conference was Space Systems Command (SSC) chief Lt. Gen. Guetlein, who commented that the Space Force, while consistently upgrading its satellite constellation technology, cannot figuratively or literally afford to dispose of its legacy assets.
"Space is really a startup, and space is really large," he said. "So based on that, we're really not seeing the need to divest ourselves of any legacy assets." As Lt. Gen. Guetlein sees it, even satellite tech near obsolescence will be critical through 2028, at which point the USSF is expected to have more resilient systems in place.
Indeed, those legacy assets will still be crucial in the next few years, Guetlein said, as Space Systems Command looks to bridge the gap to 2026–the date Guetlein has set as the field command's goal for fielding newer, more resilient systems.
"That resiliency is going to take some time to build in, and we'll start delivering in the 2028-and-beyond timeframe," he said, later adding that "What we've asked our [program executive offices] to do, is to deliver as much capability as they possibly can from our current architecture, to support the warfighter and the nation in case we need those systems in time of crisis or conflict."
Source: Air Force Magazine.
ABL completes demo on 24-hour prep-and-launch missions
Representatives of ABL Space Systems announced on Thursday, April 21, their company had completed a first round of demonstrations which showed the "capability for the military to prepare and launch missions to space within a day."
The test was a result of combined efforts by the ABL, the Air Force Research Laboratory (AFRL), the USAF 2nd Space Launch Squadron and the 412th Test Wing. Airmen specializing in cryogenic liquid hydrogen propellant and rapid launch operations participated in the exercise, which employed the ABL GS0 deployable ground platform and RS1 small rocket.
In 2021, ABL was contracted for the NASA Cryogenic Demonstration Mission, which will deploy the same technologies for a large-scale demonstration in 2023 that seeks to "help forge a path to sustainable Artemis operations on the moon and beyond." In light of the NASA mission, the R1 is undergoing upgrades to its hydrogen-compatible fairing and payload support systems.
A second round of demonstrations of ABL's rapid deployment technology will be held later this year at Vandenberg Space Force Base.
Sources: Executive Biz, ABL Space PR.