Lots of news from all aspects of Space Force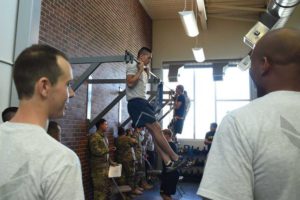 mission and life, though we'll admit some of these stories are held over from earlier this month, when the Space Symposium kinda blew all other USSF-related material over the virtual pages. In any case, enjoy this week's double dose of the latest in Space force news.
Space maneuvers: Six in running for STARCOM; Delta-11, -12 to Colorado or New Mexico; SSC move still disputed
Space Systems Command and the Space Force are ready to make some changes in location for some operations, with several areas of the country anxiously awaiting decisions. Space Forces officials are reportedly getting closer to a final decision on the location for the service's new Space Training And Readiness Command (STARCOM) program. The six extant bases which are the candidates for STARCOM include Los Angeles Air Force Base and Vandenberg Space Force Base in California; Buckley SFB, Peterson SFB and Shriever SFB in Colorado; and Patrick SFB in Florida.
Ongoing assessment and analysis of the candidates "will be based on factors related to mission, infrastructure capacity, community support, environmental considerations and cost," according to a statement from DoD officials on Monday, April 7.
Further awaited are the assignments of location for two of STARCOM's five subordinate deltas. Delta 11 is currently based at Schriever SFB and is staffed with 100 active-duty guardians. However, Delta 12 is as yet entirely in the planning stages. Space Force officials stated that permanent postings of Delta 11 and Delta 12 will be to Schriever SFB or Kirtland Air Force Base in New Mexico.
Representing the state which currently receives the most federal funding per capita for its military bases, New Mexico politicians were quite keen on supporting the assignment of Delta 12 to Kirtland.
In a statement to media, Sen. Martin Heinrich said in part that "New Mexico is the future of space. We are home to an ideal climate, leading public and private space innovators, and an exceptional training pipeline for the growing science and engineering workforce."
Rep. Melanie Stansbury also issued a statement, which read in part that "New Mexico is at the forefront of science, research, technology and security, and Albuquerque's endless skies, access to the outdoors, and amazing communities offer a welcoming home to STARCOM, which would bring additional economic development to a community well-positioned to further support the Space Force's work."
Finally, the dispute over relocation of US Space Command headquarters from Colorado Springs to Huntsville, Alabama, continues, with Colorado politicians pledging to continue insisting the Biden Administration overturn the decision of January 2021. The four allege that the Trump Administration exerted undue influence on the Air Force to relocate the base.
On Tuesday, April 12, Colorado's US Senators Michael Bennet and John Hickenlooper together with US Representatives Doug Lamborn (R) and Jason Crow (D) were briefed on the Government Accountability Office (GAO) investigation of the Trump Administration decision of January 2021, though no details on when the report findings might be released to the public.
While not revealing many details, the four released a joint statement firming their resolve to overturn the move: "We have said before that the U.S. Space Command basing decision was the result of a flawed and untested process that lacked transparency and neglected key national security and cost considerations. After reviewing the draft GAO report, we are even more concerned about the questionable decision to move U.S. Space Command from Colorado to Alabama."
"We will continue to work on a bipartisan basis to urge the Biden Administration to keep U.S. Space Command at Peterson. We look forward to the report's public release in the near future." Sources: Stripes, Albuquerque Journal, Federal News Network, Space News.
AFA rebrands as Air & Space Forces Association
A bit lost in the blitz of news coming out of the Space Symposium earlier this month was the rechristening of the 76 year-old private-sector Air Force Association to the Air & Space Forces Association. The AFA itself was founded in February 1946, based on the then-imminent creation of a new branch of the US military; with the creation of the Space Force as a distinct entity in December 2019, the recent rebrand is a change whose time had clearly arrived.
"Today, both military services are represented by the Department of the Air Force, and thus, both are fully represented by our Association," AFA chairman CMS (ret.) Gerald Murray, upon officially announcing the news. "This change makes clear to everyone that space is integral to our mission."
The Association's new logo as also unveiled, redesigned to include the iconic star delta of the USSF insignia. The acronym for the Association will remain AFA. "These elements have been combined to present a unique visual identity that reflects the dynamism and permanent bonds between these two services and their respective warfighting domains," said Murray. "The Polaris in particular is of note, as it represents the Space Force's unique role as a guiding light and enabler for the whole of the joint force."
"AFA has always been fully committed to supporting both the Air Force and Space Force as the most indispensable elements of our joint force," said AFA president Lt. Gen.(ret.) Bruce Wright. "Even now, as the Space Force grows, expands, and builds its own, unique warfighting culture, air and space remain inextricably linked. The Airmen and Guardians who are the masters of those domains nevertheless remain tightly integrated within a single Department of the Air Force. So it is with our Association." Sources: Air Force Magazine , Air & Space Forces Association PR
Boeing successfully demos PTES software
Boeing representatives have announced their company's recent demonstration of successful integration of its Protected Tactical Enterprise Service (PTES) software elements with an industry partner's user terminal as part of the Space Force's pathfinder program.
"The Space Force and our industry partners are employing continuous integration, rapid prototyping and agile development across the PTES program to ensure successful deployment of this critical capability, at mission relevant-speed," said Space Systems Command Tactical SATCOM division chief Charlotte Gerhart. "A great deal of coordination and real-time collaboration is required for industry teammates to achieve a successful integration event like this one. To fulfill our vision of digital dominance, the Space Force is building on these types of accomplishments to continue developing the most advanced mission-enabling technology to counter the threat."
PTES provides ground-based Protected Tactical Waveform (PTW) processing, enabling secure operations and protected tactical communications coverage over Wideband Global SATCOM (WGS) satellites – and eventually on commercial satellites – without spacecraft modification. PTW, the U.S. military's jam resistant waveform, provides security features for data protection.
At the integration event, the latest in a series of incremental capability demonstrations, Boeing showcased PTES' encryption capabilities in a virtual environment.
"This incremental system demonstration provides valuable feedback from Space Force operators and other members of the user community, reducing development and integration risk, while ensuring system capabilities are adaptable to change," said Boeing vice president of government satellite systems Troy Dawson. "We're committed to the Space Force's mission to rapidly develop and deploy technology at operationally-relevant speed. Our PTES program demonstrates how stakeholder collaboration and agile development enable continued advancements to meet the evolving threats on the battlefield."
In August 2021, Boeing and the Space Force completed the PTES program's first over-the-air forward-link demonstration using a PTW modem. The next over-the-air demonstration, which includes forward and return-links, is planned for later this year. Initial operational capability is slated for 2023.
As an industry leader in tactical military satellite communications, Boeing is responsible for a portfolio of programs to deliver protected high data rate communications. In addition to PTES, Boeing is the prime contractor for the WGS system, as well as the Mitigation and Anti-Jam Enhancement (MAJE) upgrade to the WGS fleet.
PTES is the ground-based anti-jam capability the U.S. Space Force is developing within the Protected Anti-Jam Tactical SATCOM (PATS) portfolio. Boeing is also developing a spaced-based PTW hub, the Protected Tactical SATCOM Prototype (PTS-P), which passed its critical design review in March of this year. Sources: Boeing PR, Air Force Technology.
$30 million for renovation of Schriever Fitness Center
Now here's a perk coming for guardians at Schriever Space Force Base: Some $30 million proposed for major renovation of the on-base fitness center has been approved. Bids on the renovation are still being accepted.
The budget approval came courtesy of Sen. Michael Bennet (D-Colo.), who after years of reported wrangling final got the upgrade approved. "Our service members at Schriever are on watch 24/7 – and the $30 million we secured in the government spending bill will meet the demands of the growing population on base and support their readiness," read in part a brief statement from Bennet.
When Bennet mentioned the "growing population" at Schriever, he wasn't kidding around: The population living at Schriever has gone from about 200 in the mid-1980s to 8,000-plus today – and the fitness club facilities have particularly not kept pace. (So to speak.)
Over 5,000 square meters will be added to the gym; promised to be included and/or improved upon are an indoor running track, two large multi-use basketball courts, racquetball court, fitness areas and group exercise area. Source: Military.com.
Video of the week: Gen. Thompson on Russia's jamming of GPS in Ukraine
Gen. David Thompson went on NBC Nightly News on Monday, April 11, for a report on the electronics front of the ongoing Russo-Ukrainian War, informing the viewing public that "Ukraine may not be able to use GPS because there are jammers around that prevent them from receiving any usable signal. […] Certainly, the Russians understand the value and importance of GPS and try to prevent others from using it."
Full the full video, in which Gen. Thompson goes on to discuss the possibility of Russian attacks in Earth orbit and more, directly below. Source YouTube.
BAE Systems announces one-year USSF contract for mission data framework
Representatives of BAE Systems this week announced the signing of a one-year contract of undisclosed amount with the US Space Force. Under the contract, BAE Systems will create a prototype of an integrated data management environment for Space Systems Command.
During the one-year development period, BAE Systems will perform four demonstrations; these demonstrations have a stated goal of proving "improved situational awareness for global satellite communications (SatCom) and underscore the framework's ability to help warfighters rapidly respond to end users."
The BAE cloud computing suite offers a platform that works to integrate data sources via the Enterprise Management and Control (EM&C) system's data services.
BAE Systems director of resilient ground systems Ron Zuccaro stated at the announcement that "Our team is ready to provide the flexible data architecture and foundation required to build a resilient, responsive, and integrated SATCOM data environment. Our cyber-resilient ground systems automate decision-making and integrate intelligence data from disparate sources." Sources: BAE Systems PR, Executive Biz.
Greatest headline ever: "Newly released Space Force data could save life on Earth"
Anyone who doubts either the importance of the US Space Force or the possibility of turning mathy science/tech stories into attention-grabbling headlines, need only reference a news story at The Register last week.
"Newly Released Space Force Data Could Save Life On Earth" read the headline to precede what is actually an interesting story for those into the astronomical, namely the release of some 30 years' worth of data collected on fireball meteors. Released by the USSF as part of an effort to increase awareness and detection of near-Earth objects (NEOs), the information isn't quite as earth-shattering as certain news outlets would have us believe – though potentially vitally important.
The data was collected under the auspices of NASA's Planetary Defense Coordination Office (PDCO) formed in 2016, and acts as a supplement to the already publicly available database on NEOs (see NASA's official website here and here). This newly-released USSF numbers provide light-curve data to the extant statistics. Light curves can reveal further information about a given body in space through changes in their brightness.
NASA planetary defense officer Lindley Johnson emphasized the importance of this data when stating upon the release that "The growing archive of bolide reports, as posted on the NASA JPL Center for Near Earth Object Studies (CNEOS) Fireballs website, has significantly increased scientific knowledge and contributes to the White House approved National Near-Earth Object Preparedness Strategy and Action Plan."
And that's wrap for next week; so long until next week when the USSF saves the world once again! Sources: The Register, Military.com, NASA official website, Parabolic Arc.