Nothing sparks the imagination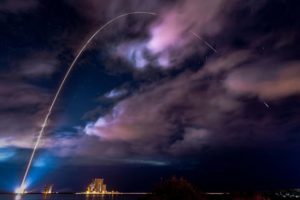 more than a federal budget request, it seems. Upon announcement this week of military budgets for fiscal year (FY) 2023, suddenly the Space Force as well as a contractor of two received some attention in the not-necessarily expected corners of mainstream media. This story plus all the others in Space Force actions for the week ending April 3 run below.
Space Force 2023 budget request: 40.2% increase to $24.5 billion
Budget requests for 2023 for the Pentagon and its military branches have been filed, with Air Force officials this week disclosing that the USSF had requested a total budget of $24.5 billion, a 40.2% increase over its FY 2022 allotment of $17.1 billion.
USSF and USAF officials this week stated that the increase was necessary primarily due to increasing threatening stances of the Russian and Chinese militaries. Of the $24.5 billion, a whopping $15.9 billion (or just under 65%) is to be devoted to R&D, testing and evaluation, with primary focus on upgrading missile warning systems.
"The reason there is a Space Force, the reason the Obama administration changed its strategy for space was because of the threat," Air Force Secretary Frank Kendall told media members on Friday, April 1. "The widespread investment that both China and Russia have in anti-space, counter-space capabilities including things that threaten us in all different orbital regimes."
Center for Strategic and International Studies director/Aerospace Security Project director Todd Harrison opined upon release of the budget numbers that "China has the full suite of anti-satellite weapons, everything from jammers that could do electronic attacks to lasers that could blind the sensors on satellites, and missiles that could shoot down satellites and create debris."
Said Kendall, "There are no more important services than missile warning, and nuclear command control, particularly from space. So we're trying to move forward aggressively."
If approved, the 2023 Space Force budget would also provide a 4.6% increase in pay for Guardians and civilian contractors, as well as a 4.2% increase in basic housing allowance, and a 3.6% basic subsistence allowance for Guardians. Source: Military.com.
Video of the week: MSNBC at SSC HQ
The highest-profile coverage of the Space Force by mainstream media this week was easily that of MSNBC. The network sent NBC news correspondent Tom Costello to Space Systems Command headquarters in Colorado, setting the story within the framework of the USSF's $24.5 billion budget request.
"Our cameras were the first-ever allowed inside the classified Space Systems Command Center, where Space Force Guardians monitor every military satellite in orbit," Costello enthuses in the video, which acts as essentially a primer for those unaware of the USSF mission and/or capabilities. (To be fair, how much can be accomplished in 3½ minutes of TV time?) Source: YouTube.
Slingshot wins SpaceWERX contract for virtual environment simulator
Enjoying a lot of good publicity this week was Slingshot Aerospace, Inc., whose representatives announced this week the awarding of a 39-month contract worth up to $25.2 million from Space Systems Command (SSC) with strategic support from SpaceWERX. Under terms of the contract, Slingshot will provide its Digital Space Twin simulator along with the "Slingshot Laboratory" training program on the technology.
The Digital Space Twin is described as "a virtual environment that enables users to simulate different scenarios and determine the best way to carry out missions by covirmbining physics-based simulations with space weather data and real-time mapping of orbital objects." The Space Force will reportedly deploy the Twin for use in wargaming, mission planning and tech design efforts, and it will be installed in the National Security Space Institute, 533rd Training Squadron and the 319th Combat Training Squadron.
"The intent of the SpaceWERX STRATFI program is to scale technology development over the 'valley of death' by capitalizing on the most promising emerging commercial solutions to deliver better capabilities to the warfighter, faster," said SpaceWERX director Lt. Col. Walter McMillan along with the announcement. "Each year, the STRATFI program places its 'big bets' on the most innovative technologies that meet critical mission gaps. Slingshot's space education and simulation products have garnered support from across the Space Force operational and acquisition community as we see tremendous value in the technology." Sources: Executive Biz, SAT News.
AFRL to feature key programs, innovative technologies at National Space Symposium
From Monday to Thursday, April 4 to 7, the Air Force Research Laboratory (AFRL) will be holding its National Space Symposium in Colorado Springs, an event which will showcase space-related programs and technologies along with the Hack-a-Sat competition. Some key events are the following.
AFRL Commander Maj. Gen. Heather Pringle will speak on a panel titled 'Combining Science and Technology: A Service Labs Discussion' on April 7 with Capt. Daniel Keane, commanding officer of the U.S. Coast Guard Research and Development Center and Dr. Bruce Danly, director of research for the U.S. Naval Research Laboratory. Led by Deputy Technology Executive Officer for Space Science and Technology, Dr. Andrew Williams, the discussion focuses on accomplishments in S&T, opportunities for collaboration among the service labs and future plans for protecting our nation's vital interests in space.
A media engagement to be held in Media Briefing Room A, in the Columbine Room on the second floor of Broadmoor Hall on the same day. Maj. Gen. Pringle will discuss the latest updates on Navigation Technology Satellite 3 (NTS-3) and AFRL's overall support of USSF science & tech initiatives. Joining Pringle will be Dr. Andy Williams, AFRL's Deputy Technology Executive Officer for Space Science and Technology; Mr. Cordell DeLaPena, (SES), PEO for COMM/PNT; Ms. Lea Kirkwood (SES) AFLCMC Agile Combat Support PEO; and Dr. Joanna Hinks, NTS-3 Deputy Program Manager.
In addition to NTS-3, some of the other space programs and technologies to be showcased by AFRL include Space Solar Power Incremental Demonstrations and Research Project (SSPIDR), Cislunar Highway Patrol System (CHPS), Tactically Responsive Space Access (TRSA) and Advanced Spacecraft Energetic Non-Toxic (ASCENT) propellant.
AFRL will also highlight various avenues for connecting with the lab at its NSS booth including SpaceWERX and the Tech Connect website. SpaceWERX, the U.S. Space Force-affiliated arm of the AFWERX team, focuses on advancing innovative technologies for USSF Guardians and expanding the space industrial space by guiding additional partners, leveraging commercial investment and rapidly pursuing new technologies, while closely aligning its efforts with space operators and acquisition professionals within the USSF.
Finally, among the chief highlights is certain to be the Hack-a-Sat competition, an event that brings together the world's top cybersecurity talent, challenging them to help reduce vulnerabilities and build more secure space systems. The competition is building a non-traditional community of security researchers, government, industry and academia that works together to develop novel approaches for securing the space cyber domain. Sources: Air Force official site, Space Symposium site, hackasat.com.