Space Force news in a relatively slow week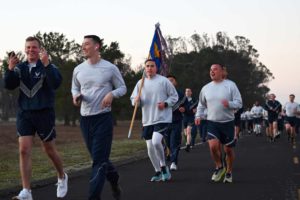 for the service includes a few statements of purpose put forth by top USSF brass at symposia, as well as a new agreement between the Air Force Research Laboratory, the USSF and research teams at seven universities and a call to remember the past in implementing a brand-new PT program. Read on for all the news in Space Force activity…
At DoD Cloud Exchange, Col. Galbreath touts USSF training, recruiting
The second annual DoD Cloud Exchange was held this week, giving Space Force Deputy Chief Technology and Innovation Officer (CTIO) Col. Charles Galbreath a chance to discuss USSF training techniques in digital literacy for Guardians and other service members.
"The Army, the Navy, the Marine Corps, the Coast Guard and the Air Force, they were born in an industrial age," said Col. Galbreath. "As a result, they have evolved over time to develop and incorporate digital capabilities. The Space Force was born into this digital age. We have that as part of our fabric."
Further, he stated that "There are people in the Space Force and government that have a variety, a spectrum if you will, of knowledge about what it is to be digital. We wanted to try to raise everybody's overall understanding of some digital terminology. That puts us all on more of a level playing field about the terms and concepts that are essential to being a digital service."
Col. Galbreath touted the USSF's use of Digital University coursework and training plus target recruited to get Guardians' technical literacy levels up to a high standard: "I would expect a Guardian to have a higher level of data fluency or digital fluency or familiarity than an Army infantryman, or any other service.
"We believe we're going to be much more technically attuned than any other service, but […] It's going to evolve over time. I would expect 10, 20, 30 years from now, the guardians that are coming in who are definitely born digital natives will come in with a much higher level of digital fluency than we do now." Sources: Federal News Network, YouTube.
Gen. Raymond, many other USSF brass at AFA Warfare Symposium
The Air Force Association (AFA) held its annual Warfare Symposium this week. Among those representing the Space Force were Space Force chief of operations Gen. John Raymond; Lt. Gen. B. Chance Saltzman, USSF, Deputy Chief of Space Operations for Operations, Cyber, and Nuclear; Lt. Gen. Stephen N. Whiting, Commander, Space Operations Command; Gen. James H. Dickinson, Commander, U.S. Space Command; Col. Anthony Mastalir, USSF, Commander, US Space Forces Central; CMSSF Roger Towberman, USSF Chief Master Sergeant; Dr. Lisa Costa, USSF, Chief Technology & Innovation Officer; Maj Gen Leah Lauderback; Lt. Gen. Michael A. Guetlein, USSF Commander, Space Systems Command; and Brig. Gen. Shawn Bratton, USSF Commander, Space Training & Readiness Command.
To summarize all commentary in a space this size would be futile, so we'd direct you to the AFA events page, which includes links to transcripts and videos of all 36 forums and presentations.
We can, however, quote Gen. Raymond who tends to the quotable at these sorts of events. Gen. Raymond spent much of his time on the mic reiterating that his no. 1 priority is defining the order of command in space warfare situations. He, along with many of the USSF's other speakers, also spoke of technological resilience.
"[T]he Air Force built the world's best Space Force," Gen. Raymond said. "We've had the best capabilities. The best people. We've integrated most effectively into the fight, starting with Desert Storm. But I will tell you, it's a service that was built for a different domain than we're operating in today.
"…If deterrence were to fail, we are now going to be up against an adversary that has the same advantages that we've enjoyed. And they've built it over the last 30 years, and they've built it for a purpose. That, coupled with the spectrum of threats that we're seeing, from low-end reversible jamming to high-end kinetic disruption, it's a different domain." Sources: Air Force Magazine, Air Force Association.
USRA announces partnership of USSF, AFRL and seven university researchers
The Universities Space Research Association (USRA) this week announced its University Consortium Research Opportunity (UCRO) partnership between the Space Force and the Air Force Research Laboratory (AFRL) to advance scientific and technical research at seven selected universities.
Bernard Seery, Senior Vice President, USRA Technology Research & Development, said "UCRO represents an incredibly unique opportunity for USRA to support the research efforts of an array of institutions that will effectively advance the scientific and technical prowess of both the USSF and AFRL. [T]hese established partnerships will also engage a diverse group of students and postdoctoral fellows in research that contributes to an increased understanding and appreciation for STEM workforce opportunities within both agencies."
The proposals to be developed and the project leaders are
"Industrial-Aero Optimization for Agile Rocket Cargo Delivery" by Dr. Michael Kinzel of University of Florida;
"Understanding the Effect of Vibration on the Crystallization of ZBLAN" by Dr. Anthony Torres of Texas State University (TSU);
"Safe Learning in Space for Proximity and Rendezvous Operations" by Dr. Anouck Girard of University of Michigan;
"On-Orbit and In-Situ Inspection and Repair of Spacecraft" by Dr. Siamak Farhad of University of Akron;
"Designer Nanoparticles for Quantum Sensing of Location and Electric Field" by Dr. Marek OsiÅ"ski of University of New Mexico (UNM);
"Information Theoretic Detection and Tracking for Rapid IOD" by Dr. Brandon Jones of University of Texas at Austin (UTA); and
"Innovative Analysis of Spectra-Temporal Signatures Using Machine Learning for Ground-Based Remote Sensing of Unresolved Resident Space Objects" by Dr. Miguel Velez-Reyes of University of Texas at El Paso (UTEP). Sources: Exectuve Gov, USRA PR.
Does USSF planned new fitness program present a security risk?
Last week, this website along with innumerable others reported on the new fitness program proposed for Space Force Guardians. Said program would replace the annual physical fitness examination undergone by those in all other branches of the US military with a more holistic year-round approach which "promotes physical activity, mental health, balanced eating and sleep, and other facets of a healthy lifestyle.
Naturally some immediately began dreaming up simple workarounds to wearable technologies to be used, but this week one least one cybersecurity/cyberwarfare expert has expressed a shared concern about the program.
New America think tan senior fellow Peter Singer commented to Military.com that "Obviously, any technology can be breached, but one would hope and expect that securing the systems and the data is already baked into the plan. It is going to be interesting to see the policies that they'll develop on when you wear it and where you take it."
The Military.com piece went on to cite precedent: In 2018, service members were advised away from wearable devices using the Strava app by the Department of Defense (DoD). Apparently, posts sent to social media via Strava tended to include maps with sensitive location information.
The Space Force has released essentially no concrete details about the new fitness tracking plan, but it is known that FitRankings will be supplying the wearable technology under auspices of the program. Sources: Air Force Times, Military.com, New America official website.