The general theme in Space Force news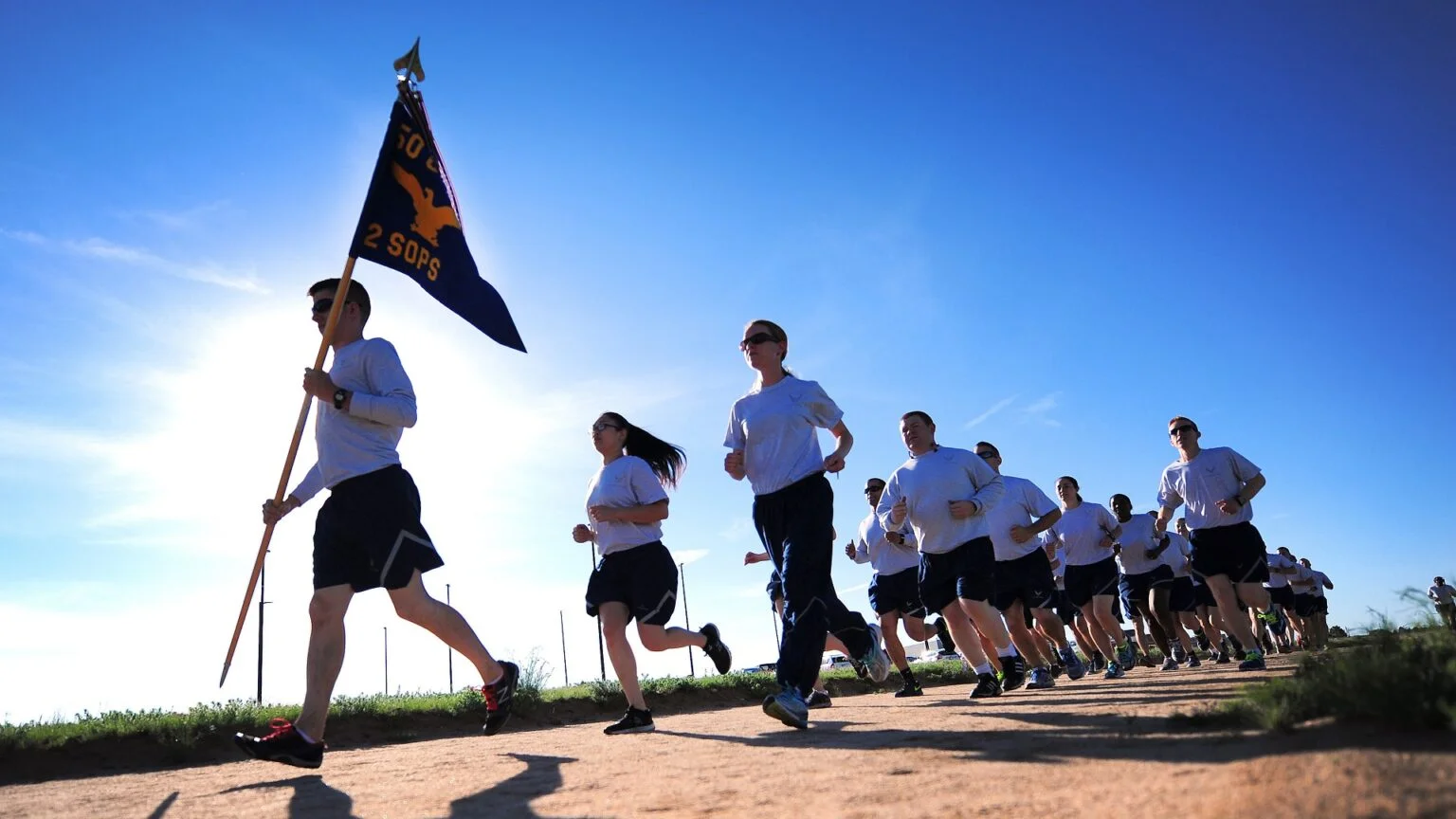 this week: Looking forward to a brighter and potentially healthier future – except maybe in Colorado. USSF officials introduce an interesting new health program for Guardians, a Boeing SATCOM prototype passes muster, and Vandenberg Space Force Base is growing while some in Colorado fight to keep SpaceComm HQ. Read on for the week in Space Force news…
USSF tosses annual fitness test, starts up holistic health program
Here's one innovation bought by the Space Force that Guardians certainly won't mind: The elimination of the annual fitness test given in all other military branches. Instead, the USSF plans to implement a holistic health program, with each and every Guardian to serve as a test subject for a year-round pilot program.
Patricia Mulcahy, USSF Deputy Chief of Space Operations for Personnel and Logistics, announced the switchover in physical health assessment via memo on Wednesday, March 16. Describing the new program as one which "promotes physical activity, mental health, balanced eating and sleep, and other facets of a healthy lifestyle," Mulcahy wrote in part that "This program will promote not just physical fitness; it will pair fitness with robust education on diet, sleep hygiene and other physiological factors to promote social, mental and spiritual health as well."
Mulcahy further noted that "It is time we implement a data-driven, research-informed, holistic health and fitness approach to increase the wellness and readiness of the force."
In practical terms, wearable devices are critical to data collection and so the USSF has contracted with health technology company Fit Rankings. In fact, Fit Rankings jumped the gun slightly on Mulcahy and Space Force officials, putting out a press release two days earlier which read in part:
"Powered by FitRankings technology, guardians will create individual profiles that connect to their wearable or app, providing in-platform fitness data for any activity and allowing data standardization … Guardians' wearables will provide real-time data and insights that enable guardians to track fitness goal progress, optimize programming and assess physical readiness criteria instantaneously."
"Our goal is to implement a program that will support guardians in their individual journeys in health and wellness so that they can be their best whole selves, both for their teams and at home with their families," Space Force spokesperson Lynn Kirby told media on Thursday, March 17.
In the short-term, all Guardians must undergo the traditional diagnostic PT test before the end of 2022. Full implementation of the new program is planned for sometime in 2023. Sources: Air Force Times, Navy Times, Task And Purpose.
Vandenberg Commander touts base's future, positive economic impact
Col. Robert Long spoke effusively about the bright future he sees for his Vandenburg Space Force Base and the positive concomitant positive impact on the surrounding community.Col. Long, Space Launch Delta 30 commander, gave the keynote presentation at the annual State of Vandenberg SFB join luncheon hosting the Lompoc Valley and Santa Maria chambers of commerce. "We're working with all the agencies to figure out what the impact on the base is, and by extension what is the impact on community resources that are going to be needed," he stated near the top of his remarks. "I think I'm safe in saying there will be some growth."
Said growth in turn presents opportunities in housing, medical care and education, according to Col. Long: "We have some opportunities here, I think, as we go forward in these three areas."
At present, Vandenberg SFB houses some 10,000, and another nearly 4,000 Guardians and their families live off-base in nearby communities. Independent analysis has shown that Vandenberg ultimately has a $4.5 billion economic impact on the area.
Vandenberg has roughly 10,000 people on the base, including those who live and work there. Additionally, it has 1,000 homes and about 2,600 military dependents.
A recent analysis revealed Vandenberg has a $4.5 billiion economic impact on local communities.
"…there is no shortage of future missions coming our way and in the industry in general," Col Long asserted. "If you're familiar with the space industry right now, it's a booming time in the space industry, so we expect to see some of that come to here." Source: Noozhawk North County, Lompoc Record.
Aerospace companies in appeal to keep SpaceComm HQ in Colorado Springs
US Space Command is guaranteed to be based in Colorado Springs through 2026, but some 13 aerospace firms in the state are looking to make the affiliation permanent.
In 2021, Trump Administration officials announced Huntsville, Alabama, as a permanent base for the SpaceComm in '26. This decision is currently under congressional investigation, but the aforementioned aerospace companies got proactive this week.
Local media printed the text of a letter sent to Colorado senators John Hickenlooper and Michael Bennet, urging them to fight the Huntsville move:
"We join you in advocating for Colorado as the permanent home of the U.S. Space Command headquarters. Colorado's dynamic aerospace ecosystem is the force multiplier in our ability to deliver innovation to our national defense and space missions. Colorado is our chosen home because of the proximity to one another and to the defense missions. The aerospace industry draws a talent pool, provides access to robust university research, and allows for daily interactions with mission partners.
"Collaboration is the normal here. Proximity accelerates our ability to innovate. With Colorado home to GPS, Space-Based Infrared System, and the Wideband Global Satellite Communications Systems as well the Space Force guardians and the provisional headquarters of the U.S. Space Command, we compete and collaborate every day to find applicable solutions. As many have learned during the last two years, while solutions exist to connect remote stakeholders, it is seldom as effective as face-to-face collaboration."
Colorado Springs was the permanent base of the original Space Command headquarters beginning in 1985. When the Space Command was reformulated in 2019, the city was named as a provisional home to SpaceComm HQ. Source: Stars & Stripes.
Boeing SATCOM Prototype completes critical design review
The USSF Space Systems Command (SSC) and Boeing recently completed a critical design review for the Protected Tactical SATCOM Prototype (PTS-P).
"We're making great progress on this pacesetter program," said SSC's Tactical SATCOM Division deputy chief Lt. Col. Ryan Rose. "We've asked all industry partners to move fast – to build, iterate, demonstrate, and improve performance so we can deploy much faster than we typically would. This design review demonstrates we're on track to deliver new communication capabilities to the warfighter."
The Boeing PTS-P features an on-board processor of the Protected Tactical Waveform (PTW), providing users in-theater anti-jam capability with network routing that exceeds objective requirements.
Scheduled for on-orbit demonstration after a 2024 launch, the prototype payload is touted as showcasing improved standoff distance performance, reduced latency, and other mission-enabling capabilities. Host vehicle integration and testing will begin next year. Source: Boeing PR.