Looking through Space Force-related news this week,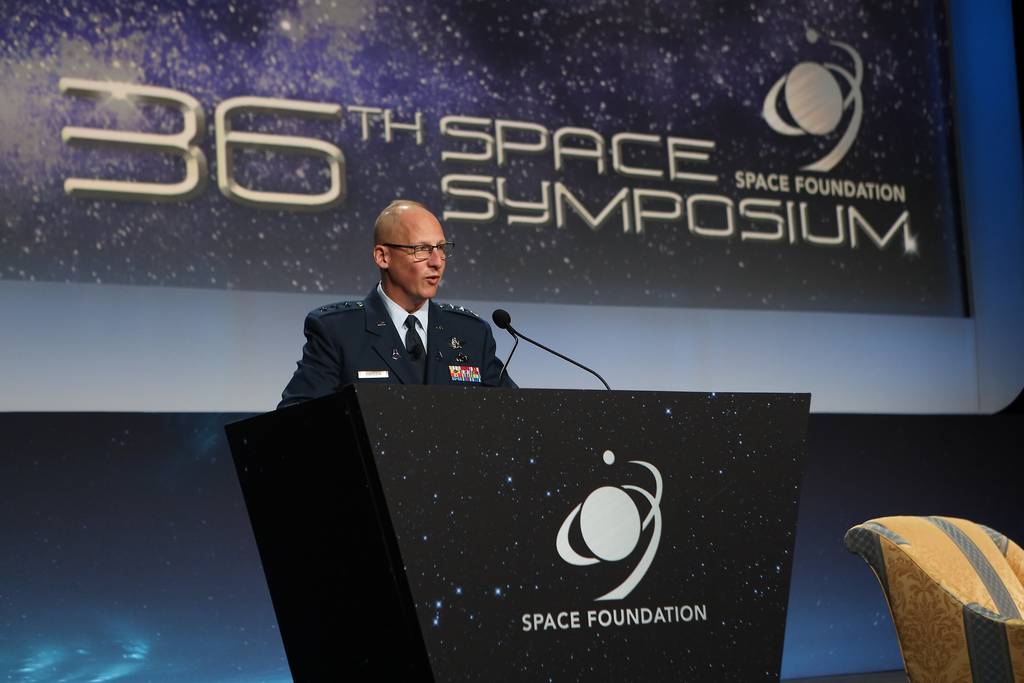 one might come to the conclusion that the USSF is a military service based on the Netflix series of the same name, rather than vice versa. In a relatively slow news week, entertainment can push non-fiction stories right off the virtual page.
Nevertheless, we've still managed to compile the Space Force news in brief for the week ending February 20, 2022 – and most doesn't even include the words "Steve" or "Carrell."
Calvelli confirmed as director of space acquisitions, calls resiliency top priority
On Thursday, Biden Administration appointee Frank Calvelli was confirmed to the newly created post of Assistant Secretary of the Air Force for Space Acquisition and Integration in a hearing of the Senate Committee on Armed Services on Thursday.
In his opening remarks, Calvellli stated in part that
"[W]e are at a critical juncture for our defense space architecture, and there is a real sense of urgency to act. The Nation needs to outpace its adversaries and maintain the technological advantage it gets from space. The Nation needs to integrate its space architecture with other war fighting domains to give its warfighters a strategic edge. The Nation needs to make its space architecture more resilient so that it can be counted on during times of crisis and conflict, and the Nation needs to do this with speed…
"From my experience, resiliency can be added by taking advantage of diverse orbits, adding new technical capabilities, using a mix of traditional satellites and smaller more proliferated satellites, robust space situational awareness, the ability for rapid reconstitution, and taking advantage of commercial capabilities. Resiliency also includes making sure that ground systems don't have single point failures and that they are secure from cyber-attacks. Nothing is more important than making sure our space capabilities are available and can be counted on to support the warfighter and the Nation during times of crisis and conflict. If confirmed, adding resiliency will be a top priority." Sources: Executive Gov, Senate Committee on Armed Services official site.
SSC Executive Director: Max operational capability of space systems by 2026
Space Systems Command (SSC) has set a deadline for "maximum operational capability" of its updated more resilient space systems.
SSC Executive Director Joy White stated at a Space Foundation Symposium 365 virtual forum on Wednesday, February 16, that a deadline of FY 2026 for the operational efficiency benchmark had been set by SSC Commander Lt. Gen. Michael Guetlein, and that the move was made in response to increasing number of orbital threats.
White echoed, or rather foreshadowed, Frank Calvelli's statement of a day later (see news item directly above) and put heavy emphasis on technological resiliency and sees the need to switch Space Force culture to be "laser-focused on the threat" at hand.
White also discussed the SSC Front Door initiative, which would restructure the interrelations between commercial enterprises and defense: "We've got to get a more clear access point for commercial industry to come in and to bring us their ideas, and bring us their technologies. So that is what SSC front door is intended to do."
SSC's Front Door initiative teams will be based at command headquarters in Los Angeles, and additionally at bases in Houston (Johnson Space Center), Colorado Springs (Peterson Space Force Base) and Albuquerque (Kirtland Air Force Base). Sources: Space Foundation Symposium 365 website, C4ISRnet, Space News.
Air Force Sec. talks diversity, inclusion at HBCU
(1/2) SecAF Kendall met with @usafrotc cadets from Dets 130 & 330 at @HowardU this morning, discussing the importance of diversity and inclusion to the @USAirForce & @SpaceForceDoD, highlighting the accomplishments of Black servicemembers during Black History Month & more. #BHM pic.twitter.com/3i1rxSsQws

— Office of the Secretary of the Air Force (@SecAFOfficial) February 16, 2022
Source: Twitter.
Metis Technology wins USSF PSSC contract for up to $53.5 million
Company representatives of Metis Tehcnology Partners LLC, a joint venture of Metis Technology Solutions and Axient LLC this week announced the awarding of a Space Force Pad Safety Support Contract (PSSC) worth up to $53.5 million to their enterprise.
MPT will be partnering with Space Launch Delta 45 in providing oversight of safety-critical operations at several USSF bases as well as unspecified locations in Alabama, Georgia, Utah and Virginia.
According to SatNews, "Key mission areas of performance include: oversight of Flight Termination System integration and checkout; spacecraft fueling/defueling; spacecraft and launch vehicle lifting and transport operations; launch operations; and incident response. Additionally, the MTP team will develop launch safety planning documentation, provide technical reviews for new space lift programs to characterize hazards, perform pad safety training, and provide hazard abatement as part of range safety approval. Additionally, the team will administer, facilitate, and implement the Pressure Vessel/System certification/re-certification program at SLD 45." Sources: MilSat Magazine, SatNews.
"Space Force" season 2 drops, goes through entire news cycle
All right, Netflix released season 2 of Steve Carrell's most recent series production in a rather odd (in both senses of the word) block of seven episodes. And in the way of streaming entertainment, the season has already run the gamut of the news cycle, from previews to hot takes and critiques to innumerable articles titled along the lines of "What to expect from season 3?"
After scoring a 39% on the "Tomato-meter" of RottenTomatoes.com for season 1, early critical reviews were generally favorable, even if the reviews flying around all corners of the internet were decidedly mixed. Reviews with headlines like "Slight course-correction after rocky liftoff still yields uneven returns" were pretty typical, and some were vitriolic enough to label the Space Force series as "dross" or "bland, consumable filler."
Prior to the release of season 2, Space Force producers frequently assured the public that the series would be more akin to the workplace comedy stylings of Carrell's mammoth success, The Office – certainly an excellent idea after a season 1 that continually attempted to straddle lines between satire, slapstick, sci-fi and sitcom tropes.
Most positive reviews focused on this reframing of the series. Variety magazine's take was representative of thumbs-up writeups such as those by ComicBook.com and PopCulture.com. Entitled "In Season 2, Space Force Comes Down to Earth and Embraces its Workplace Comedy Roots," the Variety review notes in part that in season 1, "The shape of a good show was there, even as it never quite materialized. Luckily, "Space Force" got another season to adjust – and so it has, with enough self-awareness this time to make better on its initial promise."
Personally speaking, this viewer found the series more focused, though less hard-hitting in most senses. The ensemble cast is as terrific as expected, though Tawny Newsome (so incredibly funny on Star Trek: Lower Decks) really might have been given more room to exercise her comedy chops.
And yes, that's a doozy of a cliffhanger… Sources: Variety, PopCulture.com.