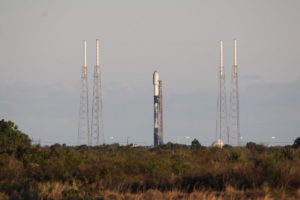 A bit of a slow news week for the Space Force to start off February, perhaps due in no small part to weather conditions. As extreme weather played out all along the East Coast and in the south, numerous satellite launches from Florida in particular were delayed. The rush at the beginning of the year for USSF brass to appear in public forums has also ebbed, it seems. Nevertheless, a few news items remain to report our weekly roundup of Space Force news…
SpaceX Falcon-9 rocket finally launches, gets reported as UFO
As this is 2022, SpaceX launches are hardly front-page, Second Coming-font type news. However, the launch of a Falcon-9 planned for Thursday, January 27, but ultimately delayed until the following Monday certainly garnered a lot of attention … at least in the "weird news" type corners … in American media, both before and after launch.Inclement weather conditions of various sorts had led to cancellations of the launch of the Falcon-9 carrying an Italian COSMO-SkyMed radar remote sensing satellite on Thursday, Friday and Saturday.
At 6:10 pm local time, with under a minute left to launch, mission managers reportedly began shouting "Hold! Hold! Hold!" as a cruise ship wandered into the no-go zone. Coast Guard efforts to move the vessel out of hazard were futile.
Though neither the USSF or SpaceX revealed the identity of the offending ship, some media outlets via CruiseMapper.com were able to narrow down the culprits to either Royal Caribbean's Harmony of the Seas and MSC Crusies' Meraviglia.
The rocket finally launched from Cape Canaveral at 6:11pm the following evening without a hitch … unless you count the multiple reports of a UFO from residents in the area of Tulsa. A stunning spiral formation moving slowly in the skies over the Green Country area of Oklahoma was ultimately revealed by local authorities to have been caused by the released of the second-stage rocket's fuel. Sources: Space Flight Now, Orlando Sentinel, KJRH-TV online.
Newest satellite for WGS constellation passes CDR
Space Force representatives announced that the newest Boeing-developed Widebrand Global Satcom satellite, the WGS-11+ had passed an internal Critical Design Review (CDR) and is therefore starting production. The 11+ will be the newest in the WGS constellation, which first began in 2007, and was funded by the $605 million contract approved by Congress in 2018.
A statement from Space Systems Command (SSC) promised that the WGS-11+ will bring "more communications flexibility than the entire existing WGS constellation" and "twice the mission capability in contested environments."
The WGS-11+ is the newest addition to the WGS constellation of satellites which provide broadband communications to the US military and allies. In this specific case, foreign allies with access include institutions in Australia, Canada, Denmark, Luxembourg, New Zealand, the Netherlands, the Czech Republic and Norway.
In response to the startup of production, Army Space and Missile Defense Command (SMDC) Brig. Gen. John Kirk was quoted as saying that military users are "excited to see the enhanced capabilities of WGS-11, which enables more flexible operations and brings additional resiliency features." Sources: Air Force Magazine, Space News, Space Systems Command.
EO Vista sensor passes design review, advances General Atomics EWS bid
Also passing a design review in the past week was an EO Vista-developed electro-optical infrared sensor. The sensors are supplying General Atomics Electromagnetic Systems for its entry in the Space Force Electro-Optical Infrared Weather System (EWS) program.
The EWS program, which is looking to replace the Defense Meteorological Satellite Program (DMSP), is calling for a constellation of polar-orbital weather imaging satellites. General Atomics is one of three corporations working on a constellation design, in parallel with Raytheon Technologies and Orion Space Solutions.
The Space Force expects to launch a demonstration mission in 2023. Source: Space News.
Geo-5 satellite now operationally capable
Space Operations Command (SPOC) announced on Friday, February 4, that the Space-Based Infrared System Geosynchronous satellite 5 (SBIRS Geo-5) developed by Lockheed-Martin has been deemed operationally capable. The Geo-5 was launched from Cape Canaveral Space Force Station on May 18, 2021.
SPOC commander Gen. Stephen Whiting said per the announcement, "The addition of SBIRS Geo-5 to our fleet of spacecraft will improve our nation's missile warning, missile defense, battlespace awareness and technical intelligence capabilities. The security of our nation, our allies and our fielded forces depends on SBIRS and our Guardians every day."
Today we accepted SBIRS GEO-5 as ready for operations and presented the new missile warning satellite to @US_SpaceCom for their use keeping the US, allied nations and our military forces safe. https://t.co/hxRWbsjSkG @SpaceForceDoD @USSF_SSC @LockheedMartin #EffectiveSpace pic.twitter.com/EbsV6Znpoz

— ussfspoc (@ussfspoc) February 4, 2022
Source:
Space Operations Command
USSF exercises third-year option on L3Harris Technologies contract
Department of Defense (DoD) officials announced on Tuesday, February 1, that the Space Force has exercised the third-year option on its contract with L3Harris Technologies under the Maintenance Of Space Situational Awareness Integrated Capabilities (MOSSAIC) program.
The option means a further $117.25 million award to L3Harris Technologies to maintain infrastructure for space domain awareness. Source: GovConWire.
Space Force commemorates Black History Month
February is Black History Month in the US, and the Space Force commemorated the observation in part with the video release below emphasizing USSF themes such as the importance of education and inclusion.