On a short week, Space Force brass kept busy in online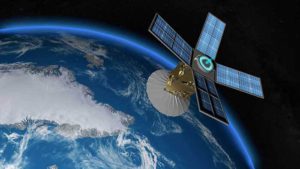 appearances, anothwier satellite launch went off at Fort Lauderdale and some new hires were made within the USSF and in related private-sector organizations.
Air Force Sec.: Seven objectives for USAF, USSF to remain superior
Department of the Air Force Secretary Frank Kendall spoke at a virtual event sponsored by the thinktank Center for a New American Security (CNAS) on Wednesday, January 19, there outlining seven objectives which he says the Space Force and USAF must meet in order to stay ahead of advancements by rival powers, particularly China.
As Kendall stated in part during his opening remarks, the USAF and USSF are facing in their competitors "a major change from the last 30-odd years. We cannot go forward with a presumption of superiority that our military dominance demonstrated in the first Gulf War. … A lot of things can change in 30 years and they have."
The seven objectives listed by Kendall included:
a resilient space order of battle, so as to "take aggressive action to protect our assets in space and also to deal with the threatening assets that potential adversaries might have";
formation of a universal command-and-control system linking the US military, specifically known as Joint All-Domain Command and Control (JADC2);
identifying components of Next Generation Air Dominance (NGAD);
refining of analysis of "target acquisition at scale" both for the Air Force and Space Force;
readiness in the traditional military sense; and
modernizing USAF/USSF global strike capabilities.
For much greater detail on these objectives and on Kendall's talk at the CNAS event, click the link to the USAF official site which follows. Sources: ExecutiveGov.com, USAF official site.
Space Force CSO: China "A Pacing Challenge", Cislunar Domain Awareness vital
Sec. Kendall is hardly the only voice iterating that China is probably the major challenger to the United States' technological superiority in space. On the same day that Kendall spoke at the CNAS event, US Space Force Chief of Space Operations Gen. John Raymond addressed a Center for Strategic & International Studies (CSIS) webinar and confirmed this sentiment.
"China has gone very, very fast and the economic engine that they have has allowed them to go at a speed that is really concerning […] that's why I would consider them our pacing challenge."
Gen. Raymond further stated that both China and Russia alike have "demonstrated by their actions that they are developing capabilities to deny [the US] access to space and advantages that it provides."
He also emphasized the critical need for cislunar space domain awareness – within five to ten years, particularly with NASA looking to reinstate manned and automated lunar missions by 2025. Gen. Raymond stated that the USSF's mission is about "providing capabilities for our country's way of life, and our way of war, and making sure that [space] is safe and stable so all can operate in it" and that "for [NASA] to do their job, they have to have a domain that's safe, and secure, and stable." Sources: Sputnik News, Air Force Magazine.
"Bold" 2023 budget request for Space Force submitted
Gen Raymond made a few public appearances this week. After speaking at the CNAS event, he also appeared at the Mitchell Institute's Spacepower Advantage Center of Excellence virtual forum later in the week.
From there, Gen. Raymond promised a "bold" budget request for the Space Force to be included within the federal budget for fiscal year 2023: "Once that budget is released, you'll see a very bold budget as it relates to space and being able to shift to a more resilient architecture."
Gen. Raymond did not comment on any specifics, telling one reporter that "I'll let the budget speak for itself and wait for that to come out."
For fiscal year 2022 (for which an appropriations bill has not yet been passed), the Space Force requested $17.4 billion in funding, a year-on-year increase of 13.1% over fiscal 2021. Source: National Defense Magazine.
Two observation satellites launched by Atlas V rocket
On Friday, January 21, the United Launch Alliance (ULA) Atlas V rocket launched two Northrop Grumman-built Space Force Geosynchronous Space Situational Awareness Program (GSSAP) satellites. The launch from Cape Canaveral was yet another in what officials have called an "exceptionally busy" month for Space Force activity.
The two GSSAP satellites, more colloquially known as "Neighborhood Watch" satellites, were launched from the rocket approximately six hours and 45 minutes into the mission.
Under the auspices of the US Space Command, GSSAP satellites are something of a traffic director in tracking various meteorological, communications and surveillance satellites within the geosynchronous orbital. ULA press material describes GSSAP satellites as "a dedicated Space Surveillance network (SSN) sensor. These satellites provide neighborhood watch services in the Geosynchronous Earth Orbit (GEO) improving flight safety for all spacefaring nations operating in that orbit."
The Friday launch represents deployment of the fifth and sixth GSSAP satellites. Sources: Defense News, the Valley Post, ULA official website.
Aire Force JROTC program converts to Space Force
On Friday, the Space Coast Junior/Senior High School in Cocoa, Florida, formally converted its JROTC program from the Air Force to Space Force. In doing so, the Space Coast JROTC program became the 10th high school to make the changeover since Durango High School in Las Vegas, Nevada, became the first Space Force JROTC program in November 2021.
Lt. Col. (ret.) Joseph Stevens, a leader of the SCHS JROTC, was quoted at Military.com as stating that "The principles [of Air Force and Space Force JROTCs] are basically identical. We wear different uniforms, but what this program is about is making better people, better citizens for our country." Source: WFTV, Military.com.
Space Force Association launches Committee on Women in Space
The United States Space Force Association (SFA) may not even be two years old yet, but already has this business group set lofty goals. This week, the SFA announced plans to launch the SFA Committee on Women in Space (WinS); the organization also named Galapagos Federal Systems senior space test engineer Dr. Lois Wardell as the committee's founding chair.
"Women in Space encompasses a broad community in government, industry, academics, and the military," ran Dr. Waddell's statement on the occasion in part. "We hope this will become a platform for women to help each other throughout the space sector."
The SFA is a non-profit private-sector organization dedicating to supporting the US Space Force and Space Command. Its mission is to help "achieve superior national space power by shaping a Space Force that provides credible deterrence in competition, dominant capability in combat, and professional services for all partners." Sources: EIN news, SFA official site.
Space Force acquisition team leader named
Col. Eric Felt, heretofore director of the Air Force Research Laboratory Space Vehicles Directorate at Kirtland Air Force Base, was named to the post of deputy executive director for the USSF Space Architecture, Science and Technology (SAST) Directorate on Tuesday.
According to a statement released from the 505th Command and Control Wing, Col. Felt will "oversee the creation of a new Space Force acquisition function and support technology development efforts…" Source: ExecutiveGov.com.