We wish you Merry Christmas and the Space Force a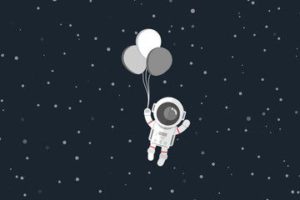 happy birthday as we wrap this week's worth of Space Force news for the week ending on Christmas Eve, December 24, 2021.
 Happy birthday, US Space Force!
Naturally, the biggest story this week was the observance of the Space Force's "birthday," or its official inauguration as a branch of military service, on December 20, 2019. In the most visible show of acknowledgement of the day from the top, Chief of Space Operations Gen. John W. Raymond and Chief Master Sergeant Roger A. Towberman released videos of well-wishes.
Gen. Raymond stated in part that "We've spent this past year focused on continuing to build out this service and then integrating the service to great effect. Today, what started with one person in the Space Force just two years ago, now we number over 6,650 active-duty Guardians." (Source: Military.com)
 SpaceForce.com publicly launches with emphasis on recruitment
As corollary to the observance of the Space Force's birthday, the website SpaceForce.com was launched. The site emphatically emphasizes recruitment, with resources detailing possible career fields within the USSF, qualifications for entry and the application process.
Along with the launch, Air Force Recruiting Service director of strategic marketing Barry Dickey explained the thinking behind SpaceForce.com: "When the Space Force stood up, we knew in speaking with [Chief of Space Operations Gen. John W. Raymond], we knew that our No. 1 job as marketing and advertising was […] to expand the knowledge of the population about Space Force and its mission and to build the brand of Space Force."
In the long term, Dickey says he hopes SpaceForce.com traffic to reach that of AirForce.com at 2 million visitors per month.
The website launch was naturally planned to happen alongside the establishment of the Space Force in December 2019, but issues with the coronavirus pandemic slowed the work to a crawl. (Source: Air Force Magazine)
 GAO on Space C2: Difficult to determine program's progress
The Government Accountability Office (GAO) on December 22 released its report on Space Command and Control, a.k.a. Space C2, program. Among the assertions made by the GAO report's authors was that "information provided to Congress over the past two years on Space C2 makes it difficult to determine if the program has made any real progress."
The report also cited a lack of transparency in determining progress as well. The Air Force has provided annual reports on Space C2 to the GAO but "The usefulness of these annual reports […] is limited because they lack information needed to provide a more complete picture of the status of the Space C2 program."
And once again in such a report did the GAO suggest that Space C2 should be getting more oversight from the Department of Defense (DoD).
The Space C2 program – and subsequently the GAO's annual reports required by Congress – was started in 2018 due to the failure of the $1 billion Joint Mission System (JMS) platform. (Source: Space News)
 CSpOC EDO Quineaja Davis lauded as Guardian ideal
A profile of Combined Space Operations Center (CSpOC) Electromagnetic Duty Operator Quineaja Davis, formerly of Charlotte, North Carolina, ran on the official website of Vandenberg Space Force Base currently stationed at Vandenberg Space Force Base
With a headline describing Davis as "represent[ing] the Guardian ideal," the profile lists some highlights of the Combined Space Operations Center (CSpOC) Electromagnetic Duty Operator; chief among these was her part in the "effort to monitor secure US Space Command and commercial satellite communication links during the emergency airlift operation at Kabul Airport, ensuring the evacuation of more than 124,000 U.S. citizens and multinational refugees" in August of 2021.
On the effort, Davis was quoted as saying "I've supported mission communication links for as long as I've been an EDO but have never seen the impacts of my efforts on live television. Knowing that I played a part in this operation really gives me that comfort that even though we are behind the scenes, we still have such a heavy impact." (Source: Vandenberg Space Force Base official website)
 Boots on the ground – in the classroom
Another week, another locally high-profile USSF outreach to the kids. In this case, Space Force guardian Lt. Col. Christopher Evey spoke virtually with groups of third- through fifth-graders at Kanawha Elementary School in Davisville, West Virginia.
Again the emphasis on the appearance was on building the Space Force brand and encouraging the youngsters to keep up on their science and math… (Source: Parkersburg News and Sentinel)
 Space Force issues $32 million contract for prototype space-based sensor
One of the key phrases for Space Force missions in 2022 is "space domain awareness." A couple of agreements were announced this week for technologies related to this crucial aspect of defense.
First was GEOST, who landed a $32 million contract modification on their work providing sensor equipment on prototype space domain awareness payloads. GEOST is a specialist in small- to medium-sized electro-optical/infrared sensors. GEOST company representatives stated that the new sensor payload could launch in 2023.
The Space Force has also recently announced talks with international partners to host US payloads on their satellites. In 2023, two space domain awareness (SDA) payloads will be launched on Japan's Quasi Zenith Satellite System (QZSS) navigation satellites. "This program will set the stage for future collaborations between other international and/or commercial partners in the future," read a white paper on the subject in part. (Sources: C4ISRNET, Bolly Inside)
 Boeing lands $329 million Space Force Contract
Department of Defense (DoD) officials on December 20 announced that Boeing Corp. had been awarded a $329 million contract with Space Systems Command for engineering on its Global Positioning System (GPS) Block IIF satellites. These exist in support of on-orbit operations of navigation data transmission to military and civilian users. The contract is a 10-year deal which concludes on Dec. 20, 2031.
The GPS Block IIF satellite series was engineered by Boeing through early 2016. (Source: Gov Con Wire)
 Lockheed Martin in contract to maintain wideband broadcast system
Also from the world of contract news: Department of Defense (DoD) officials announced that Lockheed Martin had been awarded a five-year $27.4 million contract for maintenance of the one-way wideband broadcast systems overseen by Space Systems Command. (Source: Gov Con Wire)
 Tabloid terrified of "Star Wars", Space Force
Those who have spent any time in the U.K. know the awesome silliness of the dozens of tabloid newspapers which somehow still manage to maintain steady readership in the 21st century. British tabloids such as The Mirror and The Daily Mail have, for decades before the invention of "clickbait", have grabbed potential reads with, well, clickbait headlines followed by a screed of panicky prose and hyperbolistic celebrity-shaming that, in sum total, is consistently hilarious.
The Sun US is America's attempt to fill the British tabloid gap in US society – it's owned by the king of the Britrag, The Sun – and this week the Space Force got the treatment.
Immediately we are transported into the wonderful tabloid world with the instant-classic headline "STAR WARS: The terrifying future space weapons – 'rods from God' meteorites, molten metal cannons and weaponized asteroids."
Warns writer Patrick Knox: "The reality of a space war moved closer today as [Russian president Vladimir] Putin revealed a new alliance with China to create space weapons that could unleash havoc," which "as previously revealed by Sun Online […] could send the West into the Dark Ages should it (sic) destroy satellites."
Surprisingly, the 2,000-word piece does settle down and gives an interesting view of some projects the USSF has worked on/might develop, such as DARPA satellites, the HAMMER project design to deflect massive asteroids from collision with Earth and moonbases. However, the 'paper cannot avoid the inexorable pull of purple prose, affirming that "Putin already has a new James Bond-like laser system his forces claim is capable of zapping satellites." Great stuff! (Source: The Sun Online)