As the Space Force completes the last full week of its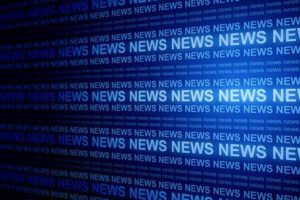 second year as a fully commissioned armed service, we bring you the week that was in Space Force news.
 Digital war game captures mainstream media imaginations
The 10-day Space Flag war game ends this weekend and, despite the purely digital nature of the exercise physically held at Schriever Space Force Base near Colorado Springs, Colorado, garnered quite a few headlines and column inches in mainstream media outlets.
Several potential types of attack were played out in simulation from missile strikes on satellites to hacking of various computer systems. Though the first Space Flag to be held under the direction of the Space Force, this was the 13th war game of its sort and the third international undertaking, this time involving military from Britain, Canada and Australia. (Reuters)
 U.S. Space Force rep visits Johnson Elementary School in Bridgeport, West Virginia
The town of Clarksburg, West Virginia, was the center of attention for Space Force followers on Monday, as Maj. Adrian Law spoke to elementary school students there about the importance of STEM (Science, Technology, Engineering and Mathematics) education. And as Air Force/Space Force Recruiting director of operations, Maj. Law certainly made service in the two service branches sound pretty interesting…
Maj. Law discussed the Space Force's recently launched STEM to Space initiative, an outreach program for students: "In STEM to Space, the focus is to reach out across America and […] about 4,000 Space Force guardians [and] guardian volunteers up with elementary, middle and high schools."
After a presentation which involved satellite functions, gravity and the mathematics of planetary orbits, he told local media that "I'm impressed every day by everything from second graders I talked to in Kansas to high schoolers in New Hampshire and fifth graders here in Johnson Elementary. The questions really help to remind us just how smart they are and how much they think about being innovative and critical thinking and how that mirrors up to being the pathfinder that we desire for the guardians in the Space Force." (WV News)
 Lt. Gen. Shaw: Goal is to unify, make functional all US military space actions
The Mitchell Institute for Aerospace Studies held its Spacepower Forum virtually last week, and Lt. Gen. John E. Shaw in particular was quoted extensively on what he sees as the Space Force's role within the US military going forward.
Lt. Gen. Shaw stated that US Space Command seeks to turn their command's service-affiliated component commands spread across military branches into "functional components" of the Space Force.
To speak more concretely, he "For example, the Navy may have some terrific radars on some of its vessels that are capable of reaching up into [and] beyond the atmosphere and tracking objects in orbit. The Army may have some sort of a similar capability to conduct electromagnetic warfare that could extend into the space domain. [USSC ranking officer] Gen. Dickinson needs that capability."
"We need the capabilities of all services, and we need integration with all of the services, to make sure that we are providing space capabilities to joint warfighters in the terrestrial domains – but also to leverage everything that all of the other services can bring to meet Gen. Dickinson's missions." (Air Force Magazine)
 Biden nominates Frank Calvelli for Air Force space acquisition post
Frank Calvelli has been nominated to the post of Air Force assistant secretary in charge of space acquisition by President Biden; the nominee must now be confirmed by the US Senate, but this would seem to be merely a formality. The main credit on Calvelli's résumé is his 30 years served with the National Reconnaissance Office.
With an eye to the Space Force, Air Force Secretary Frank Kendall had stated that filling the space acquisitions post was "a top priority" and that "having a senior leader in charge of space acquisitions is important as the Space Force looks to modernize its satellites and acquire advanced technologies needed to compete with China and Russia." (SpaceNews)
 Three companies win $67 million contract from Space Force for EWS prototypes
Three companies were announced as winners of $67 million contracts to build prototypes for the Space Force's Electro-optical Infrared Weather System (EWS): Atmospheric & Space Technology, General Atomics Electromagnetic Systems, and Raytheon Technologies. Space Systems Command will announce the selection of one or more of the designs produced by mid-2022 for demonstration.
The EWS satellites are planned to replace those of the Defense Meteorological Satellite Program (DMSP), itself now nearing 60 years old. (Defense News)
 Two projects announced as SURI program winners
Speaking of winners, the Air Force Research Laboratory (AFRL) has announced the first winners of its Space University Research Institute (SURI) program. These wereBreaking the "Launch Once, Use Once" Paradigm, submitted by Prof. Howard Choset of Carnegie Mellon University (CMU) with six other partners from CMU, Texas A&M, University of New Mexico, and Northrop Grumman Corporation, which seeks to address the non-existent capability of On-orbit Servicing, Assembly, and Manufacturing (OSAM) in the geosynchronous equatorial orbit (GEO) belt; and"Space Object Understanding and Reconnaissance of Complex Events (SOURCE)" by Prof. John L. Crassidis of the University of Buffalo, along with six partners from Pennsylvania State University, Georgia Institute of Technology, Massachusetts Institute of Technology (MIT), and Purdue University, on space domain awareness.
SURI will now bring 14 researchers and 20 or so students from eight universities and one private enterprise into the AFRL ecosystem to work on related technologies. (Space Force News)
 USSF official promises new tech acquisition to accelerate in 2022
At a Washington Space Business Roundtable teleconference this week, Space Force headquarters staff director Lt. Gen. Nina M. Armagno stated that the Space Force in 2022 "intends to focus on accelerating the acquisition of cutting-edge technologies" and specifically expansion of the Space Warfighting Analysis Center's capabilities.
"On the acquisition front, we're taking a new approach with our industry partners. Just this past October, the Space Warfighting Analysis Center [SWAC] conducted its first business fair, a strategic-level event where they shared their force design concepts, their models and their threat intelligence with industry." (National Defense Magazine)