Space Force news appeared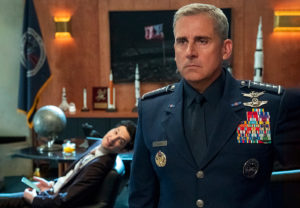 on all fronts this week: Space Command looks to the future with some upcoming war game exercises, a Texas high school becomes the first in its state with a USSF JROTC program, the JMS platform is finally terminated, and we've got a trailer plus more details on season 2 of Steve Carell's Netflix series Space Force. We round up the week in USSF news below.
JMS software program decommissioned "After 10 years and a lot of money"
On Wednesday, January 26, the last piece of software remaining from the Join Mission System (JMS) platform was decommissioned. Col. Wallace "Rhet" Turnbull of Space Systems Command offered something of a epitaph for JMS in stating that "Unfortunately, like so many DoD software programs, JMS failed to deliver after 10 years and a lot of money."
That may be something of an understatement: The customized JMS platform, designed to track objects in orbit in the name of increasingly important space domain awareness, was first conceived of in 2011 and implementation began shortly thereafter. By 2018, the DoD had spent over $1 billion on the project and had little to show except poorly-performing software and innumerable cost overruns.
Resulting from the colossal failure of JMS was implementation of the Space C2 program based on the Warp Core data analytics platform, emphasis on agile software methods and the actualization of the Space Force itself in 2019.
"Space domain awareness capabilities are more important than ever given recent events such as Russia's anti-satellite test," stated Col. Turnbull. "The decommissioning of JMS demonstrates the progress we have made in this critical mission area." Source Space Force (2x)
Polaris Hammer, Black Skies: USSF training exercises planned
During an online seminar this week, Brig. Gen. Shawn N. Bratton announced a new test of Space Force command-and-control capabilities. Gen. Bratton, head of Space Training and Readiness Command (STARCom), dropped the news at the AFA Air and Space Warfighters in Action virtual seminar on Wednesday, stating that the Polaris Hammer exercise will take place in Q3 of this year.
According to Gen. Bratton, the planning for Polaris Hammer predates even the hold field command: "We had a request before STARCom even stood up to develop a command-and-control exercise for the Space Force, really geared at the ops center level…" STARCom was created in August 2021.
STARCom is also working on a second exercise entitled Black Skies. As Gen. Bratton explained, the Black Skies exercise would be similar to the Space Flag war games most recently played out this past December. The initial planning session for this exercise would begin next month and, as Gen. Bratton sees it, will serve as a more focused test of specific USSF capabilities: "[Space Flag] tries to be everything to everybody. I think we'll break that out into pieces over time, starting with [electronic warfare]." Source: Air Force Magazine.
Space Micro wins laser communications system contract
Representatives of Space Micro and parent company Voyager Space announced this week their business's win of an Air Force AFWERX contract to develop an air-to-space laser communications system for Space Force deployment.
According to press material, under terms of the contract, "Space Micro will address some of the most challenging air-to-space laser communications problems, which are primarily caused by the regular instability of Earth's atmosphere."
Space Micro is partnering with Rhea Space Activity (RSA) and Johns Hopkins University (JHU) ton the adaptative optics project known as DEFORMO. Space Micro will "use RSA's deep-space autonomous navigation capability, the Jervis Autonomy Module (JAM), to ensure USAF spacecraft can autonomously and accurately communicate with aircraft." Source: SatNews.
Texas high school coverts Air Force JROTC to Space Force
Klein High School in Klein, Texas, is the latest American high school to switch its JROTC program from Air Force to Space Force command. Klein High is one of the original 10 high school chosen to make the switchover, which had originally been planned for the fall semester of 2021.
In attendance as presiding officer for the handover ceremony this week, Lt. Gen John E. Shaw said that the event "is a great reminder to us that our business is always about the future and the next generation and the wonderful things that they're going to do. In addition to all the other things that we do, we now need a military branch that's going to protect and defend our capabilities in space."
"Thank you for representing the absolute best in Klein [Independent School District]," said superintendent Jenny McGown. Sources: Klein ISD official site, KHOU online.
Florida State Senate officially recognizes Space Force in law
Much joking was involved when the Florida State Senate got to work ratifying a bill involving the USSF and Guardians' status in state law – but that's actually good news, indicating full support of the bill.
Previously known as Senate Bill 438, the law dots the I's of Florida law to include mentions of the Space Force in state laws which deal with the other armed forces and their servicemen/-women.
State Sen. Danny Burgess (R.-Zephyrhills) was the author of the bill, which originated in the senate's Committee on Military and Veterans Affairs. He began the (very short) hearing on the bill with "I have a bill that's totally out of this world." Various senators attempted like jokery in response, proving once again that the great majority of politicians should not attempt comedy, even when the topic is within their wheelhouse.
With seriousness did Burgess end his time: "Theodore Roosevelt once told us to keep our feet on the ground, but our eyes on the stars." The bill was approved by the subcommittee. Source: WFIT online.
Space Force trailer launches, creative team promises season 2 is "more lie The Office"
Netflix dropped the official trailer for season 2 of its series Space Force starring Steve Carell and John Malkovich.
The show's inaugural season may be fairly described as uneven in sum total, often appearing unsure of the sort of humor desired. (Is it satire? Parody? Sitcom? Slapstick?) Now, with a year between the season 1 debut and today, Carell and co-producer/series creator Greg Daniels have considered the results to try and tweak the formula to more reliable methods.
Daniels explained to media this week that he and Carell "were very much in the mind of not making [Space Force] like The Office in the beginning; we were trying to make it very cinematic. … we sat down and [Carell] was like, 'Well, that wasn't that much fun to make it that cinematic,' because when you're shooting something like a movie, especially when you're really caring about the look of it, there's a lot of downtime while they're lighting.
"Afterward, we looked at what we had to work with and we were like, 'Well, the cast is amazing. [With] the cast that we've assembled for Space Force, it's a shame to make them just shoot one side and then wait and relight,' as opposed to like having a more flexible shooting pattern where they can play off each other and have fun with it and improvise."
Going for more of an Office aesthetic may seem a bit derivative, but the best parts of Space Force season 1 were clearly the Catch-22 moments involving the internal contradictions and absurdities of the military environment – a lot like those of cubicle land, come to think of it… (Sources: YouTube, Screen Rant)